[App Test] Cinemagram your boring pics into GIFs Ok GIF fans, here's the new cool app that appeared last night: Cinemagram is an awesome new tool that will allow you to easily create your own GIFs, as well as share them with your various social networks and check out other people's cool creations.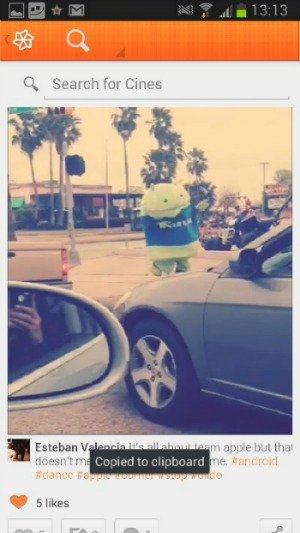 First off, the app itself is free, which in itself is a major plus. When downloading it with a good internet connection, it's entire 18M took just seconds to install. First and foremost you're prompted to sign in using either your Facebook, Twitter or email account. Once you make your selection, it gives you the option of creating your first GIF. In Cinemagram, they refer to these little clips as ''cine''. If you feel like you need to browse through other people's cines in order to get a creative surge, you can feast your eyes upon the ones that your friends have recorded.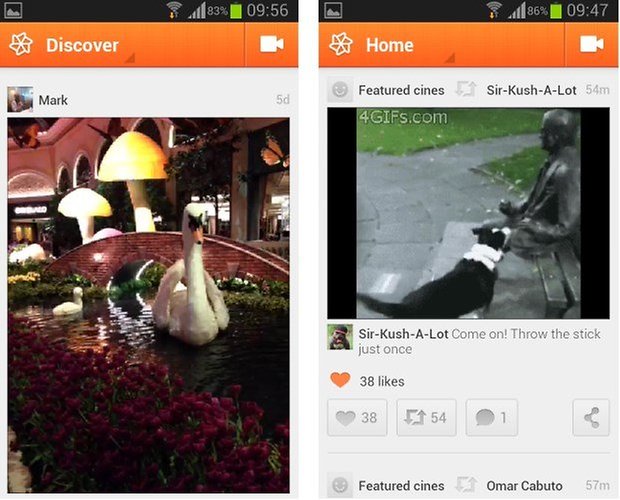 Let's say you're ready to make your own. Just click on the cam-recorder icon in the top right corner, which brings you to the recording screen. When the lighting is bad, you can turn on the flash by pressing on the lightening bolt, which illuminates your subject. Like any handy-dandy smarphones, you can activate the front camera and create a moving ''selfie''! The app couldn't have been made any easier when it clearly states ''hold to record'' to shoot your subject. It just takes a second to save.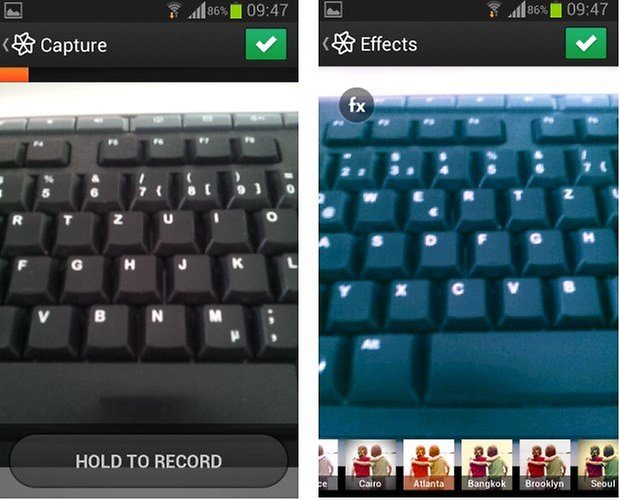 After you're done recording, you can let your creativity flow with all sorts of filters carrying the name of different cities (London, Paris, Rio, Baltimore...), as well as other typical filters like black and white, sepia and raw. By clicking the ''fx'' circular button in the top left corner, it gives you the options of looping, speed as well as mask. Mask is pretty cool, here you can paint onto your display by swiping your finger, creating a ''window'', through which the video will then appear. This creates a cool overlapping effect with the picture on top and the video visible through the painted section. Once you're done, click on the green check mark button on the top right corner.
In the next screen, you're asked to add a caption. You also have the option of posting your cinamagraph GIF onto Facebook, Twitter, Tumblr (the first three by sliding the ''switch'' on and off), Google+, Flipboard, Gmail, Messaging, Messenger and the list goes on. Click done to complete. This will bring you back to the general feed where everyone's Cinemagraph GIFs are presented.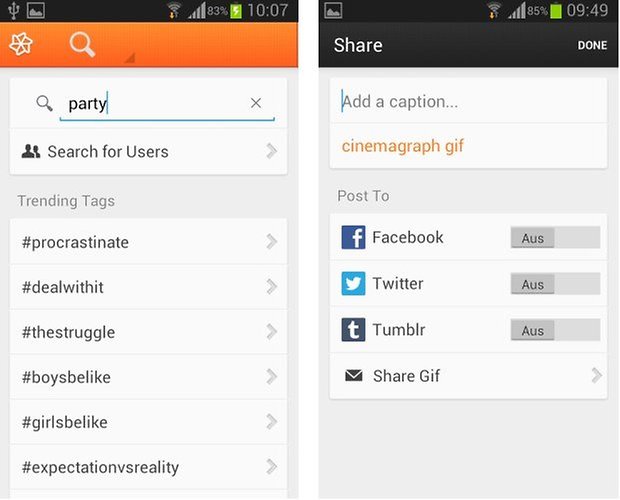 When you're browsing through other people's gifs, you can either like with the heart, share it onto your profile or comment. You can also share the cine via bluetooth and Email, just to name a few. In the main page, you also have a drop-down menu at the very top of the screen, which gives you the option of ''Home'', ''Activity'', ''Discover'', ''Profile'' and lastly, a magnifying glass.
''Activity'' will display news, who you're following, as well as messages. From what I could tell, ''Discover'' and ''Home'' are pretty much the same thing, both displaying other people's gifs. ''Discover'' shows vids from people you don't know, while ''Home'' has all of your friends' cines. Obviously ''Profile'' will bring you back to your own page, showing your own creations. The magnifying glass will allow you to actually search for a specific cine, as well as give you a list of trending tags (interesting enough that #Harlem Shake made it to this list). When I typed in Android, it provided me with ''cines'' from other people.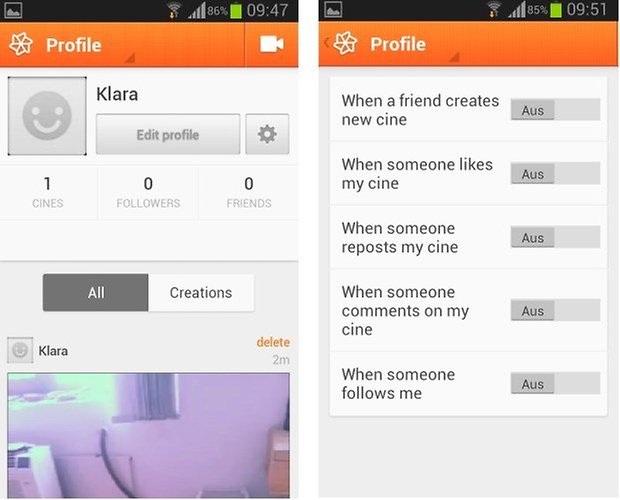 In the profile screen, you can change your settings, as well as edit your profile by adding a picture and information about yourself. The settings allow you to find and invite friends, list the cines you like and alter notification settings.
Bottom Line
All in all this is a cool app, for free of course. Instead of taking normal pictures and posting them, why not create something more interesting like a cine. So far I've seen some really cool ones. For example, instead a cute pug picture, you have a cute pug gif of it licking its chops. Or a pancake being flipped or kids just doing the darndest things. I'll think I'll be putting this to use more often.
Have you tried out Cinemagram?