 Apple Just Banned the Samsung Galaxy Tab 7.7 From Europe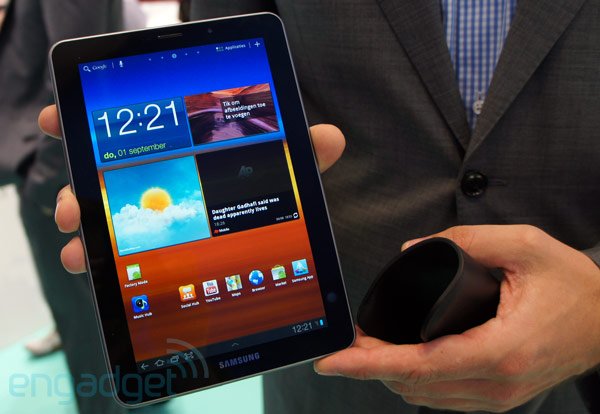 In the ongoing death match between Apple and Samsung, Apple landed a sharp punch today as it won a ban against the Samsung Galaxy Tab 7.7 across all of Europe. According to a Dusseldorf court, Samsung infringed on an Apple drawing from 2004.The court rejected Samsung's argument that the Galaxy Tab 7.7 ban should apply only to Germany, instead of across the entire EU.
Samsung released a statement which I'm sure you'll agree with:
"Should Apple continue to make legal claims based on such a generic design patent, design innovation and progress in the industry could be restricted."
For those keeping score at home, this ruling is the second significant victory in Apple's fight against Samsung tablets since February. The same court in Dusseldorf ruled that month that the original Galaxy Tab 10.1 had infringed upon Apple patents. Apple wasn't successful this time, though, in their case against the Galaxy Tab 10.1N, which remains unaffected by the ban.
In the U.K, Apple lost its case against the Galaxy Tab 7.7, and a judge ordered Apple to publicly state on their website that Samsung was found innoncent of infringement. This most recent case could cause some confusion in the U.K.
It may not actually matter to Samsung in the long run if the Galaxy Tab 7.7 is banned, considering the steep competition from the Nexus 7 and the next Kindle Fire. But it's another annoying reminder that these patent wars are far from over.
(Top photo: Engadget)