 Apple Still Dominates Android in the Business World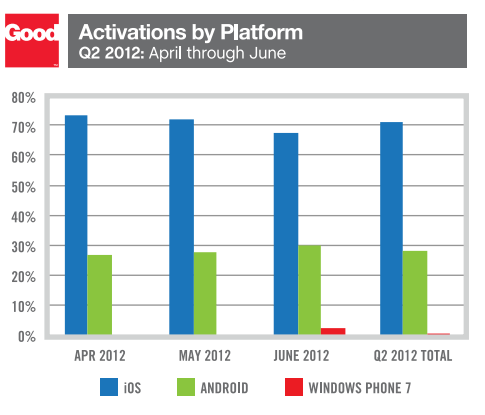 Despite the fact that Android activations are nearly double iPhone activations, the iPhone remains the darling of the business world. In fact, it seems business prefer the iPhone to Android nearly 3-to-1.
These facts come by way of Good Technology, which recently released the results of their own activations report. The report, which surveys mobile device trends in enterprise, relies on data from over 4,000 organizations worldwide, including Fortune 100 leaders in financial services, healthcare, retail, telecommunications, manufacturing, legal and government.
According to the data, Android's enterprise activations grew by 10% quarter-over-quarter, capturing 36.9% of total activations. It's good news, considering the fact that Android's share was previously falling. But that's still far behind Apple's nearly 70% share of the market.
Perhaps not surprisingly, the Galaxy S2 is the most popular Android smartphone in the boardroom, followed by the Droid RAZR, which has been heavily marketing itself to enterprise customers.
So what's the deal with these low numbers? It could be that businesses have an unfair image of Android as being less secure compared to the iPhone. But John Herrema, the head of Good Technology, also thinks that fragmentation makes it harder for businesses to adopt Android and manage the many different models.
But I'd take these numbers with a grain of salt. After all, it's not like Good Technology knows what's happening in every company around the world, just the ones they represent.