 New Windows Ad Makes Android and iPhone Fans Look Like Crazed Morons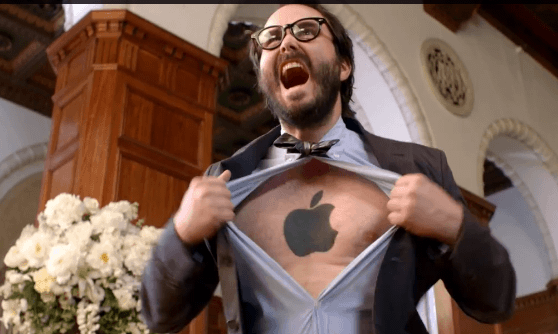 Windows is trying to portray itself as a more enlightened choice in a new ad that makes Apple and Android fans look like crazed morons.
The ad, which takes place at a wedding, begins with an iPhone user insulting an Android user for holding up his "enormous" Android tablet to take a photo.
"You mean the enormously awesome Galaxy?" another Samsung fan counters. A middle-aged woman then says to Siri, "search: one-trick pony." Before long, the entire wedding audience is insulting each other with terms like "iSheep" and "copyboy." An all-out brawl ensues.
While the Android and iPhone fans are smashing each other with chairs and throwing each other into the buffet, two servers whip out there Nokia Lumias as they calmly appraise the chaos. "You think if they knew about the Nokia Lumia they'd stop fighting all the time?" the waiter asks. "I don't know. I think they kind of like fighting."
The Nokia Lumia is still very much an underdog, having sold 5 million units in the most-recent quarter vs. 37.4 million iPhones and 70 million Samsung devices.
Do you find the ad effective?