Apple's Tim Cook Slams Google Glasses, Hints at Apple Wristband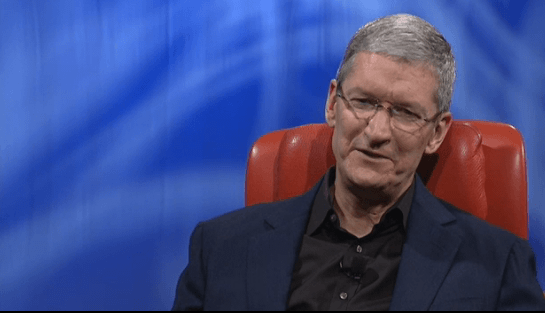 Apple's CEO Tim Cook was grilled at All Thing D's tech conference over the company's dwindling share prices, recent lack of innovations and failure to catch up to Android's explosion in growth.
But what's been most interesting about watching the interviews with Cook is how he dances around questions relating to future Apple innovations – specifically, Apple's rumored wristband. Naturally, the CEO was cagey when it came to revealing anything about future Apple products, but he did let slip a few hints.
When asked about his opinion on Google Glass, Cook hinted that Google was experimenting with wearable technology, saying "It's an area that's ripe for exploration. Lots of companies will play in this space."
As far as what kind of wearable devices Apple might be interested in creating, Cook didn't directly respond – but he did say he thought Nike did a "great job" with Fuelband. "There are lots of gadgets in the space," Cook said. "I would say that the ones that are doing more than one thing, there's nothing great out there that I've seen. Nothing that's going to convince a kid that's never worn glasses or a band or a watch or whatever to wear one."
Naturally, Cook ripped into Google's Glasses, claiming the product wouldn't be massively popular because "what people want from their glasses are something that's lightweight and stylish."
Rumors have been flying for months that Apple is working on a wristband of sorts, and this interview seems to only confirm this. Jony Ives – Apple's lead product designer behind the iPhone, iPad and iPod – is rumored to be leading a team working on building something with a curved glass display.
Should Google be worried? Of course! But unlike in the past, Apple is clearly playing catch-up here. Google's had months to acquaint consumers with the wonders of Glass and is already working on a version in which the display is built into the lenses.
You can watch All Thing D's full interview with Tim Cook here or below: