Apps for Cats: "You vs. Cat" Pits Frisky Felines Against Their Owners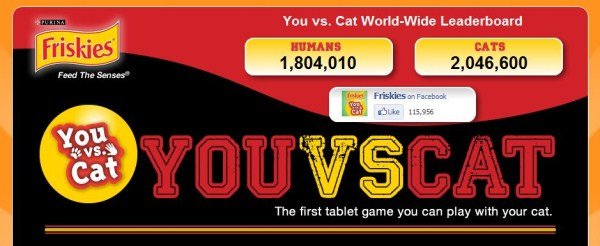 While videos of pets playing smartphone games have exploded online (I assume you've seen the bearded dragon playing "Ant Smashers"), inter-species games have not. Well, Friskies wants to change all that; the company has debuted a new game called "You vs. Cat" that – you guessed it – pits owners against their feline friends. Sadly it's not available yet for Android, because the world is a cruel and unfair place.
As you can see in the video below, the game mostly involves flinging onscreen objects to get past your goal-guarding cat. It looks simple enough, but I could see this being absolutely hilarious with a spritely feline. It also happens to be a bit of inspired marketing from Friskies; I doubt it took very long to come up with the app, but it's already been getting press everywhere.
Unfortunately, Android doesn't have too many apps suitable for your pets. "Ant Smashers" may be lizard-approved, but there's little else that a pet might be inspired by. I bet Anipet Aquarium wouldn't go over so well with my cat; she would probably just end up hungry and frustrated. Of course, if you're going to hand over a tablet to any pet for gameplay, make sure you declaw them first!
Have you exposed your pets to any funny games?