APUS launcher tips: boost phone RAM and battery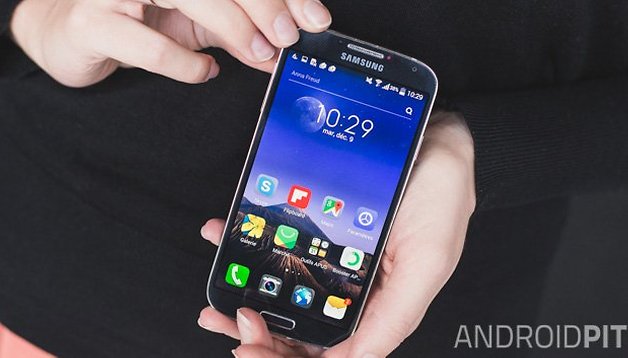 Want to give your phone a new lease on life? The APUS Launcher can speed up your phone, save your battery and give you a new interface without having to root. Here are some tricks and tips for using APUS Launcher.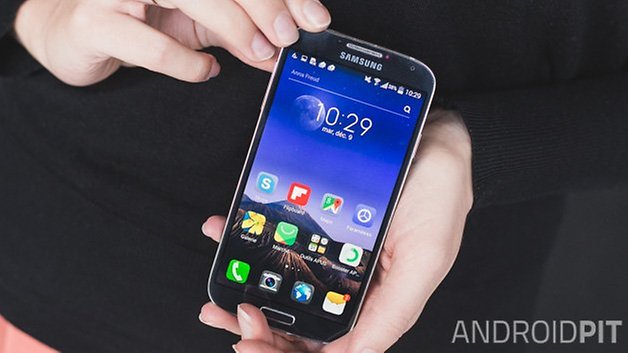 APUS Launcher: Clean up your homescreen
When you first open APUS, it rearranges your home screen to display most of your applications. However, if you're overwhelmed by the app shortcuts or you're not a fan of this iOS-inspired look, you can hide away some applications in your "rarely used" folder. It's not an ideal solution, but it does clean up your homescreen.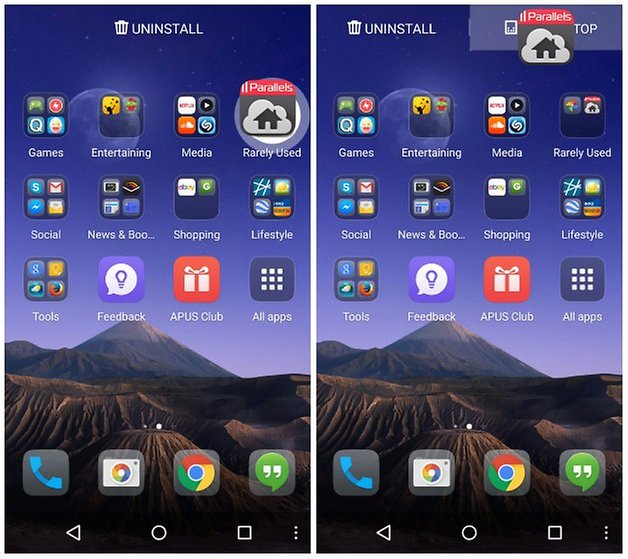 Drag and drop the app shortcuts into the "rarely used" folder.
Hide the folder on an unused page.
APUS Launcher: Return your icons to their original look
APUS automatically re-designs your icons and gives them an iOS look. If this isn't your style, it's easy to change them back.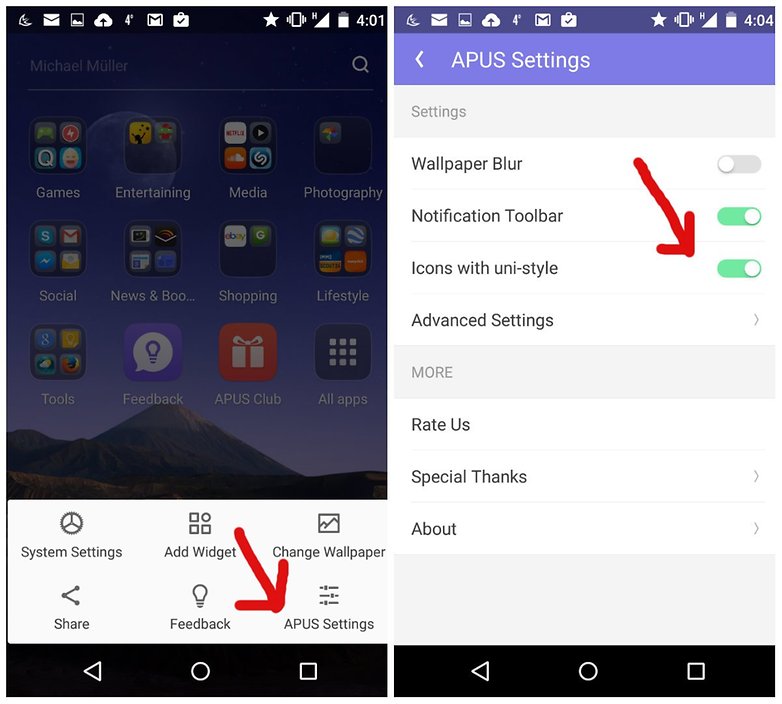 Click and hold down on a empty part of your screen.
Select APUS settings.
Unclick the 'icon style' option.​
APUS Launcher: Use your another launcher, while keeping APUS' performance boosters
If you get tired of the APUS interface, you can still use APUS Boost performance enhancers without the APUS look.
In settings, select home screen options.
Select another launcher.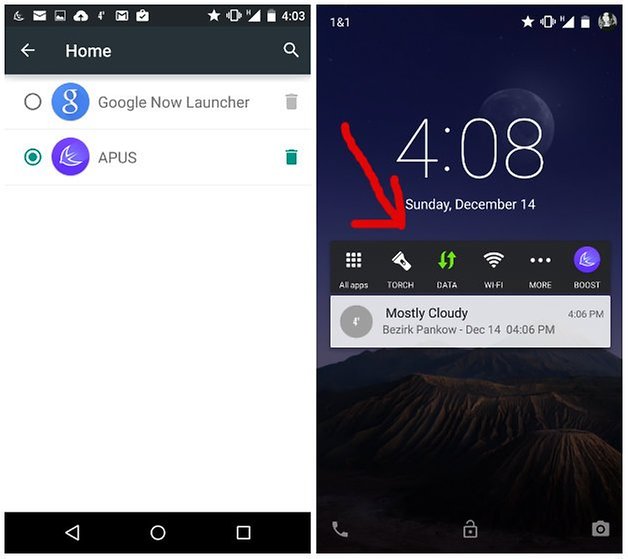 The APUS shortcut bar will remain, allowing you to still use the flashlight or to switch between Wi-Fi and data. If you're not a fan of the the Notification Toolbar, you can get rid of it as well.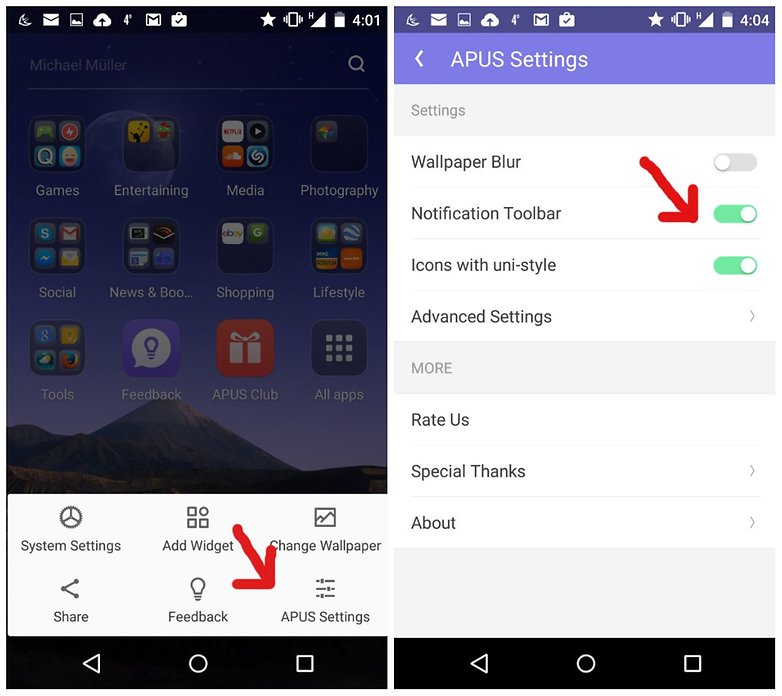 Click and press down on an empty part of the screen.
In the menu that popus up, select APUS options.
De-select the notification toolbar option.
APUS Launcher: Set Google as your default search engine.
APUS Launcher comes with its own search engine. While this is an interesting option, most of us are likely used to using Google.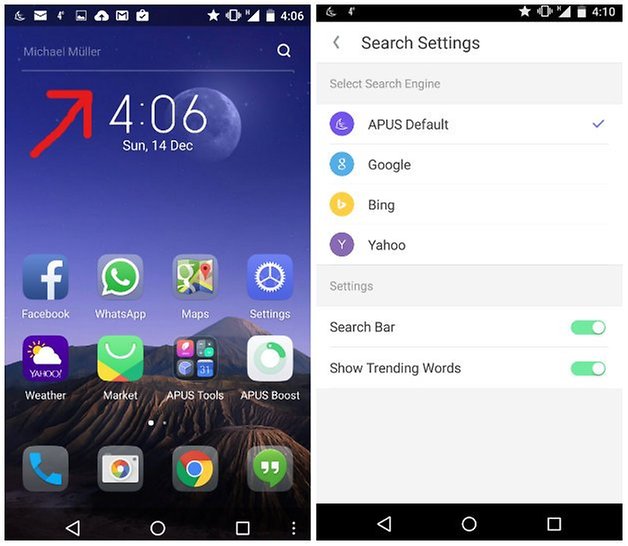 To choose another default search engine, click on the search bar at the top of the screen.
Click on the small APUS logo on the left.
In the menu that pops up, choose Google, Bing or Yahoo as your default search engine.
APUS Launcher: Find your apps with ease
APUS can sometimes shift your apps, so that you can't find them when you want them. An easy solution: use the application drawer.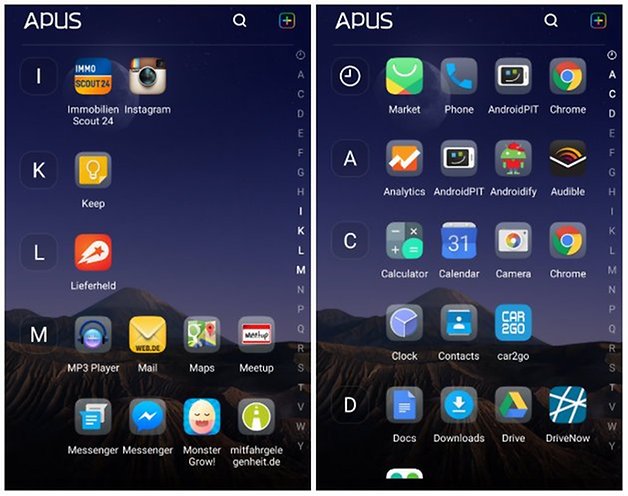 Move this icon to your home screen so that you can find it easily.
Scroll down the alphabetical list to find the app you want.
If scrolling is slow, use the alphabet column on the right to skip ahead to the letter you're looking for.
What other tips would you like to learn about APUS Launcher? How has APUS Launcher changed your Android's performance?
[Originally published by AndroidPIT.fr by Josephine Dusol]