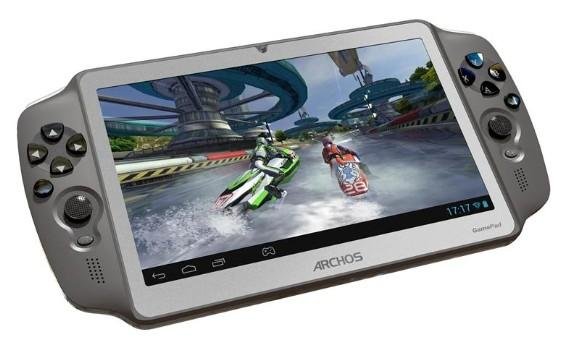 When it comes to the portable gaming market, two names stand out at the moment for quality handheld consoles with a slew of classy gaming titles, and they are the Nintendo 3DS and the Sony PS Vita (with the Sony PSP in tow, of course). Archos wants in on the action as well with the announcement of the Archos GamePad which will be the first true Android-powered games console in the market.
The Archos GamePad will merge powerful tablet hardware with revolutionary gaming software, where you will be able to enjoy the benefits of physical buttons and analog thumb-sticks for that console-like experience wherever you are. Of course, one should always remember that no matter how powerful a piece of hardware is, you will still need fantastic software - or games in this case, to help it climb up the food chain.
Running on Android 4.1 Jelly Bean, the Archos GamePad will also come with full access to Google Play and Google Mobile Services, where folks living in Europe can already pick one up for themselves in time for Christmas at €149.99 a pop, while our friends living across the pond (North America specifically) will only be able to get hold of theirs sometime in the first quarter of next year.
The Archos GamePad will be equipped with 14 physical buttons and dual analog thumb-sticks, where there is the revolutionary Archos game mapping tool that brings the physical aspect back to the gaming experience. The 7", five point capacitive, 1024 x 600 pixel screen will be able to spew out 16 million colors, and measuring just 10mm thin while tipping the scales at 330 grams, you know that the Archos GamePad can slip into any pocket easily. The question is, will it be able to last the distance?