Asus UnveilsTransformer AiO: A Dual Booting Android / Windows 8 Tablet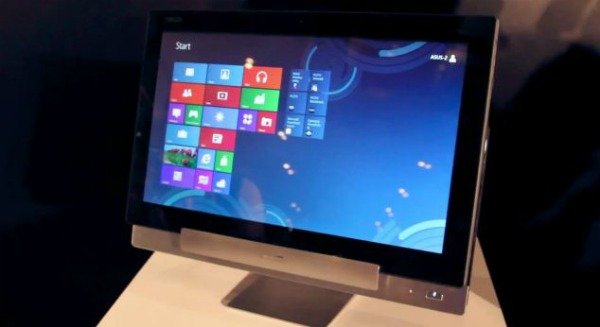 Looks like I spoke too soon! Earlier today I reported that Asus would NOT be releasing a dual booting Android/Windows 8 tablet as previously speculated, but would instead partner with BlueStacks to create Android apps that would run on Windows. Well, that wasn't all Asus had up their sleeves. Introducing the Transformer AiO tablet: An 18.4 inch tablet that can boot both Android and Windows 8.
All I can say at this point is that my brand new Asus Transformer Prime is sooooooooooo getting sold the second this thing hits the market. Asus announced the tablet today at Computex, and in the videos below you will see the massive 18.4 inch tablet computer running both Android and Windows 8. On both of these short videos, you can see the device running Windows 8 when docked, and as soon as you remove it from the dock, it pops INSTANTLY into Android (apparently, you can also boot into Android after pressing a button). It's only a prototype, but it seems to be running very nicely on both of these videos.
Here are 2 short videos on the device, courtesy of Engadget and The Verge:
This is a massive massive step for Android. I have so many questions that I don't yet have answers for. Spec wise, I really wonder what it's packing inside. I'm guessing that at some point, a smaller version of the tablet will also become available, as 18 inches is simply too big to be used as a tablet. I also wonder how Microsoft didn't object to such a device in the first place, as Android is the competitor they are desperately trying to compete against.
As this is only a prototype, we still don't have information on a release date or how much it will cost. But if Asus would get the pricing on this right, and release some smaller models, the iPad could possibly (finally) see a real competitor.
What do you guys think? Am I the only one who finds this insanely cool? Let me know what you think about it in the comments below!
Picture credits: The Verge