Asus Padfone Infinity Specs Spotted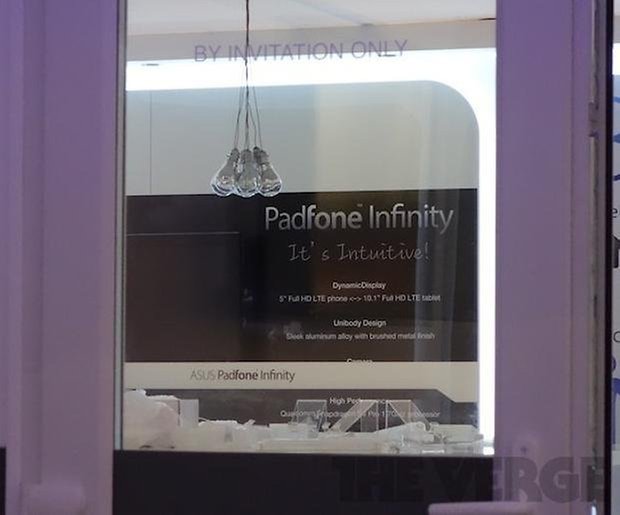 We all know that Asus has an updated version of its Padfone in the pipeline, and while we await with bated breath for the official Asus press conference to happen at MWC later today, here we are with a shot of Asus' booth, showing off the unannounced Asus Padfone Infinity. Will it be as intuitive as depicted?
The Asus Padfone Infinity is touted to be able to keep up with the rest of the high end smartphones in the Android market, sporting a 5-inch Full HD display at 1080p resolution, LTE connectivity for uber-fast data speeds wherever you go, and of course, its raison d'etre, to be docked within a larger, 10.1-inch, 1080p tablet.

Tablet-ception, as some would call it, will see the Padfone Infinity carry a sleek aluminum alloy chassis that comes in brushed metal finish, with a speedy 1.7GHz Snapdragon S4 Pro as the processor of choice. Other than that, details remain as scarce as hair on detective Kojak's head, so we will await with bated breath on what is to come as Asus holds their press conference later today.

Other than that, there was also a sign that depicted an Asus Fonepad, and information on this is far more scarce, although we do know that Taiwan-based Asus has promised phone capability, a HD display and a metallic finish.
The devil's in the details, and how we sorely miss our horned friend here!