Asus gets into the game with ultra-powerful new ROG phone
Here comes a new challenger! Razer, Xiaomi and ZTE are all competing for the attention of gamers with specialized smartphones, and now the rumors of Asus entering the arena have been confirmed at Computex 2018 in Taipei. Let's take a look at what the Asus ROG Phone has to offer.
Gaming phones are so hot right now. Or hopefully not, given the special cooling systems these powerhouses integrate. After Xiaomi and ZTE challenged Razer for the relatively small but evidently very desirable market of smartphone gamers, Asus is putting forward its own fighter. But this isn't mindless trend-chasing. The Taiwanese company has plenty of gaming hardware know-how from established gaming brand, the Republic of Gamers (ROG), to draw from.
Blisteringly fast thanks to a binned processor
Harsh and metallic-looking the ROG Phone shows off its family pedigree, with visible thermal vents and even RGB lighting that can be triggered by calls or notifications. But it's the inside that really counts, and anything under the ROG brand should be no less than a powerhouse.
The ROG Phone boasts its chops with a unique selling point. Inside each model is a special "speed-binned" version of Qualcomm's Snapdragon 845 chipset. Snapdragon 845s are now the standard for a 2018 flagship, but these cherry picked units in the ROG Phone have an unprecedented 2.96GHz clock speed, up from the usual 2.8GHz.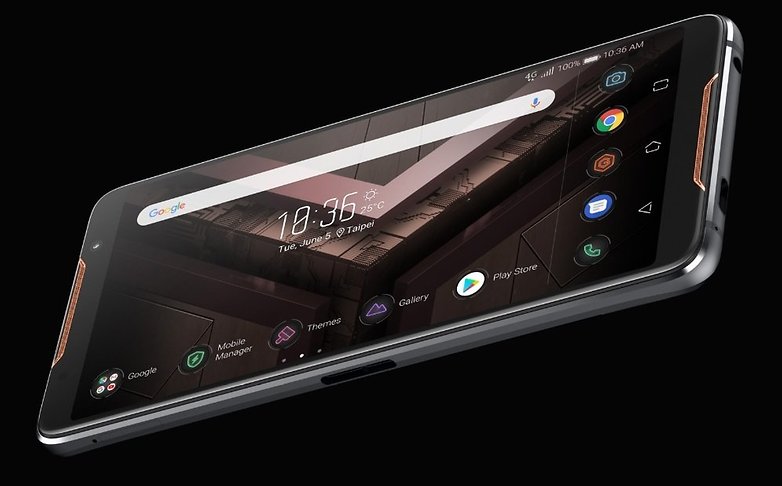 For your viewing pleasure, the ROG Phone packs a 6-inch, 18:9 display that runs at 90Hz, which means a 90 fps refresh rate. Faster than most, but not quite as smooth as Razer's 120 Hz display, but for some, the ROG's AMOLED screen will still be preferable to Razer's IPS LCD one.
Complementing the speedy processor and AMOLED display is an Andreno 630 GPU and 8 GB RAM. The internal storage is either 128 GB or a massive 512 GB, depending on configuration, and the battery is a hefty 4,000mAh. Gamers will always keep an eye on the spec sheet when buying hardware, so Asus isn't leaving the big guns at home.
With the CPU working so intensely, a gaming phone needs to have specialized cooling to keep it running at speed. Asus' particular solution is a "3D vapor-chamber cooling system": a large copper heat radiator with some carbon cooling pads attached to the circuit board, dissipating heat around the phone's internal components.
If you're taking in those impressive numbers and wondering how you can make sure to use every iota of power, there's a special 'X Mode' for your phone that kills all background processes and brings all resources to bear on game performance.
It's got shoulder buttons, kind of
But the ROG phone has got more going for it than numbers. One thing that the relatively minimalist Razer Phone lacked was any extra buttons or inputs. Competitors like the Xaiomi BlackShark offer a snap-on joystick to turn the phone into a game bad, but Asus' solution here seems more elegant.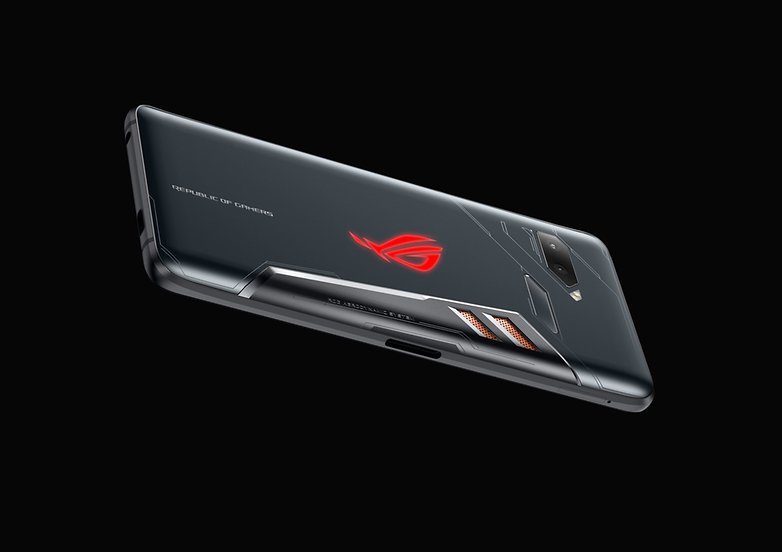 On the sides of the phone, we find what Asus calls AirTriggers—sensors that can register the touch of a finger. Each can be mapped to a function, such as reloading in a shooting game, braking in a racing game, or blocking in a fighting game, for example.
Another interesting detail is the inclusion of two charging inputs: On on the bottom, as expected, but also one on the side. The latter is intended for use while gaming, so that the power cord doesn't get in the way of your hands when you're holding the phone in landscape.
A family of fancy accessories
The ROG phone is complemented by four accessories that are designed to complement the gaming experience in different ways. The first is a cooling solution which comes packaged with the device itself, dubbed AeroActive Cooler, whichin addition to cooling duties includes RGB lighting as well as a fan, plus a USB-C port and headphone jack (yes, another one).
The other peripherals are basically docks that allow the phone to be used in different ways:
The GameVice controller and WiGiG Dock, reminiscent of the Nintendo Switch, snaps on a gamepad complete with thumbsticks and extra buttons and uses the dock to wirelessly beam to your TV.
There's the wired Mobile Desktop Dock which projects the phones' display onto a monitor and allows use of a mouse and keyboard. In theory, you could play the PUBG Mobile with your mouse and keyboard this way, and wipe the floor with all the tap-and-swipers.
Finally, there's the TwinView Dock, which adds a second 6-inch (2160 x 1080) screen to the ROG Phone. Seemingly taking a cue from the Nintendo DS, it lets you view a second screen while gaming (like reactions to your Twitch stream?). ROG said that it is working with developers on optimized split-screen games. It also includes front-facing speakers, a force-feedback engine, enhanced cooling and even a 6000mAh battery pack.
Asus ROG Phone: technical specifcations
ROG Phone

Technical specs

Dimensions
158.8 x 76.2 x 8.6mm
Weight
200g
Display
6.0" 18:9 (2160x1080) AMOLED
90Hz

Chipset
2.96GHz octa-core Qualcomm Snapdragon 845
GPU
Qualcomm Adreno 630
RAM
8GB LPDDR4X 8GB
Internal memory
128 / 512 GB UFS 2.1
Camera
(Main: 12MP + 8MP (120° wide-angle)
Front: 8MP

Battery
4,000mAh
Connectivity
802.11a/b/g/n/ac/ad 2x2 MIMO
Wi-Fi Direct and WiGig 802.11ad wireless display support
Bluetooth 5.0 and NFC


Side I/O
Custom USB-C supports USB 3.1 Gen 1, DP 1.4, fast charging (15W)
ASUS HyperCharge direct charging

Bottom I/O
USB-C supports USB 2.0, fast charging (20W), Direct Charge
3.5mm headphone jack

Right now, Asus ROG is talking up a big game with the presentation of the ROG Phone, but the proof is in the pudding (or the PUBG). Price and availability have not been announced, but Asus strategy looks very different from Xiaomi and ZTE: the Taiwanese company looks to have its sights set on the very top of the range, so we wouldn't be surprised to see a price tag of over $1,000, even without accessories.
What do you think of the Asus ROG Phone? Would you consider buying it?