We played the hardcore Asus ROG Phone, and it doesn't disappoint
Smartphones for gamers is a niche that more and more manufacturers are discovering. Understandably, because gamers are generally known for always wanting the best and fastest hardware in their hands. If you're looking for a gaming smartphone, the ROG Phone from Asus will undoubtedly catch your eye. We've tried it out to see if it lives up to the name.
Have you ever heard of PETYA?
Choose "I don't think so." or "Yes, I think so.".
Oops! Seems like something went wrong. Reloading might help.

Oops! Seems like something went wrong. Reloading might help.
Asus ROG Phone release date and price
The Asus ROG Phone is not yet available, but is expected to be in stores as early as October. Asus has not yet announced an exact price, but we wouldn't be surprised to see a price around $1,000 for this high-end device. The fan is included in the delivery, you can buy further accessories separately.
Extravagant but still stylish
ROG stands for Republic of Gamers and at Asus for a whole range of computers, monitors and similar things aimed at gamers. Many devices designed for gamers look extravagant. The ROG Phone is no exception , and that's a good thing. Especially because the design in pictures seems more martial and somehow more blatant than when you actually take the smartphone in your hand. The shapes are angular, and the stable aluminium frame also has clearly defined corners and heels, but the design appears harmonious and the smartphone still sits well in the hand.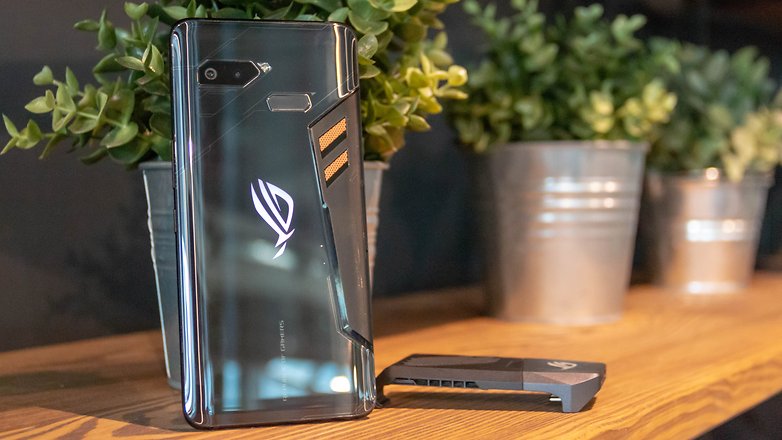 Of course, the ROG Phone is not the slimmest and not particularly light. But it's not really huge either, with its 6-inch display, and in fact it fits well in the hand even in landscape format - this is really important for games. The two stereo loudspeakers sit behind color contrasting grids and have a good humming sound.
A nice detail is the illuminated ROG logo on the back of the smartphone. You can choose which colors the gamer smartphone should show here or turn off the effect to save battery power. The plug-on fan, which docks to a wide port on the right side of the ROG Phone, also has the light-up logo to offer. Speaking of fans: The ROG Phone is quite clunky and doesn't necessarily look stable, but it should keep cool even during long gaming sessions.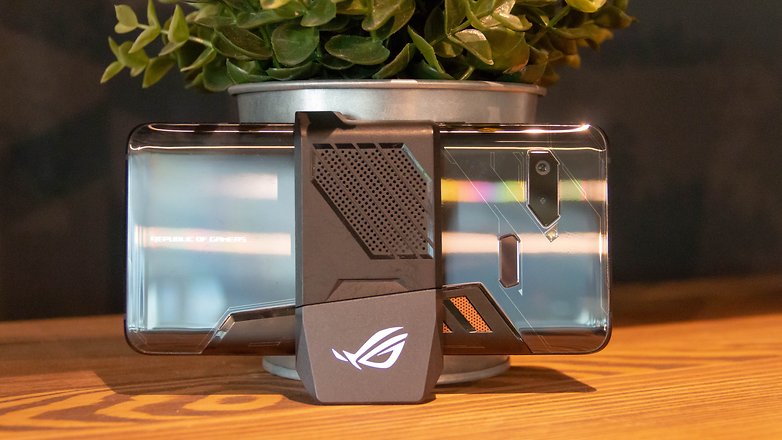 A full view while gaming
Although the 6-inch display in the Asus ROG Phone has no QHD resolution, it still appeals with sharp details, crisp colors and high contrasts - AMOLED. Asus states that the brightness is 550 nits, we will measure this when we have the ROG Phone in the editorial office. A separate image processor provides gaming and mobile HDR.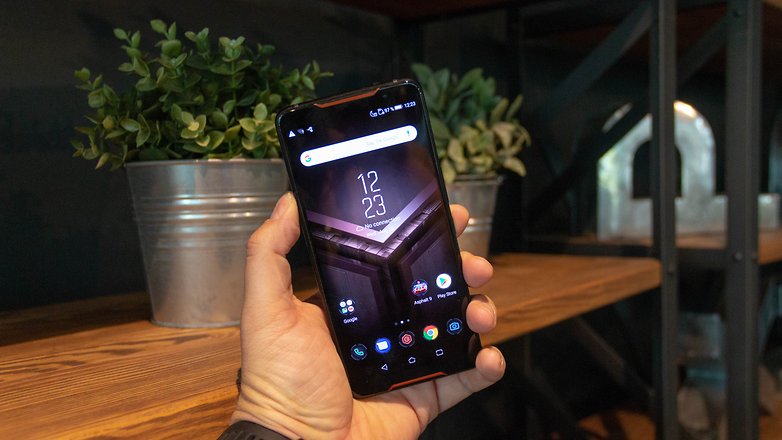 The very smooth scrolling of the Asus ROG Phone is particularly striking. This is due not only to the powerful processor and software but also to the high frame rate of the display. 90 fps is a lot, although the Razer Phone has even more to offer at 120 fps. Both smartphones have a clear difference to "normal" mobile phone displays, especially in fast games. Here the picture is simply smoother and clearer, because movements are less blurred.
Shoulder buttons with a difference
Shoulder buttons are indispensable for game controllers. The Asus ROG Phone has these too, but invisible in the form of the so-called Air Triggers. These are two areas on the frame that detect your touch by ultrasound while playing. Clever!
Software optimized for gamers
The Asus ROG Phone runs Android 8.1 Oreo, but in a strongly modified form. Asus has not only adapted the look to the gamer theme, but has also provided the smartphone with features specially designed for games . This includes controls for the fan and lighting, but also the particularly fast X-mode. Game Genie can be accessed during the games to customize other options.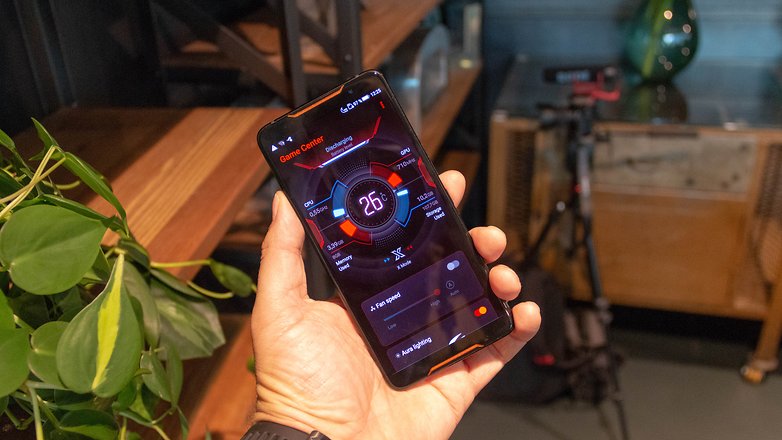 Clocked for more power
The Asus ROG Phone is powered by a Snapdragon 845 - but not just any 845. The processors are hand-picked and clocked to 2.96 GHz , which is slightly more than normal. 8 GB of RAM is available, no wonder that the ROG Phone is really fast. During the short test, no jerks, loading breaks or other unpleasant things occurred.
Louder is better
The ROG Phone has two forward facing speakers that can make a lot of noise . The NXP 9874 SmartAmp is designed to reduce distortion. This works quite well the first time you try it out. The phone supports Hi-Res audio.
Cameras, of course
Of course, cameras are also included for a gaming smartphone . At the back, the ROG Phone has a dual camera with wide-angle lens and 16 or 12 megapixels. An 8-megapixel snapshot is available for selfies.
Is the battery strong enough?
The battery of the ROG Phone has 4.000 mAh and should have no problem to get you through the day - if you don't game too much at least. If the battery is empty, Quick Charge 4.0 quickly fills it up again. We will measure the exact runtime when the test device of the ROG Phone arrives.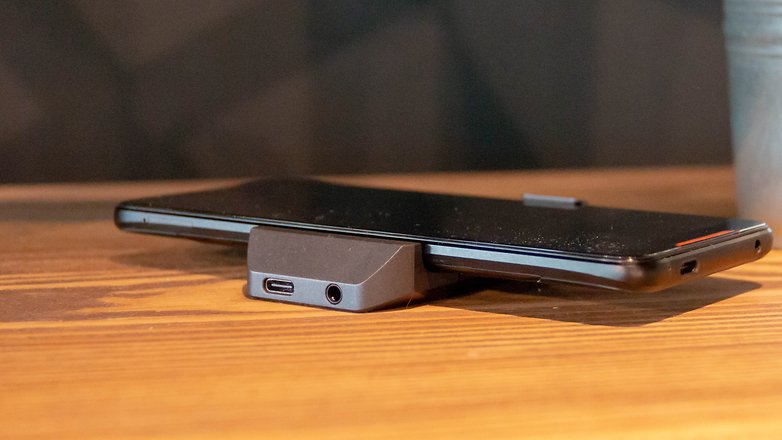 Asus ROG Phone technical specifications
Dimensions:
158.83 x 76.16 x 8.65 mm
Weight:
200 g
Battery size:
4000 mAh
Screen size:
6 in
Display technology:
AMOLED
Screen:
2160 x 1080 pixels (402 ppi)
Front camera:
8 megapixels
Rear camera:
12 megapixels
Flashlight:
LED
Android version:
8.0 - Oreo
RAM:
8 GB
Internal storage:
512 GB
128 GB
Chipset:
Qualcomm Snapdragon 845
Number of cores:
8
Max. clock speed:
2.96 GHz
Connectivity:
HSPA, LTE, NFC, Dual-SIM , Bluetooth 5.0
Two thumbs up!
The first impression of the Asus ROG Phone is consistently positive. The smartphone looks good, has a great display and a lot of power under the hood. Hopefully, this will be confirmed when we are allowed to welcome the Asus ROG Phone for testing in the editorial office.