Tegra 3 Packing Asus Transformer TF300T Tablet On Preorder For $380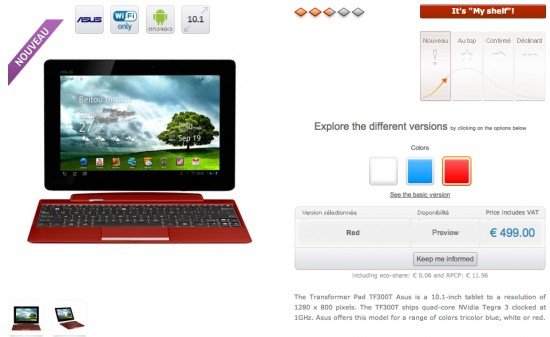 If you've been on the lookout for an affordable yet powerful quad core 10.1 inch tablet from a reliable Android tablet manufacturer, then look no further. Asus, one of the best Android tablet manufacturers in the business have their new Transformer Pad TF300T up for preorder for the incredibly low price of 380 US dollars. With that price and these specs, it's really hard to go wrong with this device.
For $380 you get a powerful Tegra 3 quad core processor, Android Ice Cream Sandwich, a 10 inch 1280 x 800 display, and an 8MP camera. You can also purchase the device is a variety of colors (white, blue, red, and more) with the option of paying an extra 150 dollars for the dock. In the US it can preordered from JR and in France (for 500 Euros, which is a lot more than 380 dollars!) it can be ordered from Tablette Store.
A good price with solid hardware from a manufacturer that is known for making great Android tablets. What more could you wish for! :-D
UPDATE: Looks like JR has removed the tablet from their store. It's still showing on the French site though. If anyone finds it on preorder somewhere in the US, let us know!