Asus Transformer AiO Does Android 4.1 And Windows 8 Dance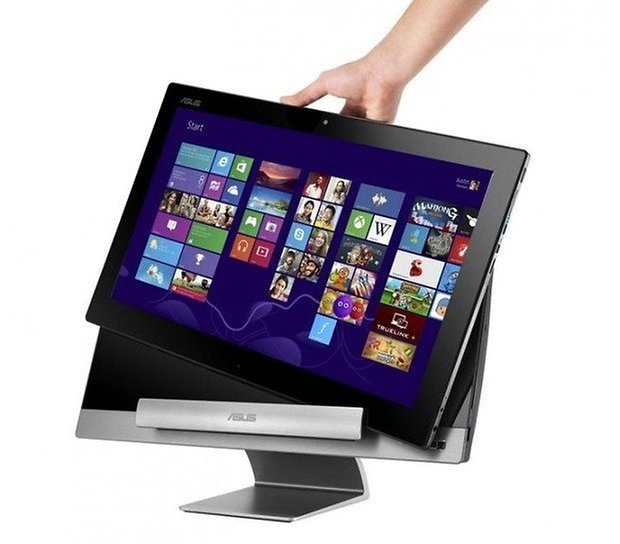 Asus lays claim to the world's first device that runs Windows 8 and Android 4.1 Jelly Bean, depending on your need at that point in time. The Asus Transformer AiO (All in One) would make for an interesting addition into any home or office, and it does its name justice too, as the Asus Transformer AiO can switch from Windows 8 to Android 4.1 Jelly Bean with a simple button click.
Versatility is the name of the game with the Asus Transformer AiO, where the tablet bit of it will sit on a PC docking station, and when you pair that up to a Bluetooth keyboard and mouse, it will work like a normal desktop machine. Of course, when you need to head out of the office and work in a far more casual and relaxed manner, just remove the tablet from the PC docking station, and you're good to go. The tablet as well as PC docking station comes with their own processors, hence the ability to work independently.
The "tablet" bit might be a wee bit large to carry around for everyday use, as it measures a whopping 18.4" in size, with a quad-core Nvidia Tegra 3 processor running the show. You would most probably strain your hands after a while with its notebook-like weight of 5.28 pounds. Well, at least you get the option of being flexible, especially at the office where it makes far more sense to lug the tablet bit around instead of the entire desktop to a different room.
What other kind of hardware specifications does the Transformer AiO come with? The tablet sports a LED backlit display at Full HD resolution alongside 10-point touch, 2GB RAM, 32GB of internal memory, a microSD memory card slot, and a mini USB 2.0 port. As for the PC docking station, it is far better equipped (naturally), with a third generation Intel Core i5-3350P quad-core processor, 8GB RAM, integrated speakers, an optical drive, an SD memory card reader and an HDMI port. There is a button located on the side of the device which allows you to switch between Android 4.1 Jelly Bean and Windows 8 operating systems.
Of course, it remains to be seen whether the idea of the Transformer AiO is able to take off in a big way or not, since this is pretty much unchartered waters. I suppose Asus has been rather bold in recent times, what with the Asus Taichi that fuses a tablet and a notebook, and here we are with the Transformer AiO that intends to work as a tablet and a desktop in different times. The market will ultimately decide the fate of the Transformer AiO, but it certainly deserves the "world's first" claim for such a device.
All in all, the Asus Transformer AiO is set for a Q2 release in North America at $1,299 onward.