Audials Pro: free and legal digital radio ripping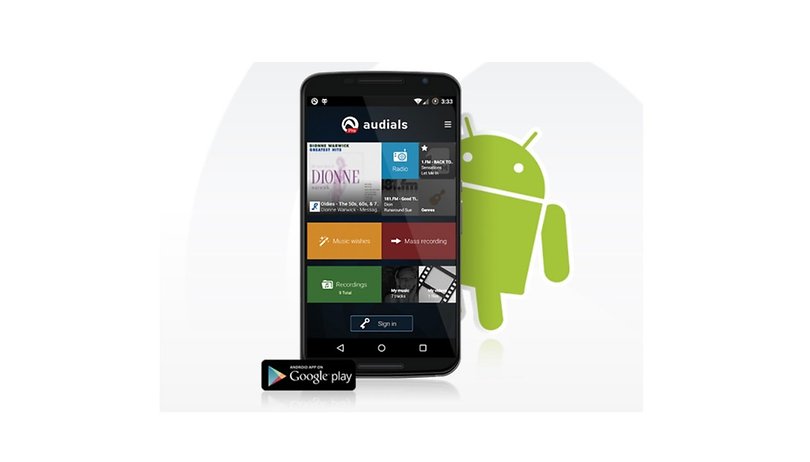 Audials Pro removes any worries you might have over illegally downloading music. The app raids up to 3,000 internet radio stations in pursuit of your favorite songs, seeking matches to your requests and automatically downloading them. But what else does the app have to offer, and is it worth the investment?
Good
✓

Legal music download

✓

Save mass recordings on your smartphones as MP3s

✓

Wish List function for automatic searching

✓

Additional features, such as an alarm clock and sleep timer

✓

Relatively low battery consumption

✓

Large and varied selection of radio stations
Bad
✕

Duplicate downloads

✕

Mass downloading of genres is messy

✕

Storage method imperfect
| | | | | | |
| --- | --- | --- | --- | --- | --- |
| Reviewed on | Android version | Root | Modifications | Reviewed version | Latest version |
| Google Nexus 5 | 5.1.1 | No | | Varies with device | Varies with device |
Features & Use
Audials Pro could be a welcome addition to the smartphone or tablet of any music junkie who remains allergic to music streaming. By allowing you to create and download playlists composed of your favorite artists or genres, you can curate a personalised music library overnight.
The main draw of the pro version we've been testing is the Music Wishes option. Here, you enter your favorite artists, which the app places into a list. It then sets about scouring over 2,000 internet radio stations in pursuit of matching songs to record. Obviously, it depends on your bandwidth, but we had no problems downloading and storing songs that were being broadcast. A little tip: If your downloads are taking too long, just leave the app running overnight and let yourself be surprised by the bounty of new songs you find yourself with in the morning.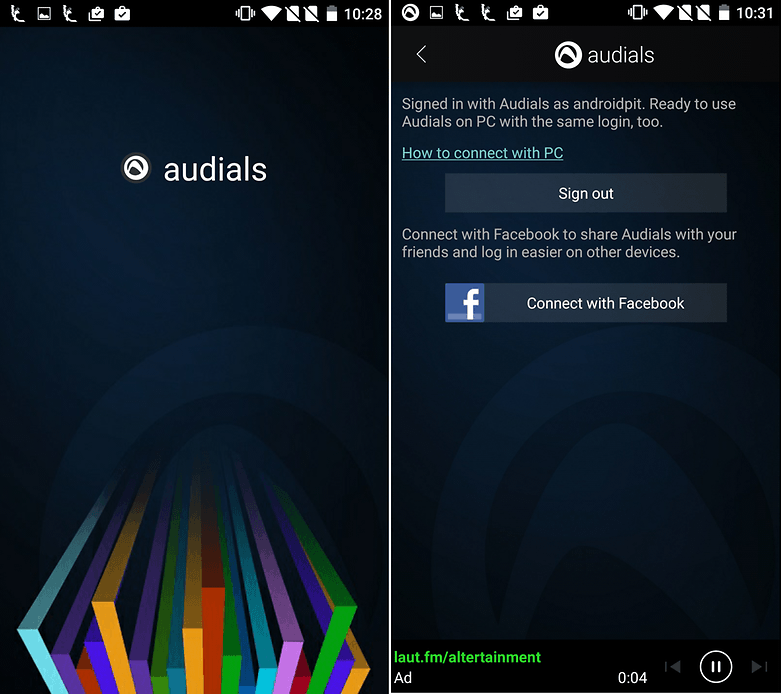 But that's not all: the Mass Recording feature lets you do the same but with whole genres. Audials Pro - depending on your choice of settings - gathers up to 1,000 songs from your preferred genre, with up to 20 tracks being downloaded at once. The genres you can choose from range from funk, rock, blues and electro to pop, jazz and film music, including pretty much everything in between.
The way the app is organized means you can easily see what downloads are in progress and from what stations. If a recording is not complete, it is represented by a yellow arrow. A green arrow, on the other hand, means that the recording is complete and hopefully not cut off at the end by the show's presenter. If it is interrupted by a talkative host, you will have to continue downloading and listening to songs until you find the perfect rip.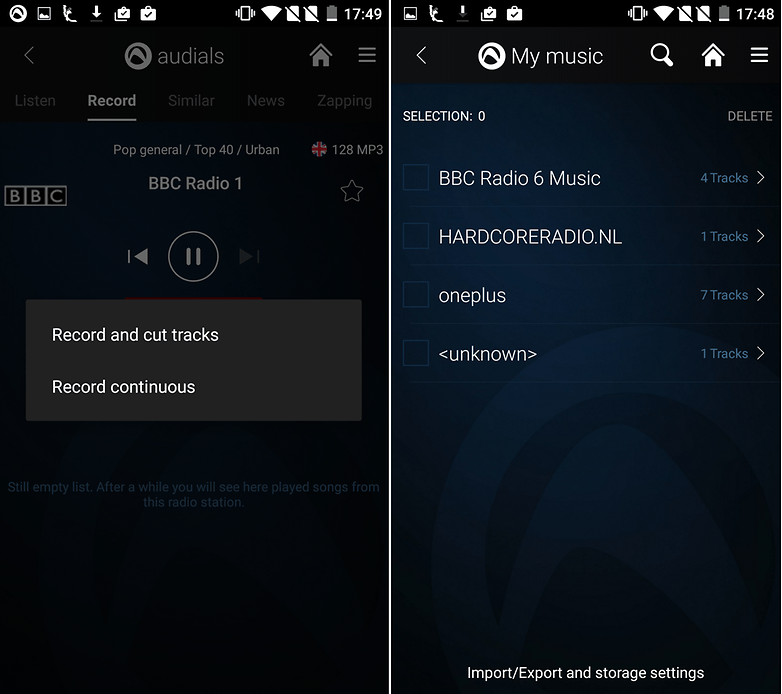 One small drawback is that when the app collects a mixture complete and incomplete tracks, you end up with duplicate entries, which have to be manually deleted. Also, the genre selection doesn't always work flawlessly. For example, a Beatles track will occasionally land in the middle of a punk playlist. However, this isn't always the app's fault; often it is down to inaccurate ID tags assigned by the radio stations.
On closer inspection, the apps shows itself to be a solid all-rounder. Songs and videos can be played from your personal library on your phone via the built-in player, and it also it features a clock radio and a sleep timer.
Many of theses features are available without a pro account. But to use the Wish List and Mass Recording features, and to save music to the cloud, for example, you will need to upgrade to the Pro version.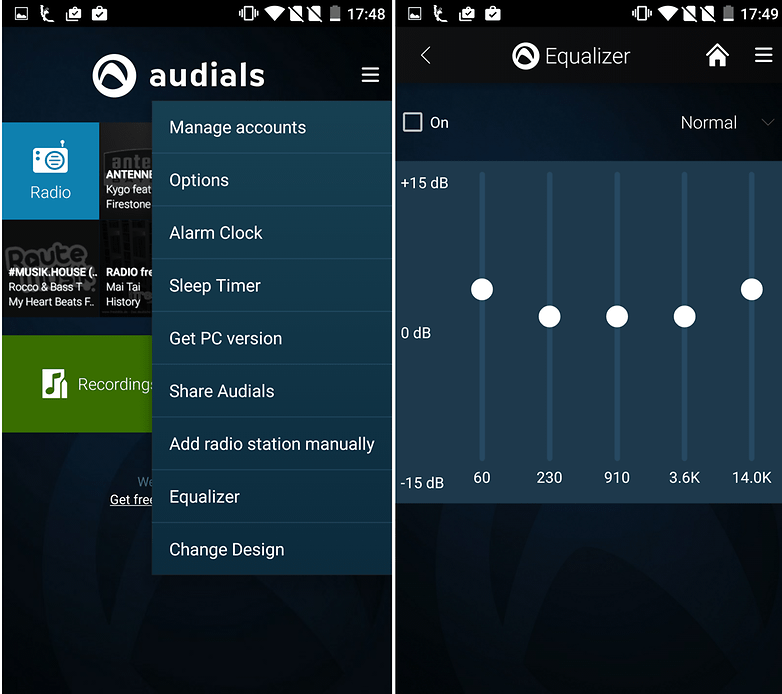 The location you wish to save tracks to can be specified in the settings. Furthermore, using the Windows software, Audials Music, you can sync your smartphone with your home PC. An equalizer is also included, which can provide improved sound quality and balance.
Any tracks you download are stored on your smartphone in a separate Audials folder. Unfortunately, the songs in there are not automatically sorted by artist or album, but by their radio station of origin, which makes little sense at first glance and makes finding a particular track a little more difficult.
Screen & Controls
Aside from some stuttering and delayed response issues, the Audials app is very intuitive. Recorded songs can be played straight back, or even put on while they're being recorded. The layout makes it easy to find your favorite stations and what's currently playing, thanks to a small bar at the bottom of the screen. The color scheme and style of the radio list can also be customized a little.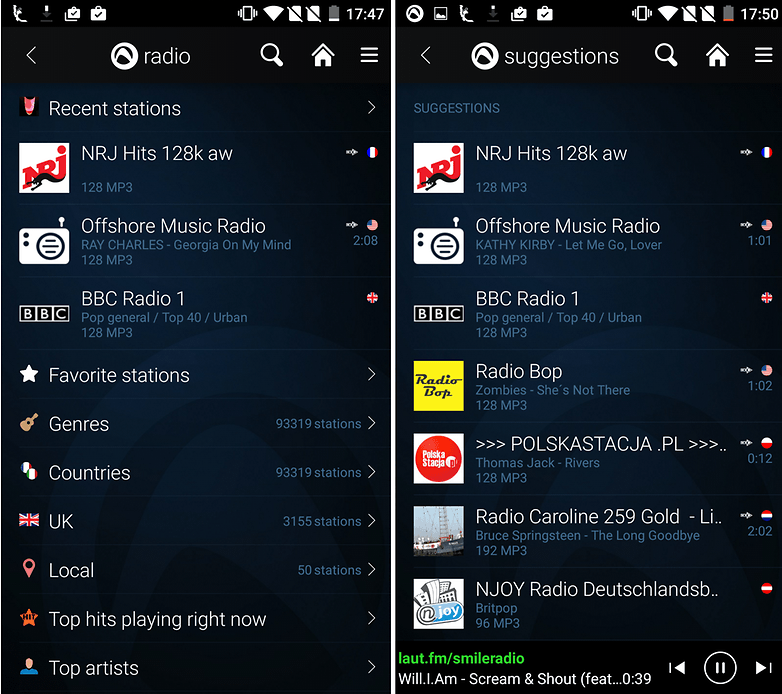 On the Recordings page, you will find all the tracks that Audials has grabbed in a list with the name of the station they came from. Any tracks that are currently being downloaded appear at the top of the page. From the menu button, you can manually add stations and go about deleting files.
Under the Radio tab, there are a variety of useful features, for example, suggested stations and artists, and a list of local stations. Once you've selected a station, the tabs at the top give you the option to listen to and record previously-played songs, view similar stations, and bring up the news (which sees a Twitter feed of station-relevant tweets appear). Finally, there is something called Zapp. Zapp is designed to let you put on a station and then quickly jump to another that aligns with your current choice. Although, while listening to BBC Radio 6, Zapp made the spectacular leap to a country station and everything spiraled wildly out of control from there, so use with caution.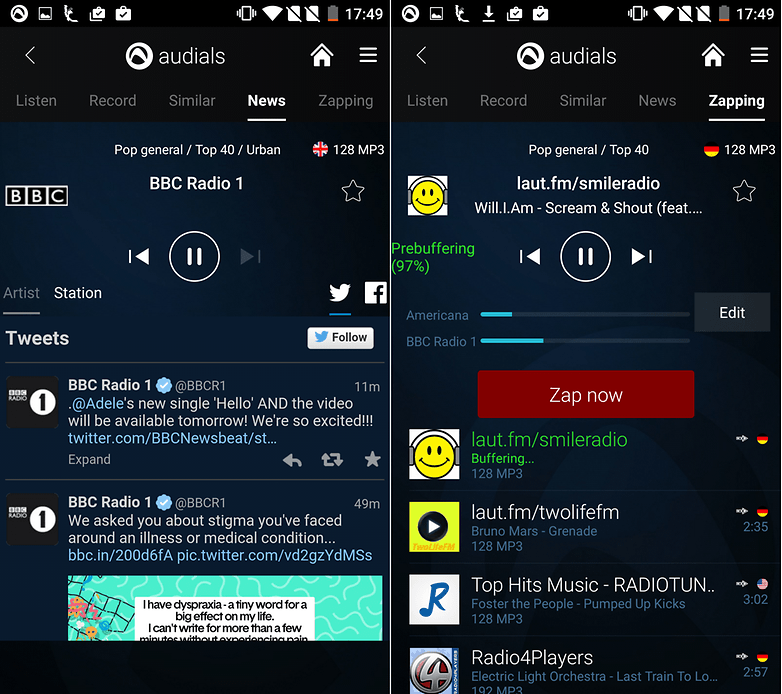 One thing of note, when it comes to downloading using the Wish List, is that it would make sense if your music wishes could be prioritized. Since better-known artists are naturally played more frequently, when you hit the simultaneous download limit, musicians and bands with smaller profiles become much less likely to be included in your library.
Speed & Stability
During our test, there were a few technical hangups with Audials Pro, but fiddling with the settings can help somewhat. You can specify whether the app only plays when you're connected to Wi-Fi, or whether the buffer time is extended in order to curtail playback stuttering. Their effectiveness is limited, but might be of some use.
If you have a memory card for your phone, you can easily swap it over and fill card after card with music. The range of acceptable bitrates for download can be set individually for Radio, Mass Recording and Zapping. The increase in battery consumption falls within acceptable limits when using the app, but, as mentioned earlier, if you're doing a tonne of downloading, leave it going overnight, when you can charge your device, too.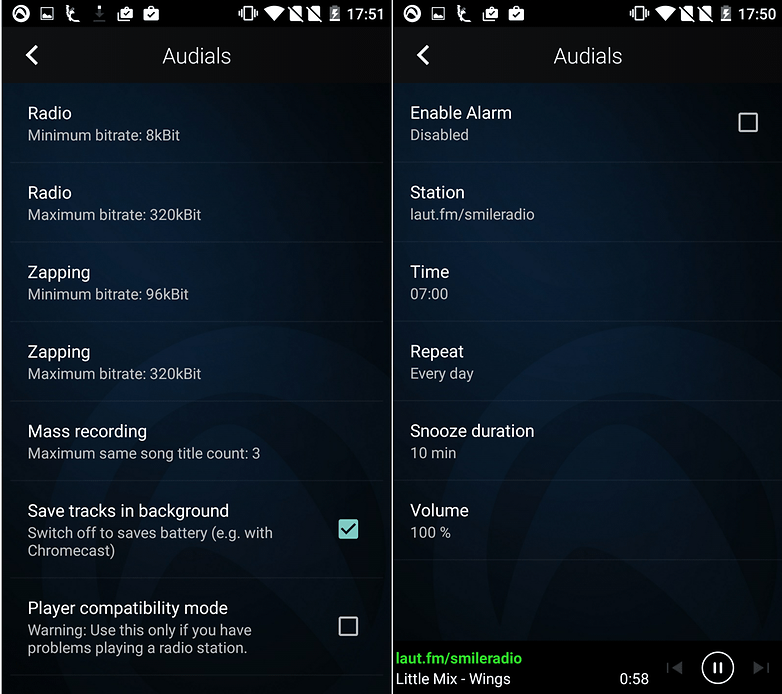 Incidentally, what is true for many other radio apps is also true for Audials: if you're travelling to work, or otherwise out and about, and don't have stable access to mobile data, the buffering will frequently remain at 90% and sit there, doing nothing, which can be frustrating.
Price/Performance Ratio
For a current price of US$4.74, music hoarders will find this to be a handy tool to have at their disposal, and it's important to note that, in this case, downloading from internet radio stations is legal. Aside from the radio-ripping focus of the app, the various additional features, such as the alarm clock, sleep timer and storage functions for SD card and cloud backup round it out nicely. Apart from minor shortcomings in the app's method of file storage and sorting, it comes recommended as a worthwhile investment.
Final verdict
Audials Pro impresses with its large selection of radio stations, array of options and acceptable download speeds, even when handling simultaneous downloads or recordings. Improvements do need to be made, however, to how duplicate entries are handled and the way files are stored; there should be an option to sort files by artist and not just by radio stations.
In addition, mass recordings by genre can end up being a messy affair, due to so much ambiguous tagging, resulting in a lot of music you might not enjoy that much ending up on your phone.
Nevertheless, Audials is a tool that can give a lot to any music lover and is no doubt going to improve a great deal with future updates.. A rating of 4.0 stars - due to the high functionality of the app, and despite its flaws - seems a fair assessment.