Augmented Reality Brings Bert and Ernie Toys to Life in 3D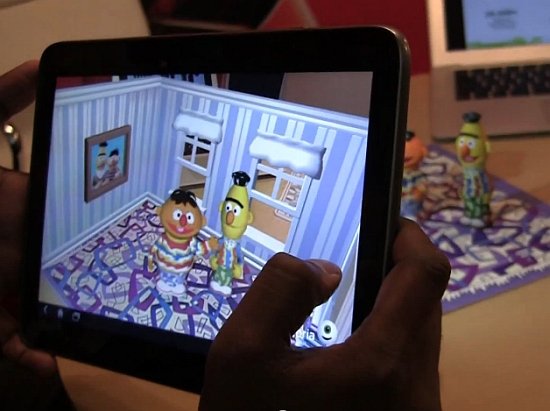 Reality is overrated. The future is augmented reality (AR), which unites your digital and physical worlds in ways that seem like a Sci Fi movie come true. Google's AR Glasses are one example of an augmented reality device, but the images projected on to the glasses will likely be one dimensional. This demonstration featuring Augmented Reality Sesame Street dolls shows that you can create three dimensional animations on an augmented reality overlay using static dolls and Qualcomm's Vuforia augmented reality platform.
In the video below, you can see Bert and Ernie hanging out in a three-dimensional room, listening to a jukebox and watching a TV. Their actions are dictated by how you move the dolls and what you put beside them. Now, granted, this is a limited test run, but the possibilities are endless.
Augmented reality has been showing up on Android devices sporadically for months and months. I'm almost certain it will become a main selling point in the near future. It can be used in various scenarios like — for example, when you're in a new city and want to know the history of the place where you're standing (just whip out the phone, aim it at a spot, and learn). Now it seems like even toy manufacturers will jump on the AR train. Cool, huh?