Baby Monitor All-In-One DEMO: trusted for your child's well-being
With smartphones, the job of a parent can be made easier, thanks to the tons of Android parenting apps that are available on the Google Play Store. The question of course, is whether you trust an app enough to ensure the well-being of your child. This is especially important for baby monitoring apps, you want to make sure it performs as it should. Today we are testing the Baby Monitor All-In-One demo app, to see if it can replace a real baby monitoring gadget from the store.
Good
✓

Nice design

✓

Easy to navigate

✓

Trustworthy

✓

Nice features
Bad
✕

Features not necessary, like sending messages

✕

A bit of a learning curve

✕

The demo only lasts for 15 minutes, so useless in real life.
| | | | | | |
| --- | --- | --- | --- | --- | --- |
| Reviewed on | Android version | Root | Modifications | Reviewed version | Latest version |
| Samsung Galaxy S3 | 4.1.2 | No | | 3.2.1 | 3.4.3 |
Features & Use
Right when you open Baby Monitor All-In-One DEMO for the first time, they give you a list of fair warnings which any parent would appreciate to ensure their child is being well looked after. In order for you, the user, to be aware of the app's full functionality, they remind you not to leave your baby alone (...a given), but also tell you to test the app out first beforehand, check your network coverage and ensure a task killer won't stop the app from running. Right from the get-go I have a good feeling about this app and that the developers actually care about your child's wellbeing.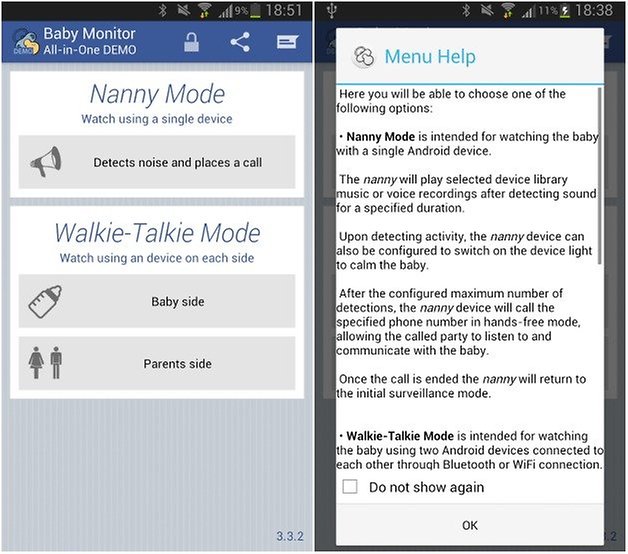 The app helps you every step of the way by providing first step tips. The main menu allows you to choose between two different modes: the nanny or walkie-talkie mode:
1. Nanny Mode
This mode works with one Android device that is set next to the baby. It will monitor the baby and either play music or voice recordings automatically when detecting sound from the infant for a specific amount of time. You can also set your phone's light to switch on or even have the phone next to the baby call a specific preset number so a parent can talk or listen to the baby directly. After a call is complete, or another one of the options mentioned above switches off, it will default back to monitoring the baby.
2. Walkie-talkie Mode
This mode works with two Android devices which are connected via Bluetooth or WiFi. The parent actively listens to the baby just like normal baby monitors that you can buy from the store. The parents can now listen and talk to the baby, switch on the light, adjust audio volume, select songs to play and check the status of the battery on the device next to the baby. From the baby's side, you can remotely mute calls, notifications and alarms, create playlists as well as ensure the connection is always secure.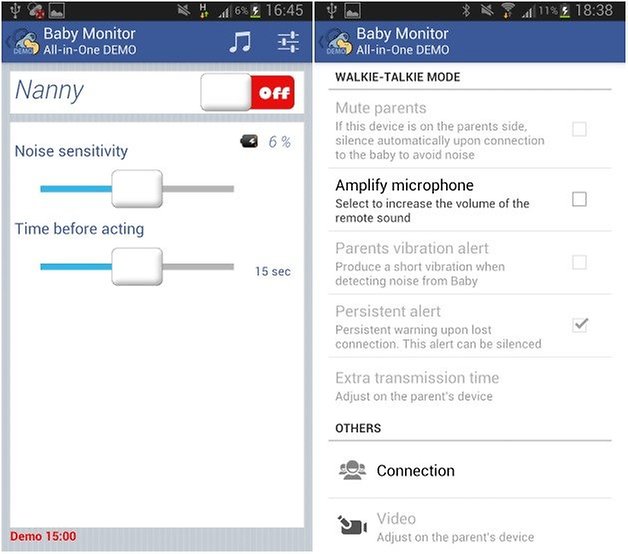 Setting up Baby Monitor All-In-One
Adjusting settings is done from the first main menu and tapping on each individual section will open further explanations to ensure you are aware of how to configure each part. For example, Nanny Mode provides nanny help and tells you how to set up the various parts, like adding a voice recording.
In Nanny Mode, you can enter a phone number or choose one from your contact list. Tapping on the note symbol up top of the screen allows you to enter a voice recording or song already stored on your Android device. The settings button also provides a maximum number of detections before a call is automatically placed, countdown till the monitor starts, light settings and hands-free mode so that a baby can listen to your voice during an alert call. There are even more settings, like mute, maximum light duration, baby mic sensitivity, temperature and night mode. Needless to say, this app is packed with all the settings and customization options that you will need.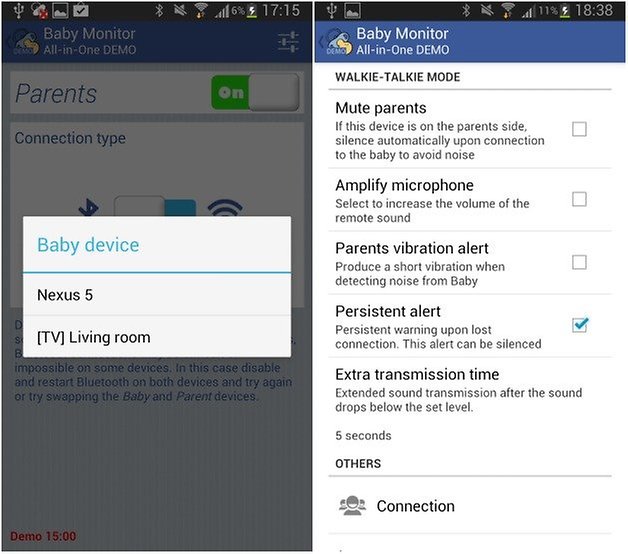 Walkie-talkie Mode has many of the same settings options as above for Nanny Mode however you need to be connected to the device via WiFi or Bluetooth because it's an active connection between two devices. Once connected, you can use your device normally form the side of the parents, as the app doesn't need to be used in the foreground while monitoring the child. The good thing is that if you are ever disconnected, you will be notified if the app isn't successful in reconnecting again.
Trying it out
When actually trying the Baby Monitor All-In-One DEMO, I had to test it on an adult friend, as I don't have a baby. But the effect is the same. I tried Nanny Mode first and it worked smoothly and without problems. You would have to test the app out a bit beforehand to see at which level of detection a call should be made. I was simply breathing loudly and the alert call to my friend was placed.
When trying out the Walkie-talkie Mode, this also worked well. I first installed the app on both devices, connected them via Bluetooth and then was able to select music to play and adjust the volume, record my voice for the baby, listen to noise coming in from the other side, turn on the light etc. All in all, it took just a little while to get used to and set up before I was listening to the other side comfortably aware of everything that was going on.
The app also allows you to send messages and share to other apps, though I feel like this isn't really necessary for an app that serves the purpose of monitoring your child.
Screen & Controls
Baby Monitor All-In-One DEMO has a blue and friendly design which matches the subject matter perfectly. I also think it's well set up and really helps that it provides a bunch of clear and detailed explanations for every step of the way. The settings were well set up and easy to configure. Before relying on the app though, it's best to give it a test run first to make sure you have the controls optimally set.
Speed & Stability
It took a while for the two devices to connect in the walkie-talkie mode but I think this is normal. Otherwise, Baby Monitor All-In-One DEMO ran really smoothly.
Price/Performance Ratio
The trouble with this demo version of the app is that it only lasts for 15 minutes, so I can't imagine using this in real-life situations, it is therefore definitely just a functionality demo. The pro version has all the same functions as the demo version, just with the limited time restraints removed. The full version of Baby Monitor All-In-One costs 2.99 USD, which is alright if you want to invest in a good surveillance application for your child's wellbeing.
Final verdict
To answer the question that I posed earlier, whether I would trust Baby Monitor All-In-One for the wellbeing of my children, my answer would be yes. The app also appears to be regularly updated by the developers who seem to actually care about their app and its users, as you can tell on their blog. From testing the app out, I didn't notice anything worrisome, I would simply recommend the user test it out thoroughly beforehand. It's refreshing for apps to be well-made for a good purpose (instead of the tons of dumb apps out there) and I give props to the developers.