Badland app review: atmospheric side-scroller in a surreal wasteland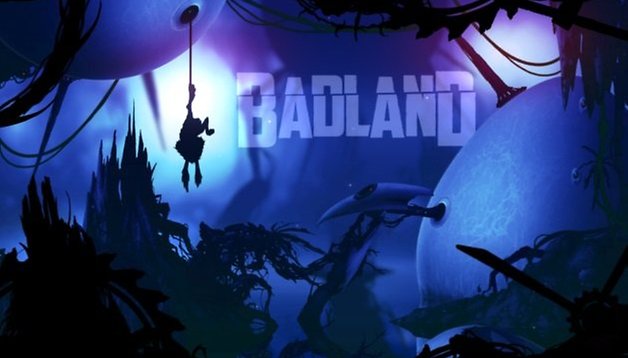 So far only iOS users have benefited from the physics-based side-scroller Badland. But now Android users are able to enjoy the whimsical fairy forest tale too. Whether it's a successful porting of an iOS classic to Android, and what you can expect in this atmospheric game, you will discover in the following review.
Good
✓

Great overall atmosphere

✓

Simple one-touch control

✓

Multiplayer mode
| | | | | | |
| --- | --- | --- | --- | --- | --- |
| Reviewed on | Android version | Root | Modifications | Reviewed version | Latest version |
| Google Nexus 7 | 4.4 | Yes | | 1.7083 | Varies with device |
Features & Use
Badland takes place in a beautiful and ambient space, reminiscent of a mixture of jungle and industrial wasteland. At the beginning, all kinds of debris is flushed out from an old drain pipe and in the middle of it all: a little winged creature, also known as the "Clone", that you will control throughout the game. Although the little fellow cannot really fly properly, he flaps and flops and bounces his way around the obstacles. You control him with just a tap on the screen to flap his little wings and the screen scrolls endlessly sideways as the level progresses.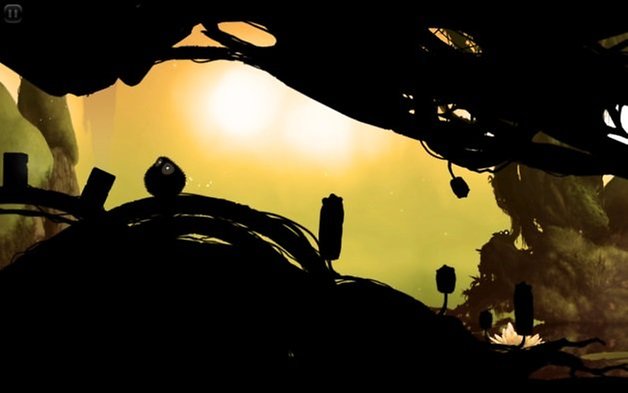 In this side-scroller you must always be one step ahead. The game world around you moves on its own and if you do nothing, the world will move on without you and your little guy will meet a premature end. Fortunately though, you don't have to then start again from scratch, but simply from a very recent point in the game.
The path through the industrial jungle is not easy by any means. While this game has the shortest learning curve ever – you only have to do one thing to control the action – the various obstacles awaiting you, including dead-ends, dangerous rotors and rotten pipes that collapse without warning, will put your skills to the test.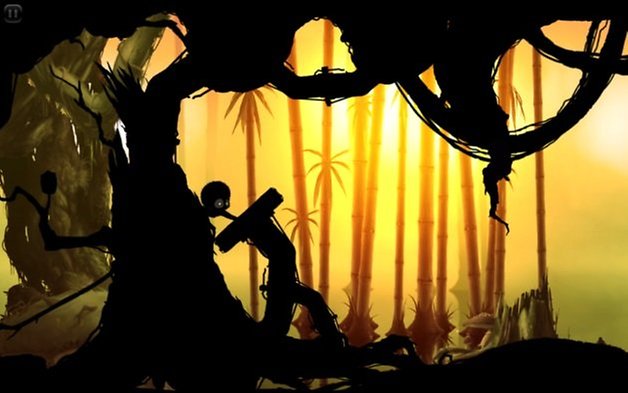 And the only control you have is held in the tip of one finger. Sometimes the environment will collapse around you, at other times your little bird will swell up or shrink, making his passage through cracks (or forcing your way through an area) either easy or impossible. There are also various bottlenecks that are only bested with a lot of tact. Sometimes speed is of the essence, sometimes hanging back, and sometimes you're just getting bashed along by cogs or rotors and hoping for the best. As long as you don't fall victim to crushing rocks or spinning blades you're usually ok.
Every now and then there are small power-ups that will make your little hero big, or make him even tinier. Or even better: the little birdie will be cloned and suddenly you'll be controlling a whole flock of birdies through the grinding thicket. This is where things get interesting, because sometimes you have to sacrifice some of the flock for the rest to move on, or split the group in two, or rearrange which one you're focusing your attention on.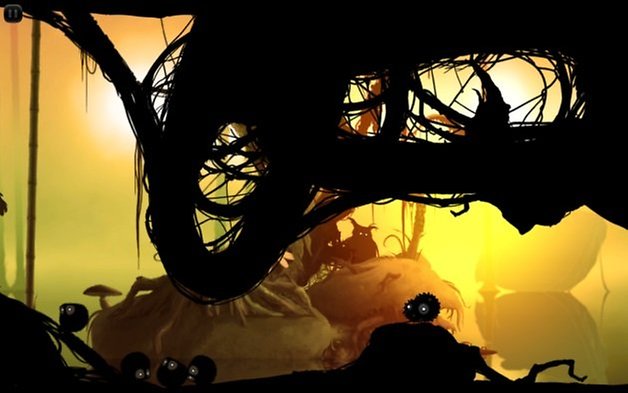 In the single-player campaign, there's 80 levels waiting for you (40 levels without the premium pack). A multiplayer mode is also on board. On a tablet, you can mix it up in Badland with up to four people on one screen. In this mode, everyone gets their own piece of screen to control. So far in multiplayer mode, four levels are available (21 in the Premium version), but more are soon to follow with the next updates.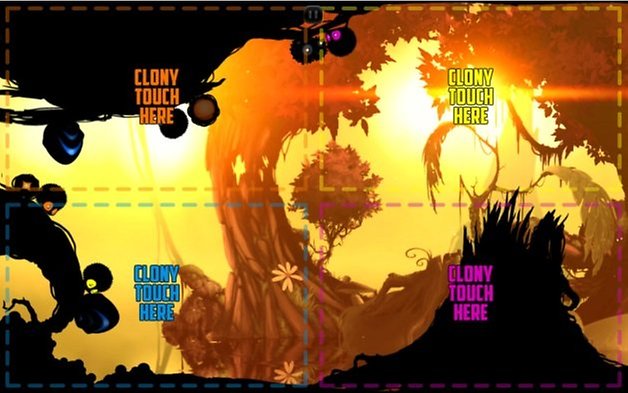 At the end of each level another industrial pipe lies in wait, ready to suck the small clone in and transport him (and whatever other Clones remain alive) to the next level. Along the way nice little "breathing spaces" are inserted amidst the chaos that allow you to simply take in the stunning backdrops for a couple of seconds.
Screen & Controls
Badland is one of the few games available right now that supports the full-screen immersive mode made possible by Android 4.4 KitKat. The game experience is accordingly terrific. Anyone who needs to get out of the game (but why would you want to?) or into the menu again, simply needs to swipe the top of the screen downwards once to bring the soft buttons back on screen.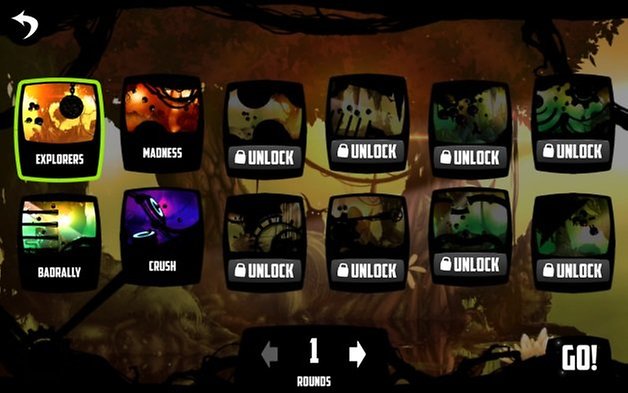 The one-touch control is really well done and works perfectly. Background sounds with birdsong and nondescript industrial sounds are matched well with the graphics and build an incredibly atmospheric picture. The overview displays how many clones you have brought to safety, and on what level you are currently on. But as far as gameplay goes, it's all screen.
You can also save your score in the cloud via the Google Play Games service, which can be used if you sign in with your Google account. You'll also be rewarded for completed missions if you choose this option. The statistics of the game also reveal some interesting information, such as how often you touched the screen or how many clones you've lost along the way.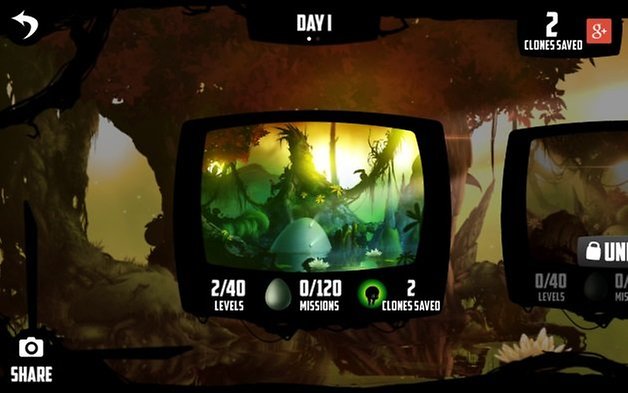 Speed & Stability
Badland ran the test period smoothly and without crashes the whole time. The game world moves at a reasonable pace, but over time of course, it speeds up. Nevertheless, there was never any stuttering or other bugs.
Price/Performance Ratio
Badland is available free and offers quite a lot of levels for many hours of gameplay in single player mode. Although the free version is ad-supported, during the test not a single advertising insertion appeared. However, the occasional upgrade offer pops up, which provides options for an ad-free version ($0.99), multiplayer mode with additional levels or Day II pack with 40 new levels (both $1.99). There's also the Premium option which includes the previous three, for $2.99.
By purchasing the premium package you also support the indie developers who are responsible for porting this addictive title to the Android platform in such good fashion.
Final verdict
Badland is an impressive, physics-based, adventure side-scroller that makes for really great fun, especially on a tablet. From the sound to the graphics to the many little extras and details, the app is well thought out and adds up to an instantly addictive game. The free version offers a good look in, and if you want more, you can chip in a small fee and receive many more levels. Badland is also not boring: the traps and obstacles change from level to level, and there are always more difficulties involved in overcoming them. Overall, Badland is a very successful app, and is well worth a download if only to see for yourself what the fuss is all about. You may just find it impossible to put down though.