Baldur's Gate Enhanced Edition Gets First Trailer, You Point, I Punch Hopefully I shouldn't have to explain to you what Baldur's Gate is. In fact, I'd be a little upset if you haven't at least heard it mentioned before. That quote from the title, "you point, I punch," has been lifted right from the dialogue of the original game. Long time fans will recognize it immediately.
Baldur's Gate is considered, by many, to be one of the greatest roleplaying games of all time. It's right up there with Planescape: Torment, Icewind Dale, and the original Fallout games.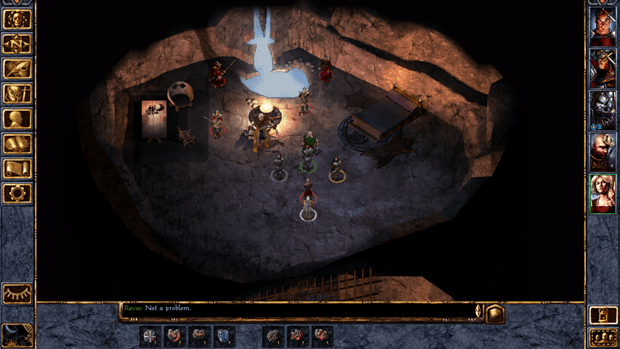 It's been known for a while now that Baldur's Gate was getting a re-release on various platforms including Android. The new version, called Baldur's Gate Enhanced Edition, will take after the launch of games like Final Fantasy, in that it's getting a whole slew of new upgrades.
The new Baldur's Gate will have improved graphics, brand spanking new content, and cross-platform multiplayer support. So, Baldur's Gate fans are getting a bigger, better and badder-asser game (no, that word does not exist).
The iOS and PC versions of the game have a release date set for the end of November. Android, on the other hand, is up in the air. We'll tell you as soon as the date is announced.
The first official trailer for the Enhanced Edition of Baldur's Gate has just been released.
Baldur's Gate Enhanced Edition Trailer
I'm extremely excited for this one, especially considering I've had an urge to play some classic RPGs lately. Personally, I've never been one for the Final Fantasy series. Don't get me wrong, I play them occasionally, and I certainly enjoyed the classic Final Fantasy games, but I'm more of a "click-to-attack" kind of guy. Chrono Trigger and Chrono Cross are the exception, of course, I utterly adore those games, and I hope to see a re-release of the latter someday.
If you are already salivating at the mouth, in pure delight (like me), for Baldur's Gate Enhanced Edition, you'll be happy to see the asking price isn't outrageous. The game will be available for $9.99 when it finally does release.
This is kind of a no-brainer, but, I'd recommend playing the game on an Android tablet when it launches. Otherwise, it's going to be tough playing on a smaller 4 or 5 inch display.
Anyone else out there excited for BG: EE? Pipe up!