Balling on a Budget? Try Hisense's New $99 and $149 Android tablets Hisense has just released two new affordable tablet computers with decent specs. The two tablets which will be priced at $99 and $149 will be sold at Walmart stores.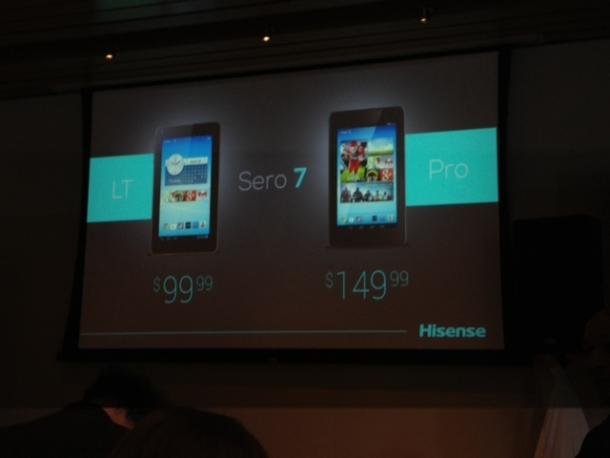 If you're balling on a budget and looking for an Android tablet then the latest offerings from Hisense might just be right up your alley. The company has just released two tablets to be sold at Walmart outlets. The Tablets are the Sero 7 lite and the Sero 7 Pro and they are going for $99 and $149 respectively.
The Sero 7 Lite
The Sero 7 Lite comes in with 4GB memory although this is expandable up to about 32 GB. Other spec include a 1.6-GHz Dual-core CPU with a 1024x600 pixel display. The tablet will be running Android 4.1 Jellybean and has a 0.3 megapixel front facing camera.
The miserly 4GB memory will be a huge turnoff to users but other than that the specs seem really decent compared to the price. The company promises up to about 4 hrs battery life on this device. All of this remains to be seen and whether the tablet functions correctly also remains to be seen as well.
The Sero 7 Pro
The Sero 7 Pro comes in with a slightly higher retail price of $149 at Walmart. It comes packed with 8GB memory although, as with the lite version, is expandable to 32 GB. The machine will be running Android 4.2 Jellybean and have a 1280x800 pixel display. The front camera will be a 2 megapixel camera and the rear one will boast 5 megapixels. 1 GB RAM is included and the promised battery life for this device is 7-10 hours.
Hisense is certainly looking to compete with the Nexus 7 tablet which is $100 more expensive than the Sero 7 lite and $50 more expensive than the Sero 7 Pro.
Which one of these tablets do you think will come out on top at the lower end of the Android tablet market?