Before Criticizing Android, Ballmer Should Look In His Own Backyard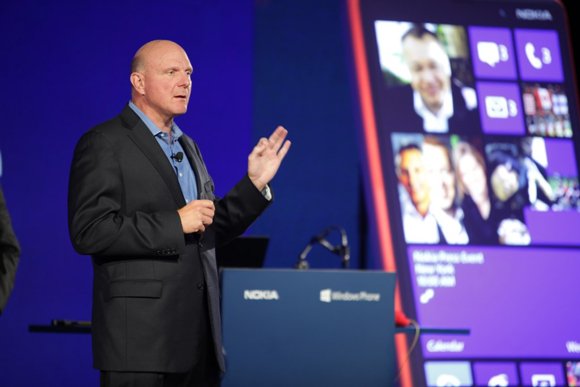 Seeking to differentiate the Windows 8 platform from the rest of the pack, Ballmer had some choice words when describing Apple and Android's app ecosystems. In an interview with Reid Hoffman, founder of LinkedIn, Ballmer called Android's ecosystem "wild," "uncontrolled" and susceptible to malware, while deriding Apple's ecosystem for being "highly controlled" but also "high-priced." Doubtless, Ballmer was trying to position Windows 8 as a middle-ground, with a perfectly controlled ecosystem.
Ballmer's comments could be read as an attempt to distract the press from Windows' dysmal marketshare. Two years in, Windows mobile still hasn't been able to knock RIM from third place. While the smartphone market has room for two leading brands, three is a crowd and coming in fourth place leaves Microsoft with almost no market share whatsoever – around 2.4%, according to a report released by Gartner just yesterday. Windows' share actually slipped from 2.7% last quarter, most likely because many folks are waiting until Windows 8 is released before purchasing a new Windows phone.
Ballmer Privately Unsatisfied with Windows App Ecosystem
Currently, there are around 10,000 Windows 8 apps available for purchase, a paltry number compared to the hundreds of thousands available for Android and Apple users. In fact, Microsoft has been so concerned about the small number of apps available for purchase that it's likely the reason Windows Division president Steven Sinofsky resigned on Tuesday.
According to the New York Times, Sinofsky frequently butted heads with Ballmer, especially when it came to Windows' app ecosystem. "Mr. Ballmer was also frustrated by the relatively sparse selection of applications available for Windows 8. Mr. Ballmer has long been an advocate of the importance of independent developers in making Windows successful," the New York Times wrote of Sinofsky's departure on Tuesday.
While seeking a "middle-ground" between the seeming "wild, uncontrolled" ecosystem of Android the "overly-controlled" and expensive Apple App Store, sounds like a good idea in theory, it's unclear how Windows plans on achieving their goals. Currently, Windows and Apple ask developers to cough up $99 before they're able to offer an app through their story. Google Play, in comparison, asks for just $25. That's the amount Google has surmised will keep out spammy developers, but it's not as prohibitively expensive as the $99 fee Windows and Apple request. One could argue that Apple can get away with such a fee, but can Windows?
Windows Just as Susceptible to Malware
Just days ago, a teenager was able to craft a prototype malware for Windows 8 before its official unveiling. This shows that Windows is not impermeable to malware threats by any means. The Trojan poses as a legitimate application but can steal user's data, including contact numbers, text messages and photos.
The truth is that Windows' app store could become an enticing middle-ground between Apple's App Store and Google Play, but currently is just as susceptible to malware as Android, just as prohibitively expensive for first-time developers as Apple and too small to compete with either in the near future. Ballmer likely knows that, and so he's trying to focus attention on competitors' shortcomings so no one will look at his own.
Top photo: Microsoft.com