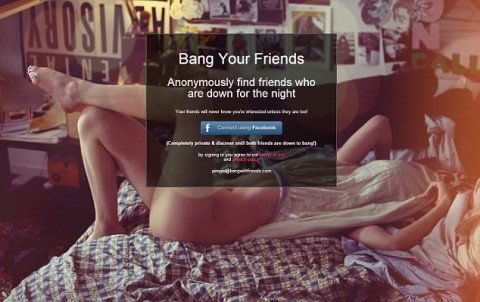 Bang with Friends is a new app on Facebook, which wants to hook you up with friends whom you're sexually interested in. The app claims to have seen 235,000 sign-ups and matched over 15,500 couples since it was launched last week.
Bang with Friends attempts to provide a modicum of anonymity by not notifying people you're interested in sleeping with unless they're interested in sleeping with you as well. While signing up, though, Facebook has a pop-up which allows you to see which of your friends had already signed up with the app (I had two friends out of over 1,000 — so maybe this app isn't the viral smash it's pegged to be, just yet).
Of course, there are already tons of hook-up apps out there for men and women – gay and straight – including Grindr, Blendr, Qrushr, Scruff and Manhunt. What makes this app different?
According to the founders, who remain anonymous, Bang with Friends helps you cut through the awkwardness of hitting on a friend. "It can be awkward to breach the subject of your sexual interest in a friend unless you know it's mutual. We take down that barrier," one founder told Vice Magazine.
So will this app somehow revolutionize the way we shack up? I'm not so sure. The founders of the app seem to think that transforming Facebook into a hook-up site will be easy, but the fact remains that most people associate it with a completely different purpose. And besides, if you have a friend you're interested in, why not just contact them via message? Why would anyone need an app to do that?
The app has been doing well recently, but we wonder whether it has long-term viability.