When stalking friends on Facebook is just not enough, it's time to get a little more serious. With the "Bang with Friends" app, Facebook has just become the largest swingers club in the world. Friend requests that may have seemed harmless yesterday might be under a bit more scrutiny with the release of this new application.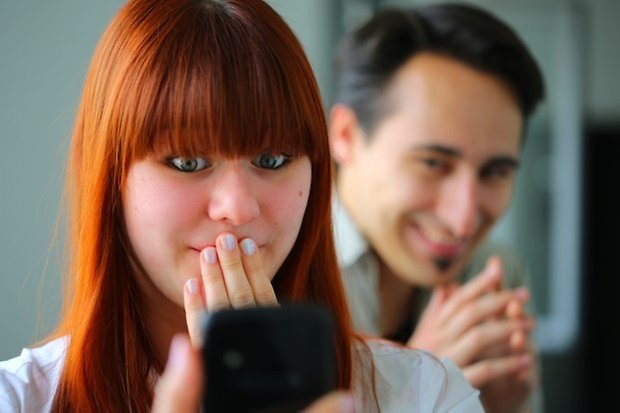 Let's be honest: Have you ever wanted to anonymously express interest in someone sexually without having to go through all the song and dance that society requires? If so, "Bang with Friends " might be right up your alley. Facebook friends easily become Friends with Benefits, at least in theory. In all honesty, being paid to look into this app and test it out isn't the worst thing in the world. And even if we normally separate our professional and private lives, I can finally say that the two have been mixed together ... for testing purposes only, of course ...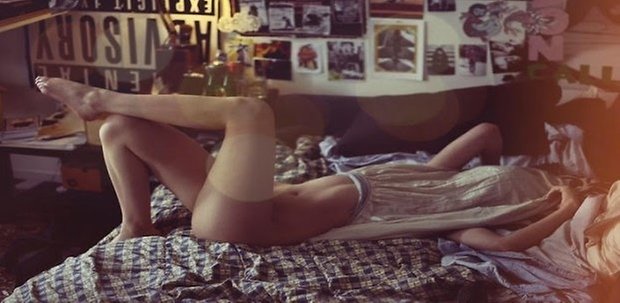 The idea is deceptively simple: You connect to the application with your Facebook account and select from your friends who you are interested in. If the same person selects you back while using the app, you're listed as "bang-able". For all those who complain that Facebook is superficial, here's a chance to deepen your relationships!
The Android app has only been available since Thursday in the Google Play Store and there were a low number of rated reviews for the app. However, out of those that were present, many were negative. Is this the Morality Police at work or are they legitimate critiques of the app? Interestingly, no one has dared to post comments on how they find it works or reveal that they are, in fact, a user of this application. I guess one of the hurdles of an application based around anonymity is that when it comes down to it, nobody wants to identify themselves and put themselves on the line.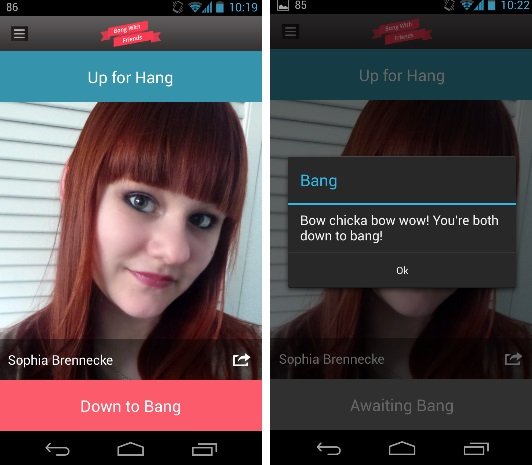 Lower your inhibitions
I was really surprised by the amount of embarrassment that I felt when I started using the app. My first thought was, "Will I really get any response from my Facebook contacts?." Then when I browsed to my female contacts, I behaved like a bull in a china shop. I was ridiculously afraid that my finger would accidentally hit the "Down to Bang" button .
Upon opening up the app for the first time, I had to sit through a short tutorial. It was completely unnecessary because the application speaks for itself. There are two buttons and two directions in which you can browse and that's all for now. The top button, "Up-to-hang" allows you to ask a contact to basically, hang out. I personally do not understand the meaning of this option, it's not like I need an app in order to ask whether someone wants to hang out or not.
The other button (" Down to bang " ) is the one around which everything revolves here. If someone list you in the Down to Bang category, you receive a message in the application. If both of you choose each other to "Bang", a message is displayed indicating a successful match. In both cases, both partners can contact and share tidbits about their intentions.
When you start using it, the first problem was immediately obvious to me. When you have a lot of women in your contacts, it lacks a search function or an easy way to go through them. We must therefore sweep, sweep to the desired person. The first time it was difficult to overcome the embarrassment and connotations of pressing the "Down to Bang" button. But to my surprise, it became easier and easier as I did it and I soon became the world champion at clicking the button.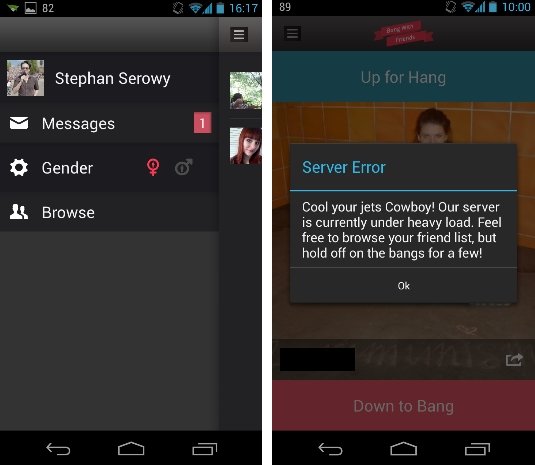 The thing with anonymity
The application, however, is useless if your Facebook contacts don't have the "Bang with Friends" app. You can, however, send anonymous invitations, if you so dare. I wasn't entirely convinced about the anonymity of the app. I mean, officially, no one is supposed to know that you are using it, however, it displays a list of ALL your facebook friends that are currently using in Facebook's application list. Kind of defeats the purpose, eh? However, for myself, there was no issue since none of my friends had the application listed, a big relief considering how many times I hit the "Down to Bang" button.
Warning : It has been found that a glitch was uncovered which reveals the identity of all users!Use this app at your own risk ... )
Conclusion
I'm a pragmatist, not a moralist or a lady hunter such as Barney Stinson (How I Met Your Mother). And I believe that "Bang With Friends" should allow timid people to open the door to possibilities that they may be too shy to explore otherwise. But, this is in theory only, most notably because at the moment nobody uses this application, as you can see the number of downloads on Google Play.
Will "Bang With Friends" trigger the next sexual revolution? I do not really think so. It's approach is a little too and I have a funny feeling that the majority of the users of this app will most likely be male. But even if nobody dares to admit openly, Facebook is used for one main reason: to look at the pictures of others. Bang With Friends would simply be the next evolutionary step in the song and dance game of seduction. I'm just not convinced that it's doing it in the best way.
For the brave, desperate or just curious, the app is free in the Google Play Store. All my best wishes to those brave enough to try it out.