BANNED: Is Facebook Censoring Content That's Not Über-Positive?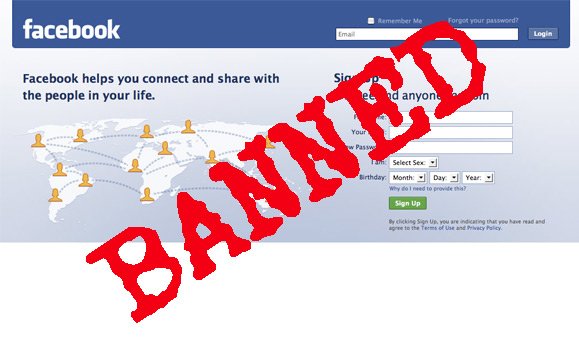 A few days ago, a Tech Crunch writer logged into Facebook to comment on a friend's post, but his comment was immediately deleted. The reason? Facebook had determined that it was "irrelevent or inappropriate." What's going on here?
Now, we all know that Facebook censors horrible content – like animal cruelty and hate speech. But the censorship of comments Facebook deems "negative" already has a lot of people up in arms, comparing what Facebook is doing to Soviet Russia.
What's troubling – as Tech Crunch pinpointed – is that what makes a comment negative or positive is a very subjective thing. Does this new censorship policy mean we'll all have to post exclamation points with smiley faces at the end of our comments, lest some Facebook algorythm falsely diagnose our sentiments as sarcastic or mean-spirited? Will Facebook become a relentlessly positive clearinghouse for puppy videos and posts like "OMG I just bought the new Justin Bieber album" or, or, or....
It seems other Facebook users have experienced similar things. One reported to Tech Crunch that access to his Facebook account was temporarily limited after he wrote a benign comment that said "I'm a married man." What the hell?
Facebook has responded with the following statement:
"To protect the millions of people who connect and share on Facebook every day, we have automated systems that work in the background to maintain a trusted environment and protect our users from bad actors who often use links to spread spam and malware. These systems are so effective that most people who use Facebook will never encounter spam. They're not perfect, though, and in rare instances they make mistakes. This comment was mistakenly blocked as spammy, and we have already started to make adjustments to our classifier. We look forward to learning from rare cases such as these to make sure we don't repeat the same mistake in the future.

For more information about our spam prevention systems, please see this blog post: https://blog.facebook.com/blog.php?post=403200567130."
Have you had your Facebook account blocked because of something you wrote? Let us know below!