Upon receiving the Beats Pill by Dre, the first thing you see is the bright orange rectangular box with a Beats logo plastered on the front. A white flap has you open the box to find the Beats Pill speaker in its case, as well as a tiny booklet about the Beats industry and the ideas behind it. In this short introduction into the world of Beats, Dr. Dre states that he would like for ''people to hear what the artists hear, and listen to the music the way they should – the way I do.'' I put the Beats Pill to the test, along with its Bluetooth, NFC and call receiving capabilities, to see if I could really feel as if I'm standing in a recording studio with the artist.
There are 10 sorts of people: those who understand binary and those who don't.
What do you think?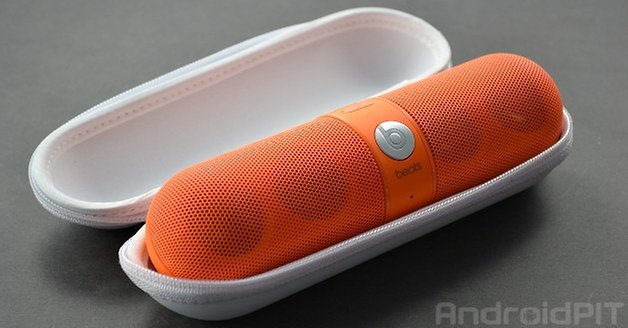 Design
In my personal opinion, the Beats Pill looks pretty rad: I like its bright orange color, and pill-like shape. I think I would buy one if only for its design, since the audio, as it will be mentioned further down, is lacking in bass and a whole-bodied sound. The color is something a teenager might like and isn't very sophisticated, or better yet said grown-up. It even comes with a nice sticker :)
The portable case for Beats Pill is a nice and pristine white, which will easily get dirty and won't look brand new for long, especially if you plan on bringing it around with you to the park or the beach. ''Beats'' is spelled out in the same color as the pill and the box. It works well enough for protecting Beats Pill if it's ever dropped. You'll also get an extra key-chain to add to the Pill case if you want to hook it onto your bag or purse.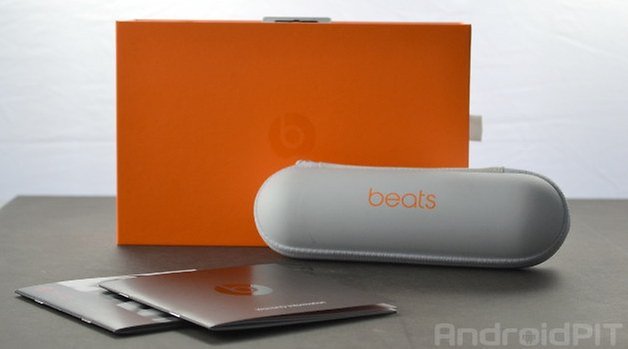 The device sits nicely without rolling on the table thanks to a rubberized bottom piece, making it not completely cylindrical. The entire thing is made of plastic aside from the circular button with the beats ''b'' symbol which also hides an LED light behind it. It shines when pressed (more uses for the ''b'' to come later). The 4 mid-range speakers can be seen through a plastic grid-like covering. It's actually quite heavy to hold, and heavier than expected. On the back, you'll find the NFC sign in the middle just under the volume up button, where the power button is also located. To the left side of the power button are the in- and output jacks and on the right, the Bluetooth light and USB port. You will also find a small built-in microphone hole right under the word ''beats'' on the front of the device. The speaker is not waterproof nor is it dust proof, to say the least.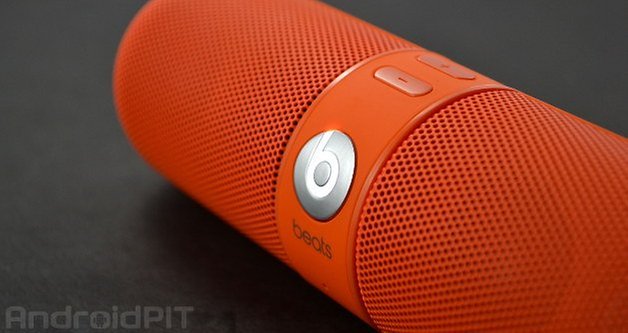 The Beats Pill has a warranty of 2 years from the original date of purchase and if defective (through no fault of your own), the manufacturer will either repair it at no charge, exchange it for a new one or refund the original purchase price.
The USB and audio cables that come with the device are white, however the charger plug is grey, a really odd choice, and I wondered why they didn't make it white? If Beats really cares about esthetics, which I'm pretty certain they do, white would have gone a lot better with the overall look.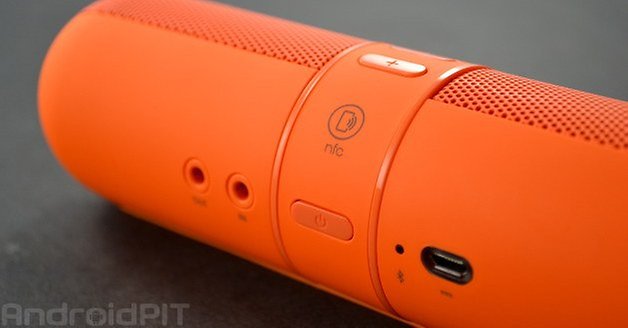 It comes with a very comprehensible guide book which includes step by step illustrated instructions for the whole shebang! Setting it up and getting the speaker to work was like child's play. It's also worth pointing out that the Beats Pill packaging is recyclable! Thank you Dr. Dre!
It comes in other colors as well: red, black, white, gray, pink, ''pretty sweet'' black and ''pretty sweet'' white. The two last options are a combination of either mainly black with blue and red accents or else some white with a red side and a blue side. Both of these also say ''pretty sweet'' instead of ''beats'' on the speaker. Nikki Minaj advertises the pink one with Nelly and Farrell while Robin Thicke shows off the red one in a very questionable commercial, showing just a bunch of dancing naked girls. Not my cup of tea and really degrading, though that's just my two cents.
Note: the audio cord can be used to connect the Beats Pill to smartphones, tablets or even PCs which don't support Bluetooth. The USB cord is used for recharging the lithium ion battery on board.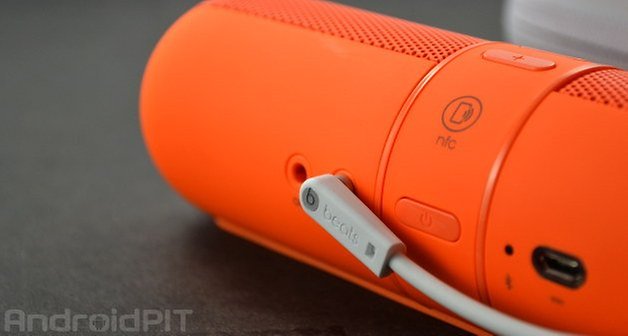 What comes with Pill
Beats Pill Portable Stereo Speaker with Bluetooth
1.5 m audio cable (3.5 mm to 3.5 mm)
USB 2.0 charge/data cable
Carry case with carabiner
AC Power Adapter
Sound
To dumb things down a bit, the sound that the Beats Pill produced would be, on a scale of one to ten (ten being the best) a seven. I played an array of genres: some reggae with Snoop Lion, singer-songwriter style with Annett Louisan or some techno that belonged to Johannes. Our goal was to test the bass and treble as well as see how loud the Pill could get. In terms of treble, the speaker worked well at a mid-range volume. It was surprising how loud the Pill actually got, though when doing so the quality diminished a bit and became slightly warped. We noticed that the bass was also not so heart-pounding as one would hope, and for those who want to really experience that pulsing beat, even physically, the Beats Pill won't get your mojo going. In conclusion, the sound was generally OK, unless you need something more powerful with a well-rounded feel and a tight sounding bass. Though the sound was mostly good, I'm not so sure that Dr. Dre successfully made me feel as if I was standing in a recording studio.
Note: you can also play and pause the song by pressing ''b'' right on the Pill.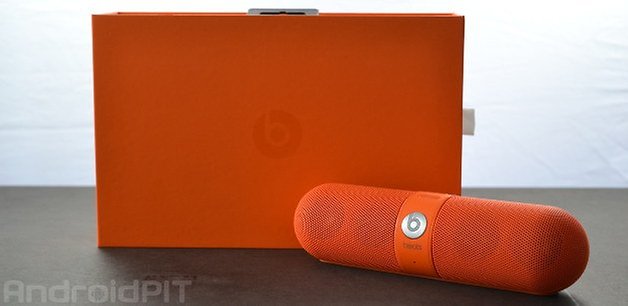 User friendliness
The main function for Beats Pill is, of course, listening to the music that you have on your smartphone or tablet which you can bring around with you when you are out and about with friends, in the park, on the beach etc. It can be connected to your device in more than one way, either via Bluetooth, NFC or the aux. cable that is found in the box. The Beats Pill will also stop playing your music when you have an incoming call and a standard Pill ringtone will start playing. You can also connect with an audio system, like home theater or as they suggest in a very savvy marketing pitch, Beats by Dre beatbox. When testing out the Beats Pill using Bluetooth and NFC, it worked like a charm for porting songs to the speaker and playing them, however it was a different story when receiving a call and carrying on a conversation.
Bluetooth
To get the Bluetooth to work you simply press the button with the ''b'' logo on the front side of the pill once for three seconds (disconnect by pressing the ''b'' again). Turn over the pill and you will see a blinking light over the top of the Bluetooth signal which means that it's searching for a device with which to pair. I turned the Bluetooth on in the settings of my Galaxy S3 and the name ''BeatsPill'' appeared immediately, which I then selected, causing the little light on the Pill to shine solidly. A paired device can go as far as 30 feet away from the Pill. In conclusion, the Bluetooth connection worked quickly and stably, no complaints there. The playback of a few songs also worked without problem.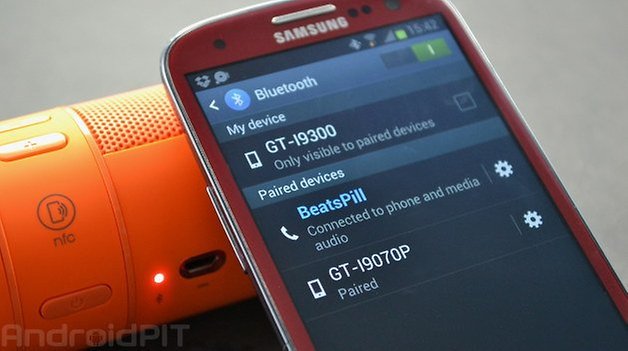 NFC
As I don't have NFC on my phone, I used my colleague Johannes' Sony Xperia P, which, by touching to the NFC logo on the Beats Pill after launching it on his phone, was able to overtake the Bluetooth connection from my phone and connect. In fact, the Beats Pill can remember up to 8 devices in its memory. When connecting using NFC, it will automatically switch to a Bluetooth connection. Also an interesting and note-worthy aspect when connecting his smartphone using NFC, it immediately launched the Sony Walkman app and started playing the last song that he had been listening to on his phone. It's safe to say that this would happen with any other phone which uses NFC. This wasn't the case when connecting my smartphone using Bluetooth only. Again, connecting with NFC and playing back music from a smartphone through the Beats Pill operated perfectly.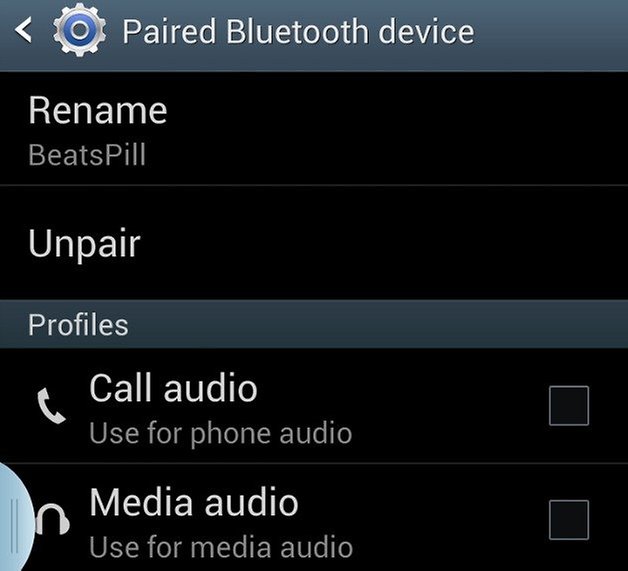 Calling or ''Bluetooth Conferencing''
Calling was another story. To start off this part of the test, I called Johannes' smartphone which was currently playing a song on the Pill. The song was interrupted by bursts of ringing alternating between ringtone and the song currently playing. After Johannes answered by pressing the ''b'', my voice was clearly projected from the Pill, however Johannes' voice, when speaking into the Beats Pill, was distorted, fuzzy and almost impossible to comprehend on my smartphone. First we thought it could be something to do with his Bluetooth connection, so we did the same thing but this time he called me. Though I could hear him perfectly through the Pill, I sounded very fuzzy on his smartphone, like a bad long distance call or when using speaker phone. Had I wanted to ignore the call, I would have simply long pressed the ''b''. You can also answer a call waiting by double pressing the ''b'', which will switch you between calls. In conclusion, using Beats for wirelessly playing music from your device did a bang up job, though for calling, which on the positive side came through with just a couple of seconds of delay, offered terrible, tin-canny and garbled quality.
Technical specs
| | |
| --- | --- |
| Weight | 325 g |
| Height | 45.72 mm |
| Length | 190.50 mm |
| Battery life | 7 hours (average at 80 dB) |
| AC Adapter | 5V, 2.1A |
| Power Adapter Input Rating | 100-240V ~ 50/60Hz, 0.5A |
| Price | 199.95 USD |
Bottom Line
I'm torn between the cool, young and fresh design that Beats Pill brings to the table and its just ok sound and horrendous calling quality. Like many of the other Beats products on the market, I find that the Beats Pill looks great, and I would love to try out the others if ever presented with the chance. The Beats Pill isn't clunky, despite being a tad heavy, and has a cool looking design, and the sound quality was good - but not amazing. For a wireless portable speaker it's pretty good if you compare it to many other mediocre speakers of the same genre. However for the $199.95 US that they are asking for it, I will pass on buying it and get myself something not so flashy, which does the trick better. On the other hand, if you have enough money to throw around (which I certainly don't), it could be a cool, gimmicky speaker to show off to your friends.