Become the Drug Kinpin You Always Wanted to With Scarface Multiplayer "Here's to a land of opportunity." It is, but a single, cheesy one-liner spewed from Tony Montana's mouth, and it's one of many that the 80's drug kingpin is famous for.
I'm sorry for this I genuinely am, but I have to say it.
"Say 'ello to my lil' friend."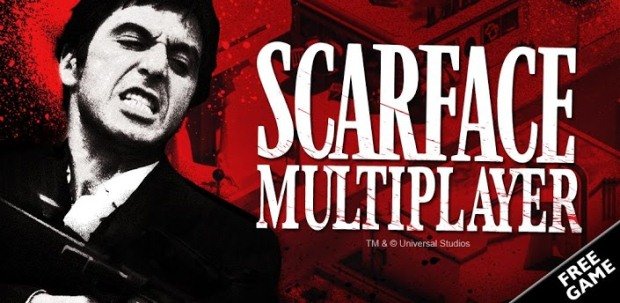 Fuse Powered Inc and Hothead Games have just released a licensed MMORPG game for Android featuring the world of Scarface. Hopefully you aren't already sick of Tony Montana's brilliant quotes because you'll be hearing them a lot if you play the new game.
"Scarface is such a cult-classic franchise with a huge fan-base so releasing the game on the largest mobile operating system — Android — was a well considered investment. With such an enormous potential player audience on Android, the social aspect of multiplayer was an extremely important feature in order to create a trueScarface experience," said Jon Walsh, CEO of Fuse Powered. "We're really excited to see how players build and protect their empires and more importantly, how they interact with each other."
Players learn fast that the mob-based mobile title doesn't stop when they leave the game. Players can attack other users at anytime if their defense is not strong enough. The ultimate test is how players retaliate against their enemies and work with their allies to protect their empire.
Scarface for Android features more than 96 missions to complete in total. You'll also be able to interact with characters from the actual Scarface world including Tony Montana, Manny, Elvira, Frank and Omar.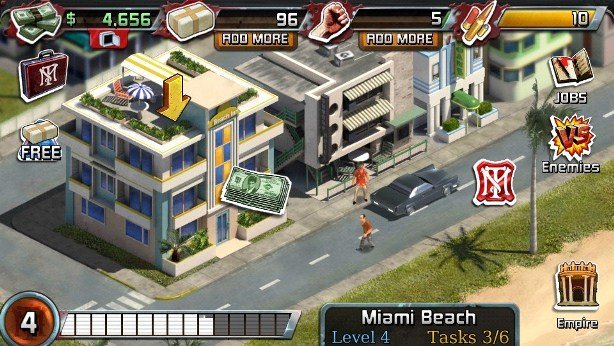 Of course, what would a game description be without a bulleted list of features?
A Massively Multiplayer Mobile Game – attack and rob real players from around the world in real-time
Players can add friends to their mafia and boost their stats
Authentic voices and images from the iconic crime film, including all of Tony's famous quotes
Interact with Tony's famous friends and foes including Manny, Elvira, Frank and Omar
Complete more than 96 missions that take Tony from the streets to the top of a criminal empire
Players can custom build and expand their empire by choosing from dozens of businesses to own, upgrade and defend
Explore six different locations in and around the city of Miami including South Beach, Downtown and the Club District
Players can arm themselves with dozens of Tony's 'little friends'
Stunning visuals and a custom soundtrack help bring Miami circa 1980′s to life
Message Wall – Taunt other players and get them to fight by writing on their message wall
Skill Points – Get stronger by leveling up and gaining skill points
Enemies – Find other players to attack and rob for cash
Vault – Players can protect their hard "earned" cash from being stolen
The game itself plays a lot like Paradise Island or Smurfs' Village, albeit with a little more blood and violence. Essentially you create your empire from scratch and collect money and resources continuously. Over time, by completing various objectives and by building new structures, you will become powerful and rich. Your power comes at a price though because other players can rob or attack you at any time.
Of course, Scarface is free, so the developers needed some way to cash in. They have done so by providing freemium in-app purchases. Like most other freemium Android games, you need power to complete objectives and missions, and you need resources to build and improve your empire. When you run out, you can just wait until all your resources have been refilled or you can buy more with real money.
As far as I can tell, you don't need to spend any money to play the game. Just keep in mind, specific resources have a lengthy regeneration time so you'll be waiting around a lot to do certain things. For example, upgrading buildings in your empire takes "product". When you start the game, you have 99 product in your inventory, but this gradually dwindles away. The only way to get more is to complete exclusive offers through tapjoy (oh man, do I hate tapjoy) or obtain more product with real dough. You can complete the tapjoy offers for free, but it will take a while to earn a substantial amount of product.
Scarface Multiplayer for Android Trailer
Still, the game is certainly worth a play, or two. I can't promise I'll be playing Scarface a whole lot, but if you want to try your hand at challenging me personally my account name is "SKULLTASTIC".
As usual, you can get Scarface from the Google Play store.
Good luck fellow Scarfacers, and remember: "In this country, you gotta make the money first. Then when you get the money, you get the power. Then when you get the power, then you get the women."