It's fright night: best horror apps and games for Android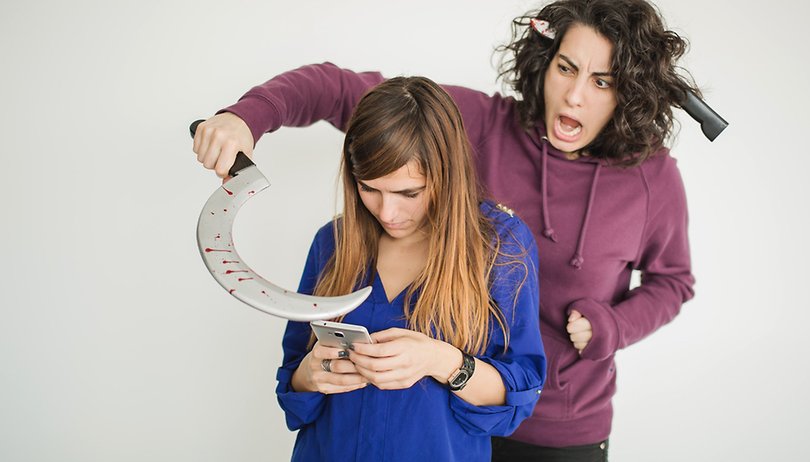 It's that special time of year when the shadows draw near and we pay tribute to all things spooky and frightening. In the spirit of Halloween, we present to you the most fearsome apps and games haunting the Google Play Store, with tricks and treats galore. Get ready to spook and be spooked.
Five Nights at Freddy's
You don't need a big budget or mega-complicated controls to make an absolutely terrifying horror game. Five Nights at Freddy's is one of the scariest games ever, and it's haunting the Google Play Store among other platforms. You play a security guard working the night shift at a pizzeria, whose creepy animatronic mascots have the unsettling habit of straying from their places at night. After a few sessions with this pants-wettingly frightening puzzler, you'll never look at a 'cheerful' doll the same way again.

DERE EVIL EXE
DERE EVIL EXE bills itself as a 'Meta Horror Pixel Platformer', so what does that mean? The game has pixel graphics and yes, the jump-and-collect gameplay of a platformer, but it's in the horror story and visuals that it really shines. This isn't your standard ghosts n' ghouls Halloween story. It exudes genuine creepiness through its use of 'glitches', mysteries and fourth-wall breaking surrealism.
Slayaway Camp
Fans of slasher and horror films a la Friday 13th will love this fiendish puzzle game, which combines blocky art with VHS aesthetics for a gruesome good time. You take on the role of Skullface, a masked killer who slaughters his blocky victims in grim and humorous ways that'll have you cackling with glee this Halloween.
Scary Stories
In today's visual age, flashy virtual reality horror experiences may be the cutting edge, but there's sometimes nothing scarier than your own imagination as you read a spine-chilling tale of terror. The Scary Stories app does exactly what it says on the tin, it's a repository of spooky tales for you to enjoy or tell to your friends or kids. Perfect for candlelit Halloween sleepovers or campfires, you're sure to find the right fright for you in the over 1000 featured stories.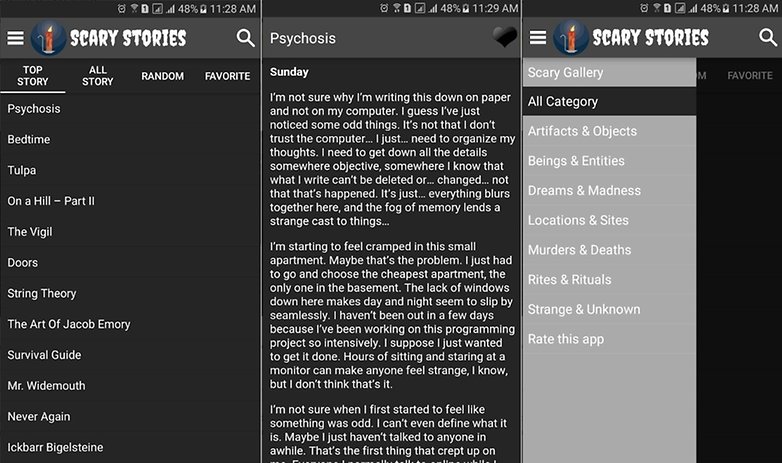 Halloween Live Wallpaper
If you're dressing up this Halloween, then you'll want your phone to match your ghoulish groove. There are plenty of live wallpapers with Halloween themes on the Play Store, with pumpkins, witches, bats, graveyards and other iconic symbols of this hair-raising holiday. The aptly-named 'Halloween Live Wallpaper' is a good choice that isn't too active (and thus distracting in actual use) and has the benefits of being free, though ad-supported.
Ghost In Photo
Halloween is all about having fun and spooking your friends. This app can take photos, or use ones from your gallery, and add a ghost to them. There are, naturally, several ghosts to choose from and you can use more than one per photo. Plus, you can adjust the opacity to make it blend in better and look more "real" if you desire. The app contains ads, but they don't get in the way too much. We dug out an old photo from the AndroidPIT archives and found some unsettling companions had posed with our reporters: see if you can spot all the ghosts in the photo!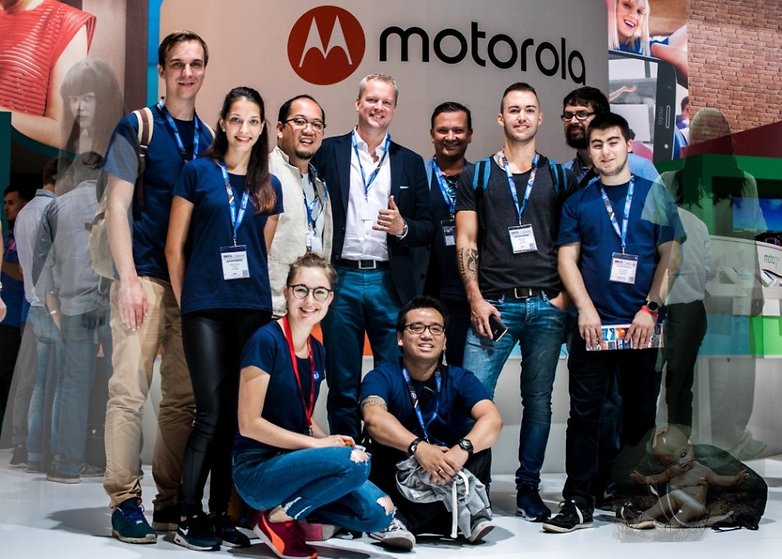 Voice changer with effects
This popular voice changer has been downloaded more than 50 million times. It allows you to record your voice, and then apply different filters to it. These effects range from hilariously high-pitched helium to robots and creepier things like monsters and zombies. Once you've recorded your voice and previewed your effect options, you can send your creepy voice clip to friends and family through WhatsApp or email for a laugh.
Zombies, Run!
If you want to get in shape but you lack inspiration, how about being chased by zombies? With this app, you have to get up off the couch, put your headphones in, and run like mad to survive. You'll hear the zombies breathing down your neck as you run for as long as you possibly can to collect supplies for your home base. You can use the app whether you sprint in the park or jog on a treadmill, and it's absolutely terrifying, even if you play your own music at the same time. If you like to track your runs and see maps after the fact, the free ZombieLink platform allows you to do so online as well.
Dead Trigger 2: First Person Zombie Shooter Game
If first-person shooters are more your thing, Dead Trigger 2 is a solid, popular title. In this game, you play as a survivor and complete missions while destroying zombies that range from human-sized to larger, more demonic enemies. It feels more like a console game, and there is a lot of complexity and detail in the maps. The controls are intuitive and the combat is simple and fun without being overwhelming or clunky.
How do you get into the spooky spirit? Do you have any other favorite Halloween apps to recommend? Let us know in the comments!