 Big Google Play Sale From Now Until... Not Sure
Google is currently holding a small app sale in light of the shopping holiday. I know, the news comes as such a surprise right?
It's Black Friday, the day where some of the hottest shopping deals out of the entire year are offered. Unfortunately, it's almost over. Generally, right around noon, sometimes later, retail stores start running out of stock- or they at least start running out of limited deal items. It's also right around this time, where you actually have to start fighting old ladies for that cheap Android tablet you seriously want.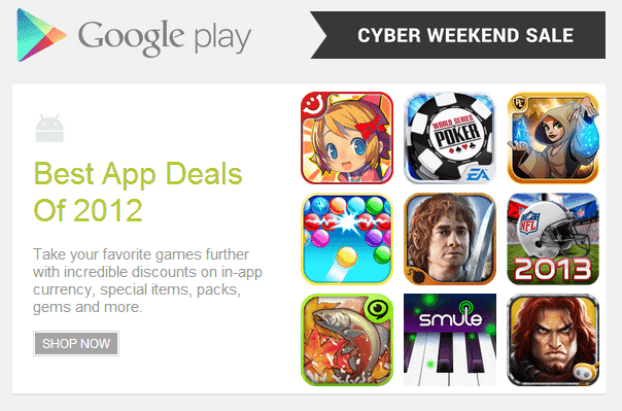 If you're just now preparing to get out there and shop (I don't know why you're wasting time reading this then), chances are relatively high that you're going to miss out on quite a few deals.
Luckily, there's always Cyber Monday. Traditionally, on the Monday immediately following Black Friday online retailers offer crazy discounts. Problem is, just like the sales on Black Friday, you have to get your order in before the items sell out.
Apps are a totally different story though. There is no inventory to run out of. An app sale usually goes from beginning to end, and up until the last moment you can still get your hands on all the apps, for the sale price.
I got a lovely email this morning, informing me about Google's huge media sale in the Play store. I'm not going to bother bragging about the email because you probably got the same one (it should be in your Gmail inbox).
Google isn't just having an app sale though, they're having a sale on everything. Discounted prices are being offered for apps, games, movies, and books. Of course, we shouldn't have to tell you that the deals only apply if you purchase your media through the Google Play store.
All of the games listed on the featured "best deals of 2012" page are free to play. However, in-app purchases have been discounted considerably.
It would suck if Google was claiming a holiday sale that only consisted of freemium games, but there are other apps discounted too! Among those discounted are Memory Booster, Swiftkey 3 Keyboard, Quickoffice Pro, Sonic 4: Episode II, My Backup Pro and more! Head on over to MobileSyrup, if you want the whole list of discounted apps that have been discovered so far.
Google has also slashed prices on other media, as well. There are lots of movies for $4.99 or less, and other deals like 80% off popular books. Some of the discounted books include the Hobbit, Hunger Games, and Million Dollar Baby. Movie deals include Jaws, the Social Network, Scarface, Serenity, and Chronicles of Riddick (which is an excellent Sci-Fi, by the way, if you've never seen it).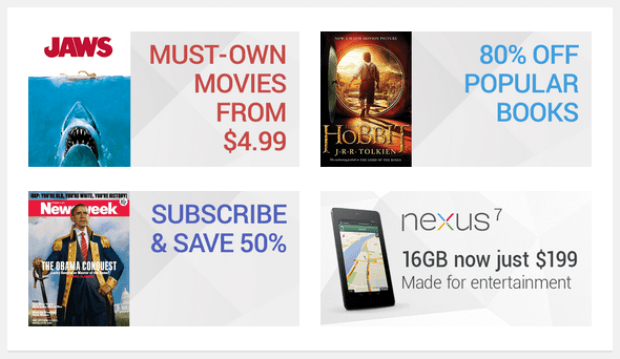 There's been no word on how long the sale will actually last, so get out there and buy those discounted apps, games and movies while you still can. It's likely the sale will last until Monday because, after all, they are calling it the "Cyber Weekend" sale, but don't quote me on that!
To check out more of the apps and media offered in the sale visit the appropriate links below. Happy shopping everyone!