Blackberry's Sinking Ship Abandoned by More Government Clients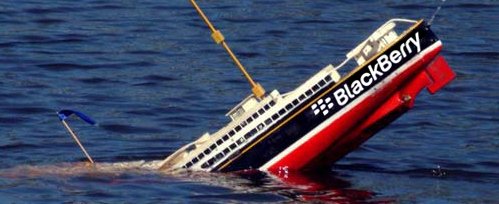 Research in Motion – the company behind Blackberry – is slowly fading into irrelevence. As Engadget wrote back in April, "With its slow shift to QNX as its primary operating system, continued promises about the current BlackBerry OS, and half-hearted embrace of Android apps, it's increasingly starting to look like RIM is... tying itself to a sinking ship."
For the longest time, it seemed that the only hope for RIM was to continue to market their Blackberries to corporations who appreciate their secure networks and business-oriented software. It wasn't a market that was expected to grow nearly as much as the wider tablet and smartphone market, but with any luck would remain rather stable. Now, however, it seems like even this business tactic is failing.
According to the Verge, the Bureau of Alcohol, Tobacco, Firearms and Explosives plans to swap out its entire stock of Blackberries – 3,800 in total – for other handsets made by Apple and "other manufacturers." This follows similar moves by NOAA and Haliburton. The total number of Blackberries abandoned by companies over the past few months could be as high as 10 - 15,000.
Wandering around Blackberry's current website, I tried to diagnose their problems. Some of the phones look quite sleek – like the Blackberry Bold – but that tiny screen has got to be a nuisance when playing games or – in the case of these companies – reading spreadsheets. Their new marketing slogan is "We need tools, not toys," but the company then tries to make these phones look attractive to creative types. With all these companies and government agencies leaving the platform, they'll have to think of a better slogan than calling a phone a "tool." After all, haven't our phones evolved to become more than just crude tools? And isn't that a good thing?