Box 2.0 Outshines Dropbox Dropbox has been the market leader in mobile cloud storage, however there is a new horse in the race Box 2.0. With a new integrated document viewer it offers a wide range of advantages over Dropbox.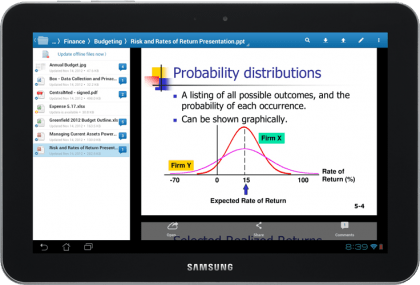 Dropbox has been the market leaders in mobile cloud storage, however Box 2.0 is set to challenge that crown. Dropbox mobile has always had two major drawbacks, firstly the limited free space and secondly the need to open to second application to view documents.
Dropbox gives a small initial storage space of 1GB, however you can do various things to gain extra free storage. It is however frustrating to have to worry about earning your free space and if you are not referring friends you are unlikely to get very much.
Box 2.0 however has two major advantages to Dropbox. Firstly Box 2.0 comes with 5GB of free space which you are unlikely to fill quickly. Secondly and most importantly to most Dropbox users is it comes with a document viewer that supports 75 different types of files. The file types include: Word documents, PowerPoint presentations, Excel spreadsheets, Adobe PDFs, Photoshop files and more.
This however, is not the end of Box 2.0's feature list. The service includes automatic updating offline folder and files, complete transfer manager as well as a completely browser-less experience.
If you have had the same frustration I have had with Dropbox then Box 2.0 is a great alternative. Dropbox is the Myspace of its day about to be surpassed by the Facebook of cloud storage.