Nexus 4, 10 Sell Out in Minutes, Prompting a Sea of Angry Tweets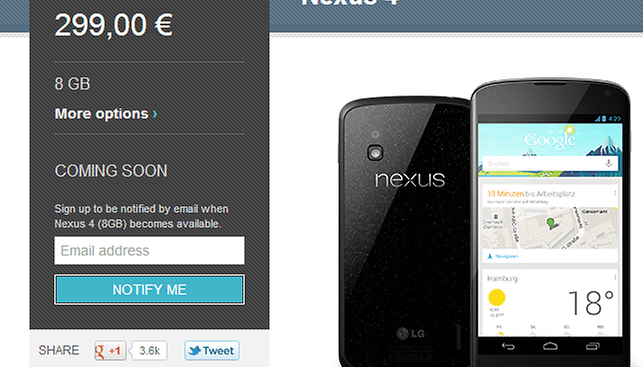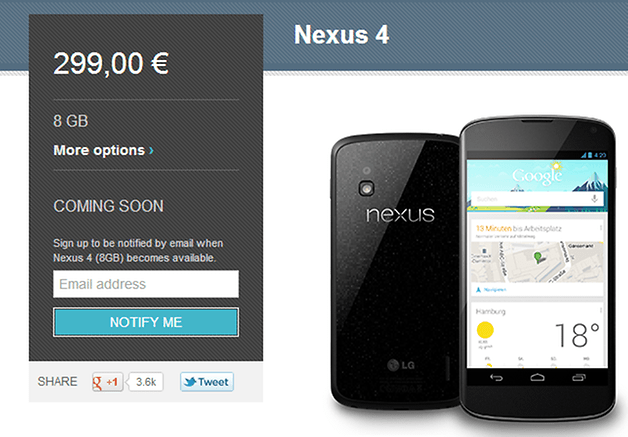 The Nexus 4, Nexus 7 and Nexus 10 went on sale in the Google Play Store today this morning, but many of the devices sold out within about half an hour, prompting angry Tweets from would-be shoppers. UK residents wanting to purchase the device now see a "notify me!" button rather than the option to purchase the Nexus 4 and 10, as do many across Europe.
Technology journalist @DamienMcFerran tweeted the following: 'Wow, Google. How many chances have you had to get this right? Still totally clueless about how to launch a phone.'
Other Android fans, like Matt Searle (@oraclematt), received a failed transaction notification for their tablet order, as the device seems to have sold out during the check-out process, but were still hopeful. "I'm now hoping that my failed transaction actually went through and I end up with 2x32GB Nexus 10s!!" Searle tweeted.
In Australia, the Nexus 4 sold out after about 20 minutes, according to AusDroid. Meanwhile, here in Germany, we're getting the dreaded "notify me" button rather than the option to purchase any of these devices, even though they're technically supposed to go on sale today.
The hotly anticipated devices include Google's first LG Nexus phone featuring Android 4.2, as well as a Nexus tablet with a higher pixel resolution than the current iPad. All were announced at the end of last month.
It seems Google underestimated the demand for the devices.
While the devices haven't gone on sale in the U.S. quite yet,we're wondering what our European users have been experiencing. What's been YOUR experience attempting to purchase a Nexus from the Google Play Store today? Let us know below!