[Poll] Will You Be Buying a Google Edition Galaxy S4 or HTC One? The idea of having a phone with the newest edition of Android running on the fastest processor available has long been a dream of Android fanatics everywhere. But now that the phones have actually been released, will you be buying one?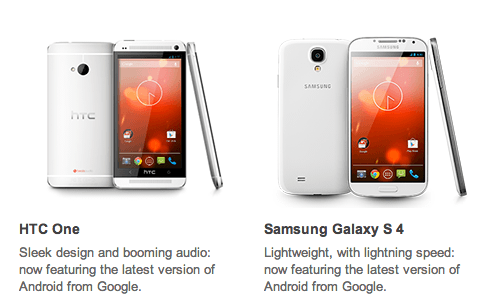 Sure they're bloatware free, and the Verge is calling them the best Androids ever to be released, but without a carrier discount, the phones might not be afforable for most people. The Galaxy S4 is available for $649 while the HTC One is available for $599.
Then there's the issues of the cameras: sure, it's nice to not have to deal with stock Sense's calendars and Touchwiz's Samsung Apps Store, but the camera features on these phones are actually pretty great. With stock Android, users won't be able to access HTC's Zoe features or Samsung's stop-motion GIF creation features, or any of their other stellar features.
Is that a trade-off you're willing to bear for a stock Android experience? Let us know in the comments below!