Download Carbon for Twitter's Android App HERE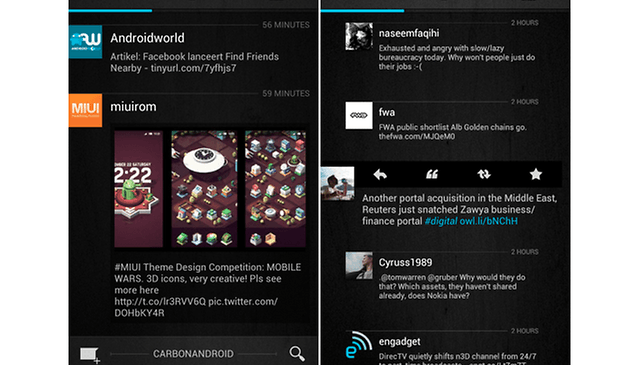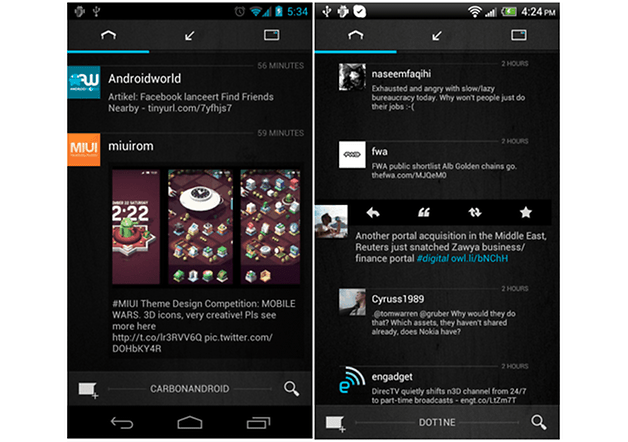 After what has been the longest wait – over a year! – Carbon for Android is finally available to download free from the Google Play store. Called "The best Twitter app for Android" by critics everywhere, the app offers a great interface with pop-up menus on either side for easy navigation. Other features include:
Tilt timeline to refresh tweets.
Power scroll by scrolling or swiping down using two fingers.
Tap and hold Tweets to favorite or rewet.
Threaded direct messages
Username autocomplete
Filters for Hashtags, Users and Keywords
These are wonderful features but Carbon for Android still isn't available in tablet form yet, and customizable notifications aren't either. It also looks like the "settings" tab hasn't been fully fleshed-out.This will come as cold comfort to fans who have been waiting so long for the app to arrive.
Don't get me wrong – I'm really happy Carbon is here. But the app developers have lost so many fans down the road from idea to implementation that I wonder if many will refuse to download the app out of protest.
The app, however, is undeniably gorgeous. Download it HERE.