 Carbon for Twitter: Settings are just Buttons
Authored by:
Nico Heister
It's been well over a week since Carbon for Twitter appeared in the Google Play Store and in the meantime, the app has already been downloaded over 100.000 times. The developer is now shedding some light on future updates and talks about the decisions behind the design.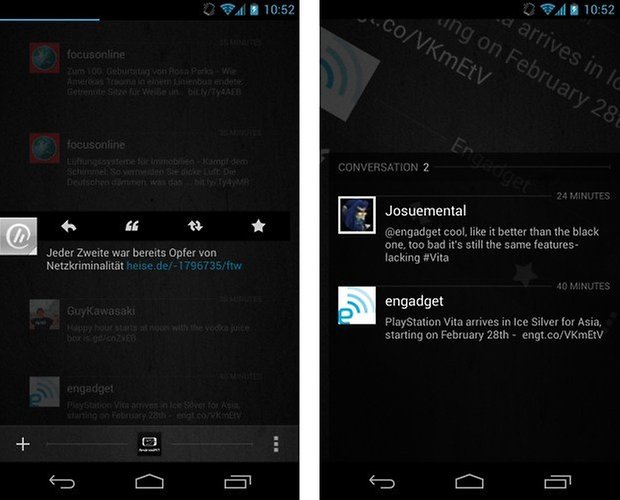 I've already been following Carbon for Twitter for a long time, ever since I became aware of the app from the old webOS era. When the Android version was finally published in the evening of February 3rd, I was needless to say very excited. However, the app is missing some settings. Other than being able to switch notifications on and off, you can't do much else as of yet. With good reason, explained M. Saleh Esmaeili, the developer behind Carbon for Twitter, in an entry in Google+.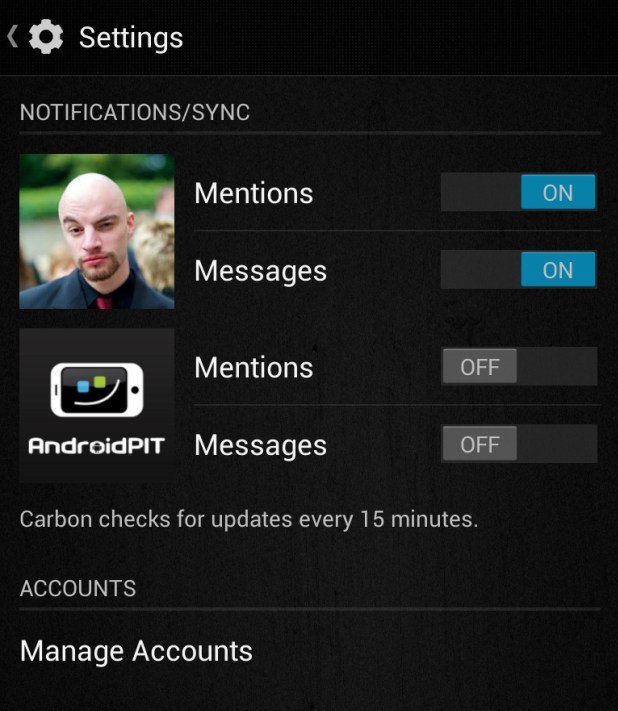 These are the only settings as of yet, though eventually there should be more.

The versions of Carbon for webOS and Windows Phone show their horns at this first publishing just because of the options. Whether a short URL, various service providers for photo-uploading, connection to Instapaper or Pocket (read about it later), the properties for sending a tweet or an timeline update, Carbon offers pretty much everything that you could ever imagine. In terms of the Android version however, Esmaeili conscientiously diverged from this approach and instead, concentrated himself completely on only rendering Twitter's content.
I came to the following conclusion: first the content, then the user experience. Personalization settings can always be subsequently filled in at a random point in time. After all, it's nothing more than a matter of a variety of switches, which doesn't entail any new functions.
He continued by stating:
Had I started out with all the various options and settings, I would've had to change my app design at some point in time and then adjust everything to it. The settings would've predetermined how I would have had to program the app. In my opinion, that would've been the wrong approach. The main functions of the app are at a disadvantage when using this plan of attack. I'm aware of many other apps, where this is the case. Rewriting code is no easy task when you have to work from the inside out.
This nowhere near means that Carbon for Twitter won't eventually acquire some options. According to M. Saleh Esmaeili, he has kept hundreds of emails expressing certain wishes. He also states that Carbon users can already look forward to options for font, notification settings (vibration/ringtone), an integrated browser, widgets and more.


A few days ago,the developer published an image of the impending widget.
As of last week, Carbon for Twitter has been downloaded over 100.000 times. This doesn't just signal a big success, it also shows that the developer was right in terms of his thoughts on settings. I myself also admit: even though I was a little bit miffed at first when I noticed that one or two settings were missing, I now realize that, in reality, I really don't miss them that much.
(Graphics: nh/AndroidPIT, dots & lines)