[Infographic] Phones and Health: Are Mobile Devices Ruining Your Body?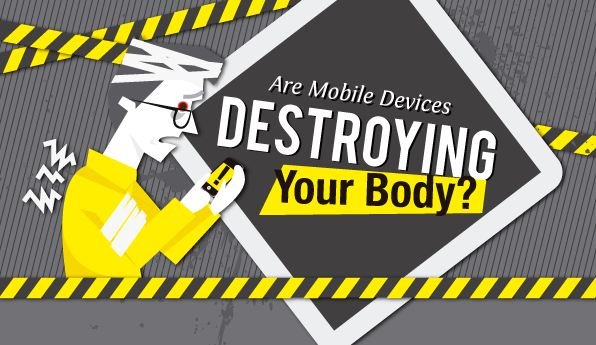 Seriousface: you probably shouldn't be using your mobile device at all hours of the day, no matter how tasty you find Ice Cream Sandwich. Now, granted, the risk of brain cancer from talking on your phone is still being debated. Nonetheless, there are other health problems that can result. The following infographic is not meant to frighten you but is just a small wake-up call that staring at a screen can hurt your eyes and divert your attention from more pressing matters. Take a look:

Some key statistics:
Chronic texters are 23x more likely to get into a car crash.
0.98 inches is the amount of space you should keep between your phone from your head to reduce the risk of developing a brain tumor.
91% of mobile texters hyper-flex their necks while texting, which can lead to back problems later on.
37% of mobile users develop tinnitus.
Looking at a screen decreases the number of times we blink: 6-8 times per minute, instead of 16-20, which can lead to dry eyes.