Cerberus - Your Phone's Guardian Dog
Losing your smartphone can feel like losing a limb these days. With the ridiculous amount of personal information and data stored on each and every smartphone, identity theft is a very real and scary threat. Lord knows what kind of information someone could glean from lost or stolen phone.
Cerberus is a security app that makes you feel like a CIA agent while watching over the well-being of your beloved Android phone. Read today's review and find out how to put potential cell phone thieves in their place.

| | |
| --- | --- |
| Reviewed version | Latest version |
| 1.91 | 3.4 |
Features & Use
Cerberus is an ever-watchful security app that is designed to deal with the worst case scenario i.e. your phone getting stolen or lost.
So here's how it goes. After you've downloaded the app, you'll be asked to create a Cerberus account with a username, password and valid email address. You'll instantly receive an email in your inbox with a set of SMS commands for remotely controlling your lost or stolen phone via any other cell phone.
In order for Cerberus to gain full access to your phone, you'll be asked to enable device administration allowing the app to potentially wipe the memory and call another number remotely.
This has got to be the most simple and time-efficient sign up I've ever experienced. Once Cerberus is up and running peacefully on your phone, the fun stuff begins.
You can control your phone remotely using the Cerberus web client by going to www.cerberusapp.com and filling in the username and password you've just created. And before you know it you are looking at what looks like a hacker's paradise: full access to your phone from the comfort of your computer.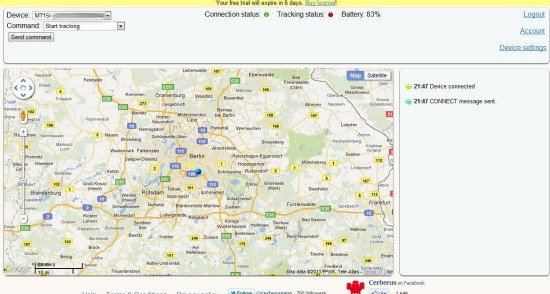 The web client automatically connects with your phone, but it will have to be connected either via Wi-Fi or 3G. Hopefully, the criminal who stole your phone hasn't shut off the internet completely and is actually using the phone. So get ready to be an undercover detective and here's a list of remote commands you can initiate:
Start tracking: A blue dot will appear on Google Maps showing you the exact location of your phone. If you have a rooted device, you can have the GPS enable automatically each time for a more accurate reading.
Stop tracking: Self-explanatory
Get device info: Displays the IP address, Wi-FI SSID (if connected), phone number, SIM card number and provider.
Lock with code: Set a customized lock code that will appear each time someone tries to access the phone.
Unlock: Turn off the lock code.
Start alarm with message: Sets off a screeching alarm with a message of your choice (see screenshots).
Display message: Displays a message of your choosing without any sound.
Get call log: View the most recent calls made from your smartphone.
Get SMS log: View all of the latest text messages.
Call a phone: Select a number to call without the knowledge of the person who has your phone.
Record Audio: Record up to 300 seconds of behind-the-scenes audio and then download an mp4 to your computer.
Take Picture: Pin down the suspect by snapping a shot of his or her mug with the front-facing camera. It will pop up in your email inbox instantly.
Grab screenshot: For rooted phones only
Start & stop emergency mode: This will make your phone send regular updates on its location via email and SMS.
Hide or Show in App Drawer: Make Cerberus invisible to the naked eye.
Wipe device memory/Wipe SD card: Deletes all information on your phone.
Phewwwy, now isn't some heck of a list? I'm sure anyone at the NYPD would be thrilled to get their hands on something like this. Sorry for being all excited, but I just can't help feeling a tiny bit like a secret agent.
In the configurations of Cerberus, you can turn on the SIM checker which sends an automatic message to your email and up to 3 selected phone numbers if an unauthorized SIM card is inserted. Also keep in mind that you can initiate any of these actions by sending SMS messages with the commands listed in the sign up email.
Bottom Line: Cerberus fits its mythical name; this app seems like its something straight out of a CSI:Miami episode. Jokes aside, the app is not only cool, but also keeps you well-protected. Not sure many police departments could be as successful at tracking down your phone as this app. The web client is the meat and bones of Cerberus, but it works like a charm. And the past part is the Cerberus can watch over all of your or your family's devices simultaneously!
Screen & Controls
The app itself is extremely basic, which makes perfect sense for a security app. It's about keeping you protected, not looking good.
The web client is also minimalist, but comes with a wonderfully integrated Google Map which displays the location of your phone with a clear blue dot. It's all packed into a real simple interface that is extremely straight-forward and self-explanatory. Cerberus scores big time in terms of user-friendliness!

Speed & Stability
The speed with which the commands are delivered to your phone depends on the internet connection, so it sometimes takes a second too long for the phone to respond. When I first tried connecting the Cerberus web client to my phone, I kept on getting error messages. After re-installing the app, everything started to work and has been running perfectly ever since. The most impressive part is that you can use the phone without any lags or delays easily without ever feeling that you are actually being watched.
Price/Performance Ratio
Cerberus is available for a one-time lifetime fee of €2.99 from the AndroidPIT App Center. You can try out the app for free during a 6 day trial. There are no ads and the support team is wonderful. I got an answer to a troubleshooting problem within an hour! Top notch!