 Chameleon: A Better Android Homescreen AndroidPIT Interview (Part 2)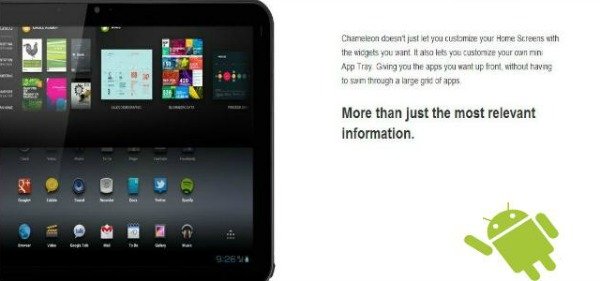 If you haven't heard about Chameleon for Android, you're missing out on a seriously cool project. Back in March we learned that a company called Teknision (the company behind the interface on the RIM Playbook tablet) was developing a seriously impressive overlay for Android tablets (phones as well), and with a little help from Kickstarter, the team is now literally weeks away from releasing Chameleon to the public. We are extremely pleased to see how well this project has progressed, and we recently had the chance to interview Teknision President Gabor Vida, who not only shared lots of exciting details about Chameleon's Android homescreens, but answered questions on hardware requirements, compatibility, public release, and more. Lets give him a warm AndroidPIT welcome for part 2 of this interview, where he answers YOUR questions about which devices Chameleon can run on, what screen sizes are supported, and when you can get your hands on it!
If you missed part one of this interview, you can check it out here. Gabor answered lots of questions about what exactly Chameleon is, the work they have done before, and what the Android community can expect from this project. Lets continue now with YOUR questions about Chameleon:
AndroidPIT: Now I'll start with a few questions that lots of our users (and myself) are really curious about. Exactly which tablets/processors/hardware will be supported? Are we looking at only dual core tablets being supported, or will single core, Tegra 3 and Exynos 4412 processors also get some Chameleon love?
Gabor: Tablets running Android 3.2 and up. So far we haven't ruled out any specific hardware at all.
AndroidPIT: Are there any tablets in particular that are NOT supported?
Gabor: Again I don't think we've ruled anything out specifically. Beta tests will help us figure this out a little better. We would likely not support any tablet that does not implement Android's support for hardware acceleration.

AndroidPIT: What size tablets will be supported?
Gabor: 7 inch tablets and up. HD tablets will be supported as well.
AndroidPIT: Android tablets often suffer from laggy home screen transitions when swiping if you're using lots of widgets. From the videos I've seen of Chameleon, the screen transitions look very smooth, especially considering how many widgets are on the screens. How did you achieve such smooth and lag free transitions?
Gabor: Chameleon is not totally free of this problem as our widgets use Android Web Views. We have spent a lot of time coming up with smart ways to do bitmap caching to ensure the UI is as responsive as possible. We also focus on purposeful transitions. This means that the transitions are there to guide and re-enforce the user experience instead of trying to add to it though effects and 3D.
AndroidPIT: Some services integrated into Chameleon (like Netflix) have no functionality outside of the US. Will Chameleon also function for users outside of the US? If yes, what differences can users outside of the US expect to see?

Gabor: Chameleon will definitely work outside the US. I hope so! We are in Canada :) If a widget offers a service that is limited to a particular region then that widget probably won't work but it will not affect the rest of the application.
AndroidPIT: Does Chameleon seem to run faster/snappier on any tablet in particular?
Gabor: We just put it on our new Nexus 7 and it is just buttery smooth and beautiful.
AndroidPIT: Any plans for a Chameleon interface for phones?
Gabor: Definitely. It's not on the immediate roadmap as getting Chameleon selling and building the development community is top priority, but the phone version is on the roadmap.

AndroidPIT: Will Chameleon be a standard app that you can download from the Google Play Store, or will it be an apk file that needs to be manually installed?
Gabor: It will be a standard application that anyone can get on Google Play.
AndroidPIT: How big of an install file are we looking at?
Gabor: Currently many things are in flux in development, so it's hard to say exactly. Likely, the APK will be somewhere between 15-30 megs. The reason for the large size is that we pre-cache our default HTML widget set with Chameleon so that it will work offline on it's first run.
AndroidPIT: How much of a role did Kickstarter play in getting your project to where it is now?
Gabor: The value of Kickstarter is immeasurable. We raised almost $67,000 in 20 days. While that amount is large, it's only a fraction of the cost of creating Chameleon. What Kickstarter really means to us is a level of publicity and connection to the Android community that would be almost impossible through any other channel. It was really true to the name of Kickstarter - it gave our communications a kick start and it gave our team even more fuel to their fire.
AndroidPIT: When can members who have pledged 5 dollars or more plan on seeing Chameleon available for download, and when will it be available for people who didn't pledge?
Gabor: We are hard at work to keep our August release promise. For those who missed the Kickstarter campaign, we have created a pre-order store at http://chameleon.teknision.com/. People who pre-order will get the release at the same time as the Kickstarter backers.
AndroidPIT: Gabor, thank you very much for taking the time for this interview, and we wish you the best of luck with this exciting project!
Gabor: Thank you! It has been a pleasure.
There you have it folks! Chameleon will be released in just a few weeks, and now we know which devices it will run on, what size screens will be supported, and that it will also be available for phones.
What do you guys think? Is this something you'll be buying when it's released? Impressed by the homescreens and how they work?
Let us know how you feel about Chameleon in the comments below!
P.S - Here's a quick preview that Teknison sent over with Chameleon running on a Galaxy Nexus: