Chameleon: A Better Android Homescreen AndroidPIT Interview (Part 1)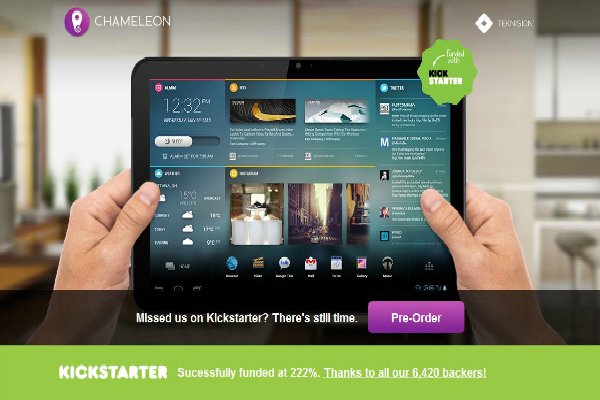 If you haven't heard about Chameleon for Android, you're missing out on a seriously cool project. Back in March we learned that a company called Teknision (the company behind the interface on the RIM Playbook tablet) was developing a seriously impressive overlay for Android tablets (phones as well), and with a little help from Kickstarter, the team is now literally weeks away from releasing Chameleon to the public. We are extremely pleased to see how well this project has progressed, and we recently had the chance to interview Teknision President Gabor Vida, who not only shared lots of exciting details about Chameleon, but answered questions on hardware requirements, compatibility, public release, and more. Lets give him a warm AndroidPIT welcome!
For anyone who hasn't seen or heard about Chameleon yet, be sure to check out our initial article here (now THAT'S a homescreen!) for homescreens and a video of Chameleon in action. We had so many questions for Gabor about this project, and since he was kind enough to answer literally ALL of them, we decided to split the interview into 2 articles. The first half of the interview will deal with what Chameleon is, the work Gabor and his company have done before, and what Android users can expect from the project. Part 2 of the interview will address questions on device compatibility, release dates, hardware requirements, and the role Kickstarter played in supporting this project.
Lets get started!
AndroidPIT: Gabor, thank you very much for the chance to ask some questions about this project! First of all, could you tell us a bit about your company and when you got started?
Gabor: Thanks for the opportunity! Teknision is an 11 year old user experience design and development company. We specialize in applications for mobile devices and embedded screens. We have created user experiences for everything from a 7 inch screen to a 70 inch screen.
The most notable project would be the BlackBerry Playbook. We designed the Playbook OS and a few of the applications it launched with. The most recent is a project called The Experience Station, which is a 70 inch device for shopping centres and public spaces that incorporates NFC, multitouch and Kinect to create a truly unique experience. It recently won an award at the 2012 Digital Signage Expo.
AndroidPIT: So Gabor, what exactly is Chameleon, and what inspired you to create it?
Gabor: If you were to put Chameleon into an application category, it is a homescreen replacement. However, we see it as more than that. We have always had a philosophy that an interface should provide the shortest path to value - if you can get your users to do something valuable to them quickly then they will begin to fall in love with your product. Your very first experience with an Android tablet is the homescreen - this is a huge difference from ios - and standard Android homescreen is far from a quick path to value. We think Chameleon actually makes Android a better experience overall.
AndroidPIT: Customizing homescreens is a pretty important to a big part of the Android community, and the user interface on Chameleon is like nothing we've ever seen. Could you go into a bit more detail in regards to Chameleon features that set it apart from other Android launchers? Is it even fair to call it a launcher?
Gabor: I wouldn't call it a launcher. To me the term launcher denotes that the purpose of it is to make it easier to launch applications. That's a given. Chameleon lets you do that, and I don't believe there is any need to re-invent how you launch apps so we didn't focus on that. What we did focus on is making your tablet immediately valuable.
Look at it this way - pick up an iPad and you will see a grid of app icons. For the most part, other than games, these icons are gateways to information and media that you want to consume. This information is actually trapped behind that icon, you have to launch an app to get to the data you want. We do this every day - launch an app, get info, close the app and launch the next one. Instead, we should be presented with a homescreen that is an aggregate of all of this information.
In this way, your tablet is immediately valuable as soon as you turn it on. Android affords this with widgets, but we have is something better - radically easy to customize, elegant in its simplicity and a contextual engine that knows when and where to show you the information you need.
AndroidPIT: In most of the screenshots of Chameleon, we see 3 screens all with different colors. How customizable is each screen? Can details like screen color and widget order be completely customized by the user? Can users select which widgets will/won't appear?
Gabor: We want Chameleon to be entirely customizable. You can add as many homsescreens as your tablet can handle, each can have a different background, a different name and different contextual rules. Every homescreen is a blank palette for widgets. You determine what widgets will get displayed and exactly where you want them. Filling a homescreen with widgets is as fun and easy as finger painting.
AndroidPIT: The Chameleon widgets are the slickest we've ever seen. How many widgets did you actually develop for it?
Gabor: I'm glad you like the widgets - they are key to the success of Chameleon. What makes them slick is actually their simplicity. The problem with standard widgets is that they are not designed to be harmonious with each other. I look at a homescreen full of widgets as a modern newspaper. Now, imagine if each article in the newspaper was created by a different designer, with different fonts and backgrounds - the newspaper as a whole would become unusable. Chameleon homescreens work because the widgets work next to each other. We have a short list of widgets we want to build, but the way we created the widget engine makes it incredibly easy to make widgets.
We will have an SDK for anyone who wants to make a Chameleon widget. I really believe in the power of the development community to create something bigger and better than we could have done on our own.
AndroidPIT: I noticed that a Samsung Galaxy Tab 10.1 was being used on the Chameleon video. Is there any tablet in particular that Chameleon is being developed on, or are you developing it on multiple tablets?
Gabor: Fragmentation in Android tablets is a real problem for developers. (Incidentally, I believe fragmentation is a result of manufacturers competing on hardware specs instead of user experience.) Screen size and resolution are so varied and changing so quickly that it makes it impractical to target a specific tablet. Instead, we have to focus on form factor. We have designed it to work on a 10 inch tablet and a 7 inch tablet and built it in such a way as it should elegantly re-size to other dimensions.
AndroidPIT: From what I understand, Chameleon basically automatically changes your homescreens based on where you are. Is this accomplished by reading your position through GPS or from your wifi (or both)?
Gabor: The first generation of the contextualization engine uses 3 inputs to create rules. You can make Chameleon automatically change homescreens based on time and location. Location is based on GPS and WIFI and rules can use combinations of all three inputs (time, GPS and WIFI). We definitely plan to add more contexts in the future.
....stay tuned for part 2 of the interview, where Gabor answers YOUR questions about Chameleon, which devices it runs on, and when you can get your hands on it!