Chem Pro: Chemistry Tutor - Helps cope with high school's nightmare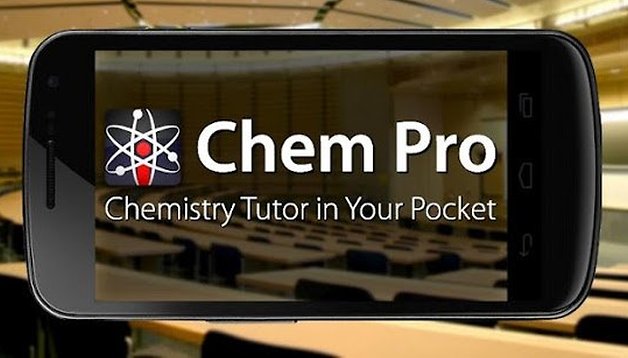 Chemistry is a nightmare for many people during their school years. But if you want to pursue science, you must learn to deal with chemicals. Chem Pro: Chemistry Tutor is an application that can help you quickly expand your knowledge.
Good
✓

Lesson videos are varied and well made.

✓

Diverse and lots of content

✓

The flash cards help you memorize chem terms fast.
Bad
✕

You need to buy a large part of the content

✕

There are no additional features.
| | | | | | |
| --- | --- | --- | --- | --- | --- |
| Reviewed on | Android version | Root | Modifications | Reviewed version | Latest version |
| Google Galaxy Nexus | 4.3 | No | None | 1.0.6 | 1.1.5 |
Features & Use
Chem Pro: Chemistry Tutor is a chemistry tutor in the form of an application for your smartphone. The application offers the user many questionnaires with an approach to issues in a rather light and playful profile. It's essentially divided into two parts:
As its name implies, in the first area you will come across a section on "Lessons" and in the second an assortment of Flash Cards. The lessons are very informative and well made. Each video lesson is about ten to fifteen minutes long and includes a series of chemical principles. There are also very clear summaries and outlines of all the content. Of course, the playback can be interrupted or you can jump from different parts of the video as you please. The content ranges from fundamental topics like atomic mass or element analysis to molecular geometry, and redox reactions.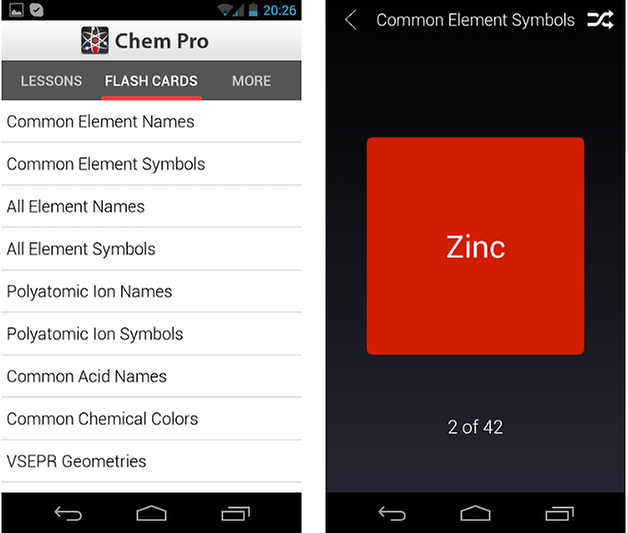 One thing to keep in mind is that not all lessons are available in the application: the lite package offers ten lessons free of charge while the others need to be purchased.
The flash cards section works the same way: some are free, while others must be unlocked for a fee. It works as a great platform for reviewing of the names and acronyms of the elements though.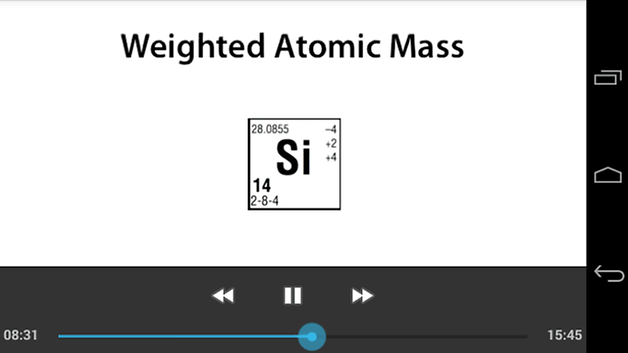 Although the content of the application is really good, there are still many things that most would want in an application of this kind. For example, a function that allows us to remember the most important cards that you really need to memorize. Also it's missing a function for search paths.
Screen & Controls
The graphical presentation of Chem Pro: Chemistry Tutor is very accurate, with the different categories shown in varying colors. The design of the application is very smooth and is intuitive to use. However it would not hurt to include some additional features, but this is a matter of taste.
Speed & Stability
Chem Pro: Chemistry Tutor worked well during testing and without any delays. Despite the prolonged use of the application, I never encountered any difficulties.
Price/Performance Ratio
Chem Pro: Chemistry Tutor is not exactly an encyclopedia, but it certainly can help to "refresh" your knowledge. The price is not exactly cheap, so each individual user should consider whether the application is really necessary or not.
Final verdict
Chem Pro: Chemistry Tutor is a good app primarily because of its content. Of course this is not a complete reference book on chemistry, therefore you won't find an entry for each topic. That being said, it is useful for updating your knowledge on about 80 different topics. The index cards facilitate learning, but not as extensively as the training videos. In general these are missing some additional features.