Clash of Clans - at long last for Android!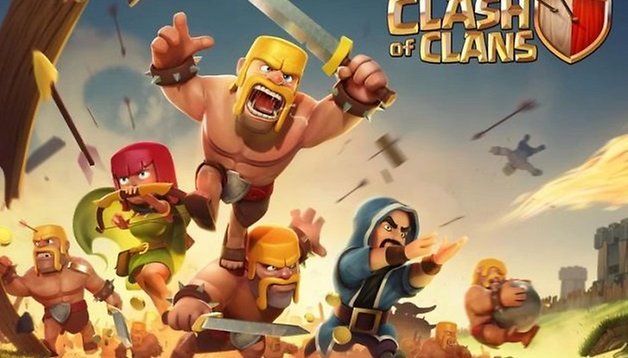 A classic of iOS games, Clash of Clans has finally found its way to Android devices and can be downloaded from the Google Play Store now. Clash of Clans is a mix of combat, strategy and simulation game. How the app performs on the Android platform you will discover today in my review.
Good
✓

Bring your own village from iOS to Android

✓

Very addictive

✓

Multiplayer

✓

Playable without real money
| | | | | | |
| --- | --- | --- | --- | --- | --- |
| Reviewed on | Android version | Root | Modifications | Reviewed version | Latest version |
| Google Nexus 7 (2013) | 4.3 | No | | 5.2.9 | 10.134.6 |
Features & Use
At the beginning of Clash of Clans, you get your own little town where your task is to expand and defend it. First, it is important to gather a few gold coins and elixirs by building gold mines and your elixir collection. Right at the beginning, there are a few quests for you to start collecting coins. Using the elixir you can create small troops and march into goblin country to make fat booty there. The little green imps in the first battles are pretty easy to defeat and you will be richly rewarded. After just a few minutes you will be able to progress to the next level.
It is also important that you establish other gold collecting opportunities. In particular, your soldiers leave everything on the battlefield so you can't take them home afterwards, so be careful with the size and strength of your army. For completed quests, such as battles won on the campaign map, you will be richly rewarded - including the precious elixir that is absolutely necessary to clean up the village and train new fighters. And even if your army completely falls in battle – you will almost always make a profit. Gradually, more and more buildings will be unlocked in the shop and you can defend your village with cannons, archers and mortars to secure yourself against attackers.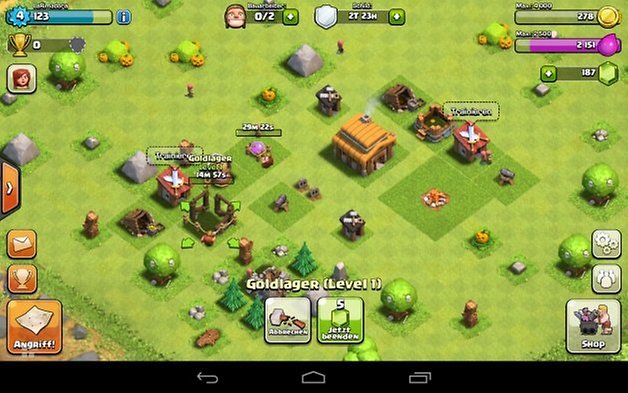 An especially nice feature: you are not alone in this strategy game. With integrated chat you can contact other players with which to team up and later join a clan or start one yourself. This has the advantage of enormously increasing your attack power and teams can help each other in resource bottlenecks. While you can see existing clans at the beginning, you may only join one after a certain level. And you must first rebuild your ruined Clan Castle in order to join or create a clan, but that costs 40,000 coins and at the beginning you will likely only be winning every few battles. However, since there is plenty of elixir you can train as many troops as necessary so the game doesn't come to a halt.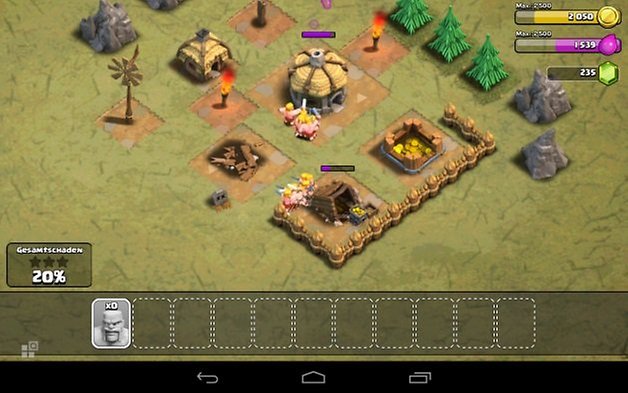 Since Clash of Clans is a strategy game, everything takes time. Still, the app has great potential for addiction and may very well cast a spell over you. With the harmonious game music and lovingly detailed graphics, you can quickly disappear for several hours. Satisfaction is guaranteed because there's many open quests available to you, which also yield big profits. Your building projects can expand relatively quickly and you will soon pool enough coins together to finally join a clan. Once there, you can move up and start collecting league trophies.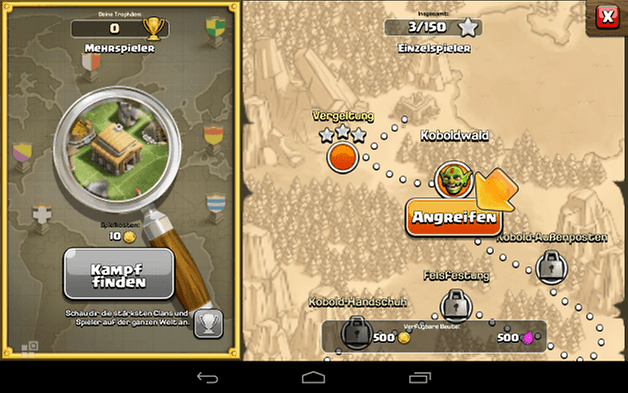 The only downside: the troops sent into the Goblin Kingdom can not be controlled and you must rely on good luck to get them to the next enemy buildings. A strategic battle is not possible. You can only determine where the army is sent out.
Incidentally, you can also start out alone and attack other players and rob them. You just have to type ''Find Fight" in the campaign map. However, then your shield will be deactivated and you can also be attacked by other players and clans. You can get it back in the shop - but in exchange for jewels.
Screen & Controls
Clash of Clans plays very well, especially on a tablet. The app responds to touch controls very well too. The settings menu, chat and shop are quickly accessible with a finger from the village view. Even if you use the chat, there's still plenty of room left to watch the activity in the village. Graphically, the game is also very convincing. With a two-finger gesture in the village you can zoom in or out and nothing is loose or jerky.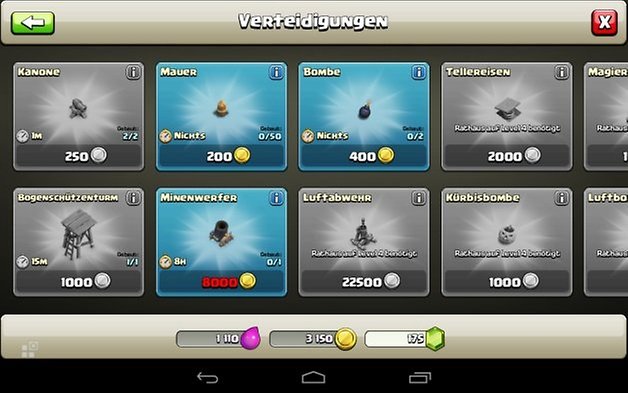 Speed & Stability
Clash of Clans runs very smoothly on an Android tablet. Even if you leave the game for a short time and the screen turns off, you can very quickly get back into it and carry on. When changing to another village or to the goblins there are virtually no loading times. In the test, the app ran very stable: there were no crashes or any other delays.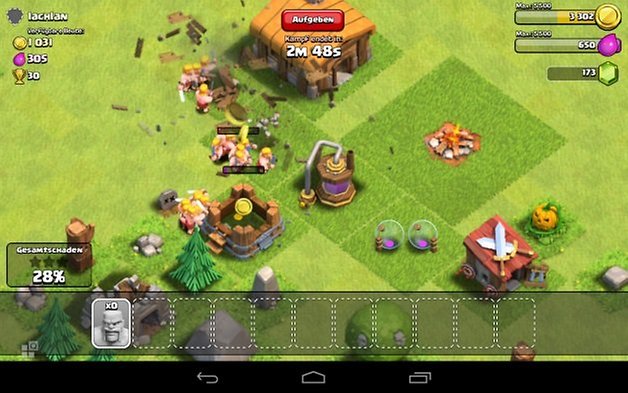 Price/Performance Ratio
For a free strategy game, Clash of Clans brings everything you could want. Incidentally, there are jewels to be found even in your village (with a bit of luck), just check old tree trunks or mushrooms. The starting amount of jewels is also so large that at first you don't have to worry about them. Even the construction time without acceleration feels appropriate. To play this game extensively, no investment is required either. If you really do not want to wait though you can buy jewels via in-app purchases but this is not essential to play.
Final verdict
Since already-developed villages from iOS have been brought to Android, there are already numerous players and clans that are already well developed. Although the game only just came to Android this week, it already has a huge community. In order to find connection, just send a message through the chat. Clash of Clans convinces with great gameplay, which means you will not easily get bored. Quite the contrary: anyone getting started here will probably not put their tablet down for a long time.
The campaign map facilitates quick entry into the game and an explanatory guide is also available at the beginning as well. If you like strategy games, but do not always want to wait for days until the next structure is finished, you will quickly find your new favorite game in Clash of Clans. Multiplayer, no necessary costs plus a varied building game with many options - what more could you want?