Clashot: Take pictures and make money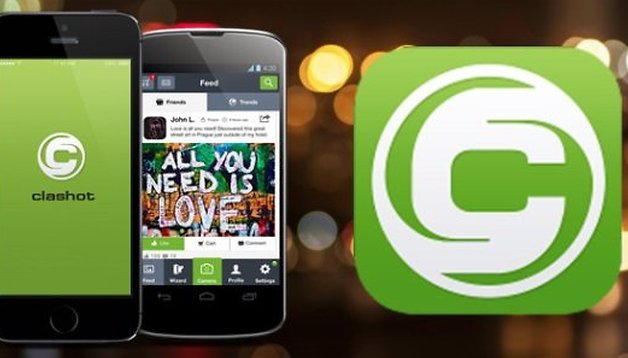 Anyone who has a good camera on their smartphone can leave their digital camera at home. Every day millions of photos are shared on Facebook, Google+ and Instagram, but why not get some money for your photos? Clashot gives you the chance to win money quickly and easily with your photos. Would you like to discover what this app has to offer? Take a look at our review!
Good
✓

Simple registration

✓

Fast and easy controls

✓

Innovative business idea
Bad
✕

No Filters and editing options

✕

No categories in the search function

✕

Connecting with Twitter didn't work

✕

Slow response on occasion
| | | | | | |
| --- | --- | --- | --- | --- | --- |
| Reviewed on | Android version | Root | Modifications | Reviewed version | Latest version |
| Samsung Galaxy S2 | 4.4 | Yes | | 2.4 | 3.2 |
Features & Use
The principle behind the Clashot app is quite simple: on occasion smartphones capture particularly beautiful or quirky photographs which in turn can be edited with any image editing program. The Clashot community lets you share your pictures, which can then accumulate likes and in the best case scenario, you'll find a buyer. However, you cannot determine the price of purchase nor negotiate the image's copyright image with the buyer. Clashot simply gives you the ability to contact potential buyers. Once a user buys a photo you will receive 44% of the profits. Before the photo goes on sale, you must pass the language filter to ensure it meets certain standards.
Registering with the app is quick and easy. You can either create an account directly with Clashot or log in with Facebook, Twitter or Google. At the same time, you can invite your friends directly from the app via social networks.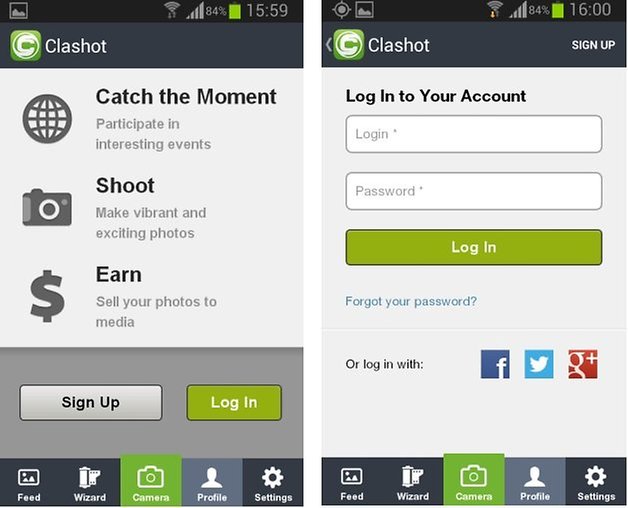 For some reason, during the test, the connection did not work with my Twitter account. However, I was able to quickly locate my friends and immediately start seeing their creations in the feed, as well as start following select photographers. The settings for images in which you are interested can be changed in "Trends". In this section the images, which have been favorited by Clashot users, appear on regular intervals.
By tapping on a user's name, you can view their profile. What's very interesting here is information about the person's followers and images that are available for sale. You can compare photos and leave your comment.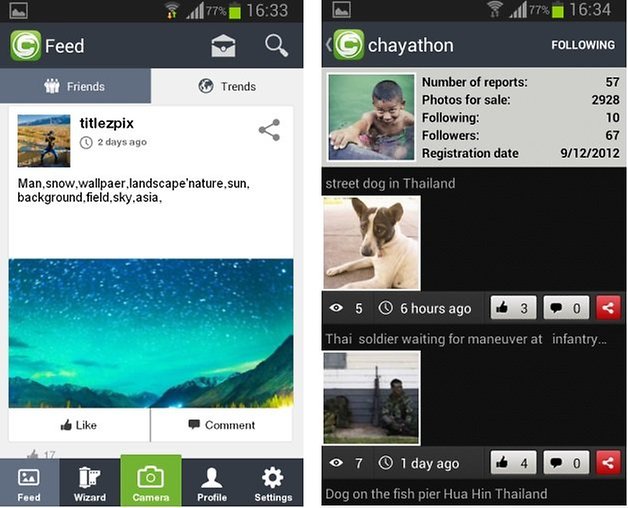 On your own profile, you are able to view your followers and and the people you follow, change your profile picture and edit the payment information. Payments can be made ​​via PayPal or Skrill moneybookers. But beware: your account will take about seven days to activate. The statistics which show whether there are photographs for sale is quite interesting and of course, the amounts of money that are received. The duration of the test however was too short to show significant results. What's certain is that the uploaded images go on sale relatively quickly. It is also quite worth following some photographers which actually produce nice works of art. In just a short time you'll gain likes and followers.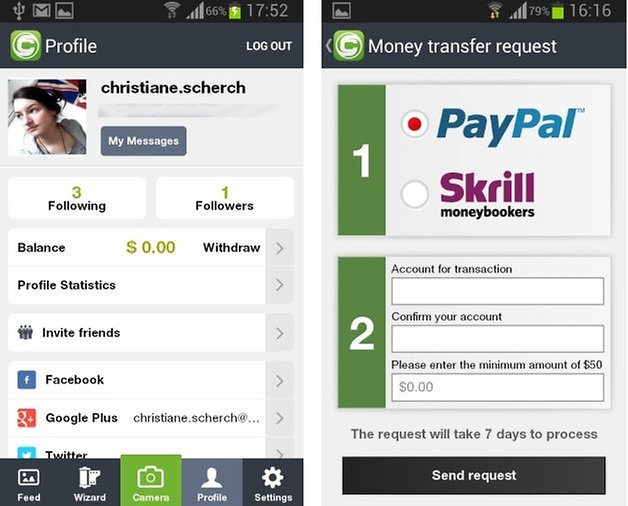 The camera button which is placed in the center allows you to take pictures with a pretty simple camera application. The icon at the bottom left give you access to your gallery of already existing images. This makes perfect sense, because the application doesn't actually offer filters or other editing options. You can only take the picture and enter a short text description which should contain a maximum amount of keywords. By clicking send, the image is loaded.
After loading the image, you will receive a short message indicating that your image is already available for sale. Though the notification for the first photo didn't appear, it worked for the second one at least.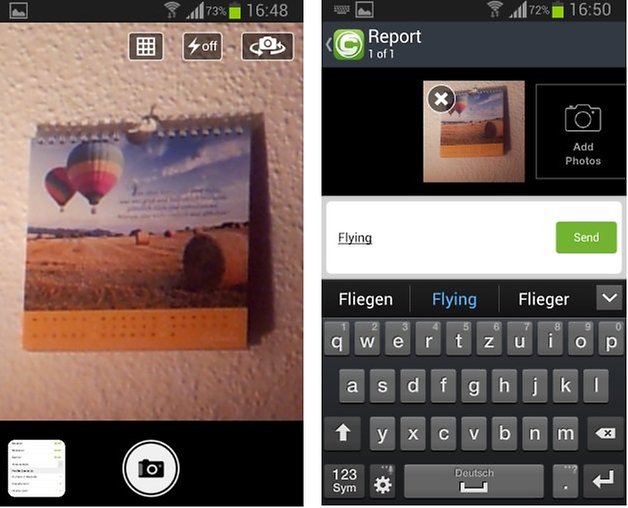 In "Wizard'', you can see the photos which you've taken as well as the ones offered for other users to see. Here you can also delete photos or save images without modifying. Sharing to your social networks is also possible. The entire app can be searched through with suggested search terms and reliably delivers corresponding pictures. For the time being, there isn't a category search, like in the iOS app.
In the settings, you are able to provide feedback for the developers and use the service support if you have any questions. Another option is deciding whether photos are to be loaded only when connected to a WiFi network. At the same time, you can unsubscribe from the newsletter and read about the license conditions, which is quite detailed. By the way, if you do not wish to receive notifications for every piece of news, you can further change the settings on the app's website. The release to be sold option can also be disabled.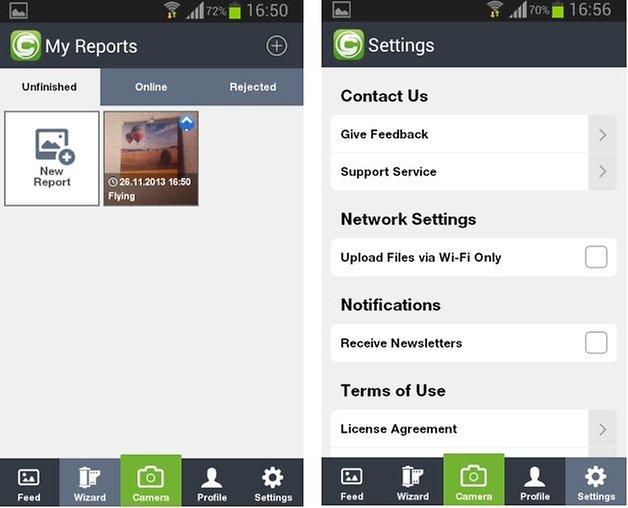 Screen & Controls
The user interface and design may not be to everyone's taste, but in any case, it's quite functional and well structured. The main sections are found with a few taps. Unfortunately, some controls didn't respond perfectly during the test and had some delays. In addition, the Android version doesn't contain the option to search for images by categories in the feed. The iOS app has this possibility. The camera application isn't very well equipped. There are just a few options like to adjust the grid, camera and flash. On the other hand, you can't edit the images, therefore you need another application for this purpose. During the test, there were also problems connecting with Twitter.
Speed & Stability
During the trial period, Clashot ran stably and there were no crashes, while connecting with other accounts like Facebook took a little longer. In the case of Twitter, the connection could not be established. The waiting time was also somewhat excessive when loading images.
Price/Performance Ratio
You can download Clashot for free. Its value is above average, considering the fact that you can even earn some money with your pictures. In terms of the amounts you make though, this is non-negotiable. You'll receive 44 % of profits.
Final verdict
Clashot definitely knows how to impress with their innovative business idea. Active participation of users in the application is undoubtedly how it will make its principal gain. There are some points that should be improved, like adding filters for the camera portion of the app. In any case, Clashot isn't a traditional photo app in the classical sense. In contrast, the app provides a market for smartphone users and amateur photographers to find potential buyers. Clashot operates simply and intuitively, though some aspects could always be improved. Similarly, it would be nice for the developers to include further functions which are already available in the iOS version. Those who want to use this app to make some money should not hesitate to try it.