Is Your Phone Spying On You? New "Clueful" Scans Apps for Bad Behavior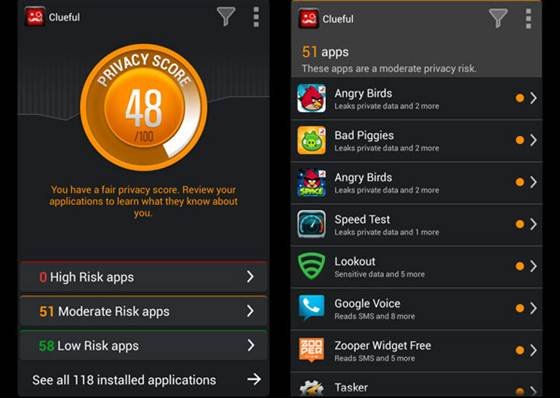 Do you carefully read the permissions before downloading a new Android app? Or like many of us, are you too busy to read them all?
If you're the kind of person who has a ton of apps hastily downloaded, and you're concerned some of them might be eating into your data plan or spamming your phone, Clueful is a new app which could help.
The app, developed by a Bitdefender (an anti-virus company), quickly scans your phone to see which apps you've installed, then sends you a privacy score ranging from a low of 1 to a high of 100.
It's not just the permissions Clueful is concerned with: it also checks your apps against Bitdefender's "constantly-updated" Cloud database to see if any of your apps are compromising your privacy.
Sometimes, Clueful is wrong. I don't think it's fair to call an app "risky" for tracking your location if it needs to do so (like Accuweather, which needs to know where you are to give you your weather). But I was surprised, if not shocked, that even Rovio's "Bad Piggies" and Skype tracked my location for no other reason than to collect information about me to send to advertisers.
My phone received a score of 48, and I didn't have any high-risk apps on my phone (I check the reviews and don't download shady apps, so that's probably why) but I still found the app helpful and I think you will, too. You can download Clueful from Google Play here.