Countdown to New Beginnings: The End App Well, it's Friday December 21, 2012, and we're still alive. There are no catastrophic changes in the Earth's climate, and there have been no world ending incidents. Where I am, located in Sunny Florida within the United States, it rained early this morning, but that was it.
As far as we're concerned it's a just another beautiful day. That means our Countdown to the End series was actually a countdown to new beginnings.
In light of our current predicament, which is the world will trudge on in a normal fashion, I will close out this series with one final game. This next game is a real treat, of course, it still maintains the apocalyptic theme.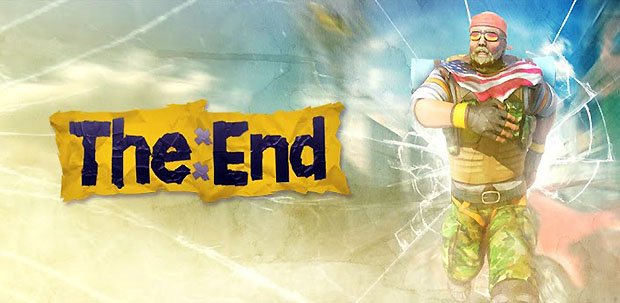 The End
The End is a free running game on rails, very similar to Temple Run, albeit with a unique twist. You play as a lone survivor, trying to outrun the apocalypse.
The world comes to an end; run like hell, collect duct tape, and buy goodies for your survival camp. Once the streets are deserted, everything is covered in lava, and you are alone. Yet, you hear the call… and even in the middle of the Collapse, you know it is time to run, to survive!

Run!

The End App challenges your reflexes and offers infinite game play with progressive level design and multiple environments. Jump over the burned down police car and reach the hidden duct tape while running through the deserted city. You will be guided through 28 days with 5 challenges for each day. Practice with free-runs for a challenge or buy boosters to take the edge off, but never, ever take your eyes off the duct tape! Collect them!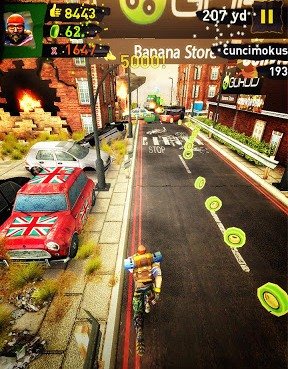 The controls are easy to learn. To jump, you swipe up on the screen, to slide you swipe down and to turn you swipe left or right respectively. As your character runs through each level, you just have to avoid all of the obstacles and navigate the course.
While running through each level you just have to tilt your device to move left and right on the screen. The tilt controls seem to be just right; they aren't too sensitive or sluggish.
You collect green duct tape, which can be compared directly to collecting golden coins in Sonic. Except in The End you can use the duck tape as currency to purchase new powerups and character upgrades.
There are three different parts of the "city" to explore, which all essentially comprise a destroyed urban environment that serves as your running terrain. One of the sections is labeled as the "Pro" running course, and you have to spend money to unlock it. Like in Angry Birds though, there is plenty of material included for free if you don't want to spend any money.
You can either freerun through each course, or complete various challenges while doing so. Challenges include doing things like collecting a certain amount of duct tape rolls, or doing a select number of slides. There is an endless supply of challenges to complete so you won't get bored as long as you don't mind repetition.
The freerun game mode essentially plays like an arcade title where you just go through the track to see how long you last.
There isn't much to this game seeing as it's not incredibly deep or engrossing so I'll stop here. Take my word for it though, The End is a lot of fun, but it is best played in spurts.
You can find The End via the Google Play store for free.
The End App Game Trailer (Trailer has no sound)
The world may not have ended, but I can certainly pretend like it did thanks to the long list of games that I've promoted this week. I'm off to play some more post-apocalyptic titles.