Day by Day Organizer: organizing events, tasks & bdays just got easier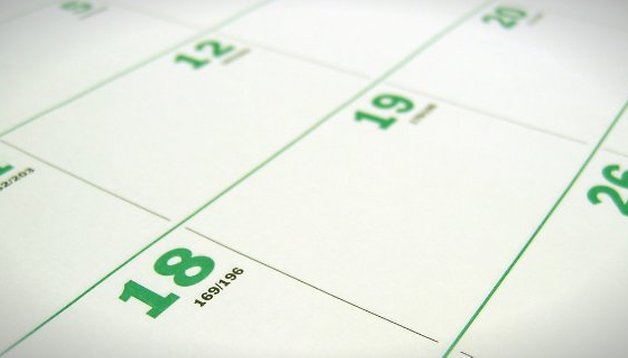 For many users, having an organizational tool is indispensable for their Android experience. The Day by Day Organizer app offers many customization options that should meet your individual needs. It combines all of your Google calendars as well as tasks and birthdays. Today we tested the free version of the app to see what it has to offer.
Good
✓

Google Calendar, tasks and birthdays in one combined placed

✓

Various overviews

✓

Useful widgets for the home and lock screen

✓

Many settings options
Bad
✕

No color coding for different types of events

✕

No search function
| | | | | | |
| --- | --- | --- | --- | --- | --- |
| Reviewed on | Android version | Root | Modifications | Reviewed version | Latest version |
| Google Nexus 5 | 4.4.2 | No | | 2.7.12 | Varies with device |
Features & Use
The full version of Day by Day Organizer can be tried for 21 days free of charge and includes use of all of the full version features. All of your Google account events, birthdays, tasks and entries will then be synced with the Organizer app. In the monthly overview, you can keep track of your appointments, as well as edit and delete them with ease.
Swipe left and right to navigate through the months, and press on the icon on the top right corner to create an event, which can also be broken down into subtasks and include reminders. You can also add different priority levels and duty types.
Creating subtasks for an event is also possible, plus you can set up the start and end point, as well as add repeated and various additional information. Appointment and duty titles can be changed with a voice-to-text feature.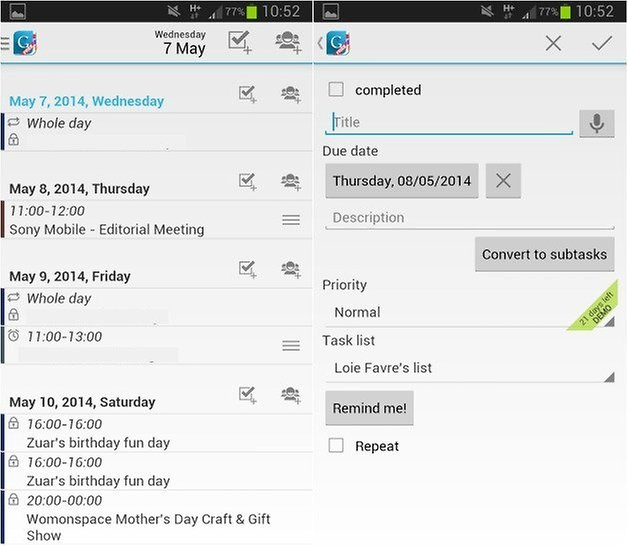 The app offers a nice bonus in that it has many overview and setting options. For example, you can view all your to-do's, events, birthdays etc for a particular day in list form. In addition, you can retrieve weekly and monthly views in text format as well.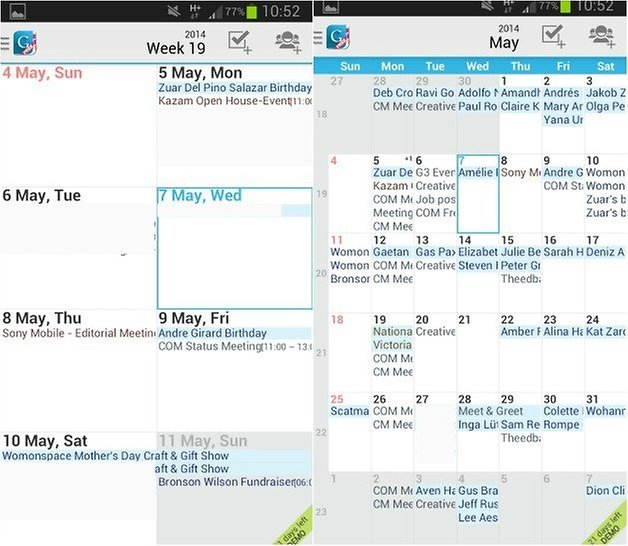 Google duties can be synced via the side menu and when you get a pop up reminder, this is easily snoozed or added to another appointment. In terms of settings options, you can select the design color, font, text and number of days in a weekly view. Birthdays can also be hidden and connected calendars, including public or national holidays, can also be set up quite easily.
A really useful feature found in this app is that it comes with quite a few widgets, so you have a lot of choice. These can be used on the home screen and lock screen as well. Just like in the app, it has a lot of styles and you can set it up with either a daily, weekly or monthly overview, which you can navigate thanks to the menu bar. Tapping in widgets will refresh them, plus you can add events and tasks just as easily. There are some customization options here as well, like transparency and formating. What's more, the symbols bar can also be hidden.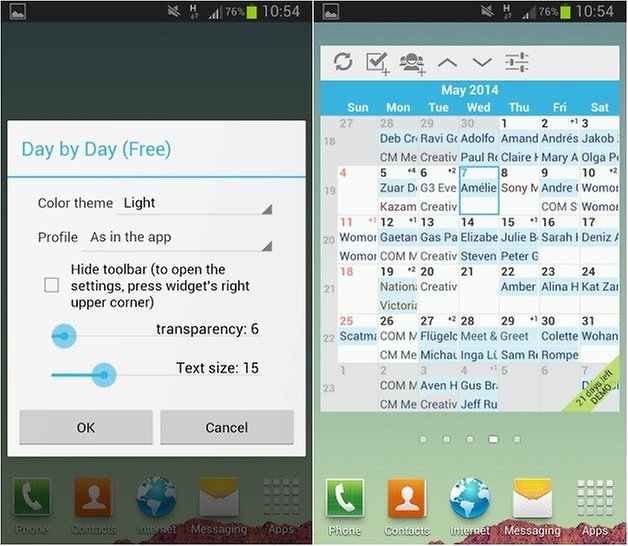 For both the widgets and the app, you can create various profiles separately for birthdays, calendar and to-do lists. The only thing the app is missing is the possibility to add colors to appointments and a search function.
Screen & Controls
Day by Day organizer has a really sleek design, so even when there are tons of events and tasks, it won't seem overcrowded. The various overviews are really useful and there's something for everyone. The settings menu and calendar are easy to navigate, and the app scored some extra points because of how easy it is to set up Google calendars, birthdays and tasks. Widgets are also very useful and are easy to set up.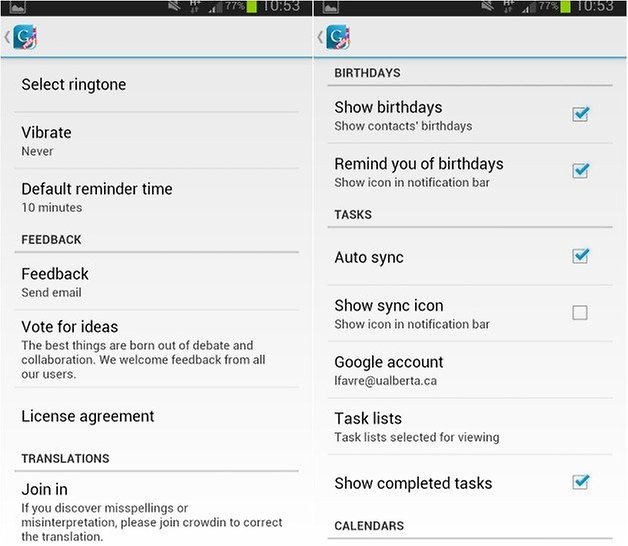 Speed & Stability
During the course of the test, the app was stable, there were no crashes or sync problems. The app can also be used on multiple devices, and this again, with no problem.
Price/Performance Ratio
The free version like mentioned above can be used for 21 days with all the pro-version features. The following features will no longer be available in the free version after the time is up:
Month and week overviews in text form
Widgets in text form for months and weeks (for Android 4.1 +)
Various profiles for the widgets and app
Subtasks for appointments and tasks
Repeat events
Different priority levels for various tasks
The capability of sharing info in text form with other apps
Final verdict
All in all, Day by Day Organizer is a solid tool that will help combine events from Google Calendar, birthdays and tasks in one central app. The controls are comfortable, the widgets give you quick access to the entries, though it's missing a search function and color options for the events. For those who really came to like the pro version, they should consider investing in the full version after the 21 day trial is over. The app received four stars at the end of our test.