DEAD TRIGGER 2 - the Apocalypse you've been waiting for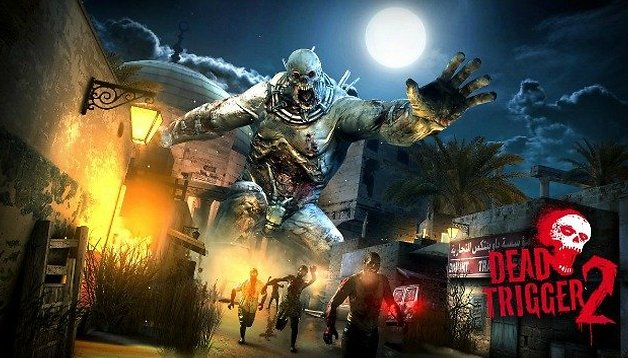 Zombie fans have been waiting an entire year for Madfinger Games to release the sequel to the hugely popular Dead Trigger. Set in a post-apocalyptic world where the undead roam the streets and survivors struggle to stay that way, the Dead Trigger franchise offers stunning graphics and immersive gameplay unrivalled by most free games.The sequel, DEAD TRIGGER 2, has finally arrived on Android and iOS, but how it stacks up to its predecessor and what new features it offers will be uncovered in today's app review.
Good
✓

Incredible graphics

✓

Real-time, immersive gaming

✓

Online multiplayer

✓

Mission-based gameplay

✓

New Boss zombies
Bad
✕

No offline mode

✕

Long delays unless you spend money

✕

Auto-fire function

✕

Gets a little repetitive
| | | | | | |
| --- | --- | --- | --- | --- | --- |
| Reviewed on | Android version | Root | Modifications | Reviewed version | Latest version |
| Google Nexus 7 | 4.3 | No | | 0.02.1 | ? |
Features & Use
The first thing to note about DEAD TRIGGER 2 is that it is still very much the same as the original Dead Trigger. There are some changes of note but by and large it is still an endless zombie turkey-shoot. So if you're a fan of the first installment you'll love DT2 but if you are looking for major differences you'll be disappointed. When you first install the game you'll get some cut scenes filling you in on the standard zombie apocalypse storyline and then you can get right into it in all its graphic glory.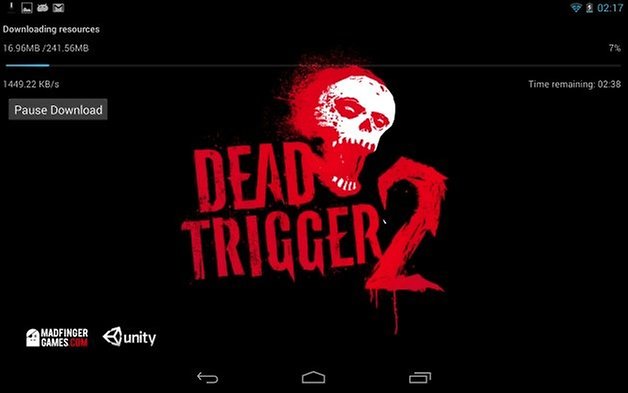 If you have a Tegra 4-equipped Android device or another high performance tablet or smartphone, you should first go into the Performance Settings and change the ''graphics detail'' quality. On my Nexus 7 the game auto-detected Low and when I set it to High it got a little laggy and jumpy but it was bearable to have better graphics. There's mods around to get ultra high quality too, but that will only compound the glitches if your device can't handle it.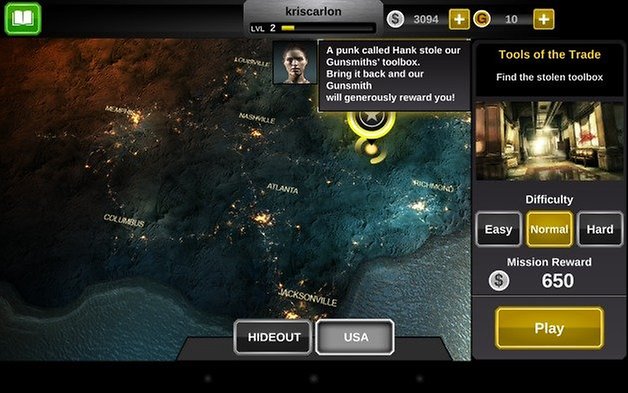 Dead Trigger 2 is real-time and requires an internet connection to play. Even single player must be played online. The game starts in the USA and as the virus spreads new locations open up. Africa comes second but that's as far as I've got so far. The game will eventually be a world-tour as the zombie apocalypse spreads ever further and the sooner you install the game the more you will be on the front-line. You set out on objective-based missions but the core gameplay is still blasting zombies in relatively small environments. The levels look incredible though and there's new kinds of zombies in the game with different attributes. Combined with the objective missions, new boss zombies and variations on gameplay, Dead Trigger 2 certainly delivers more than the original.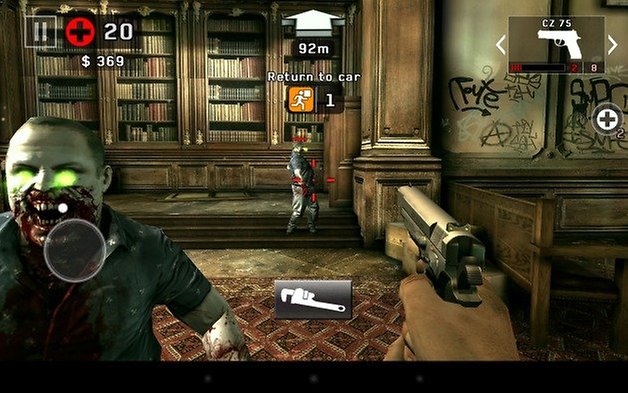 The first thing you'll notice once you start playing is that, instead of firing with a button press, an auto-fire action is the default setting when your cross hairs settle on a zombie. This is a mixed blessing: it allows you to concentrate on navigating the space and keep both fingers on-screen at all times, but it does take some of the fun out of lining up headshots. It does save on ammunition because almost every shot counts though, so it really comes down to personal preference. Thankfully, you can change the firing style in Settings. As with the original title, the left side of the touchscreen controls your bodily movement and the right controls your sights/aiming.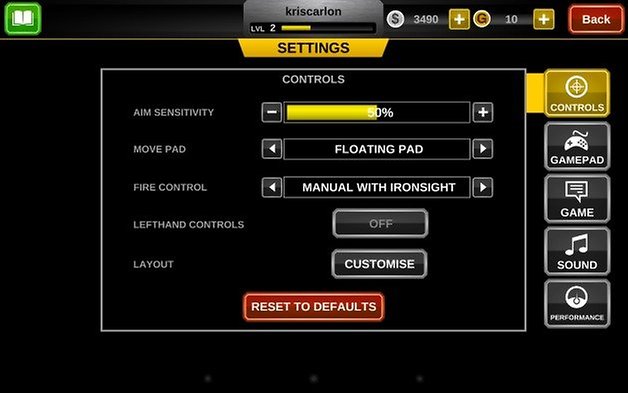 Once you're actually playing you have a range of different gameplay options presented to you: from navigating an area and finding objects to defending a position or a survivor, from sniper missions to helicopter-mounted carnage and from arena-based survival modes for additional cash injections to kill count missions, Dead Trigger 2 mixes it up enough to keep it interesting. Throughout all of this you must locate weapons blueprints and build cash reserves. Without both of these you will be required to purchase in-game gold to equip yourself properly to move ahead. You don't need to pay to play - the gameplay will move along fine without it - but you will be spending a lot of time to locate blueprints and accumulate enough gold to improve your weapons and make your workstations more efficient. Very long wait times (of several hours) are required to ''build'' new weapons if you don't have the money to push things along. Of course, dead zombies drop money and ammunition and there is no health meter, meaning you won't find yourself stuck for lack of health or ammunition.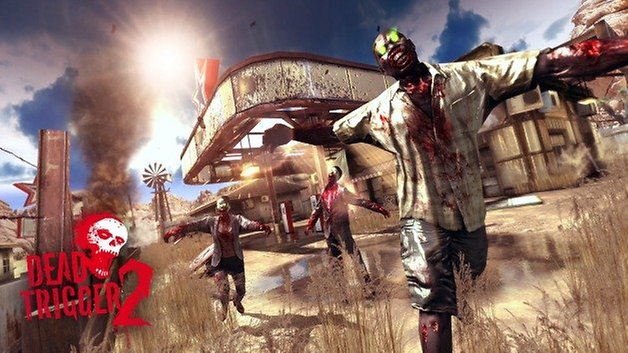 Screen & Controls
The simplification of the on-screen controls in DEAD TRIGGER 2 may be perfect for some, and certainly has its advantages, but the option of the classic fire button is a good inclusion for those who prefer the old set-up. Control responsiveness was perfect and on a 7-inch tablet everything fit as perfectly on-screen as I could want it. On my Nexus 4 it did seem a little cramped though. The graphics are exceptional.
Speed & Stability
Performance-wise the game is almost flawless, although playing around with the graphics quality settings can produce glitches and jumps. No crashes or lags were experienced when playing DEAD TRIGGER 2 in the suggested settings. However, even when paused with the screen on, my Nexus 7 heated up quite a lot.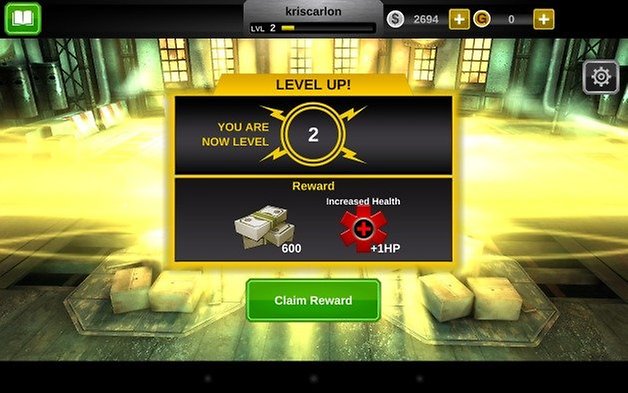 Price/Performance Ratio
DEAD TRIGGER 2 is free to install in the Play Store. It doesn't require any payments to proceed through the game but you will experience some very slow progression without it. Building weapons, medicinal supplies etc can take hours, meaning you have no choice but to buy gold or leave the game running (online) while you wait. Still, for a free game, Dead Trigger 2 is incredible value.
Final verdict
If you don't mind the dragging timeframes or are willing to drop some cash to speed things up, DEAD TRIGGER 2 is a real delight for first person shooter fans. It looks great, is even more fun than the original and offers enough improvements and variety to keep you coming back for more. The online multiplayer is great and the real-time aspect makes it even more exciting. Boss zombies are excellent and the objective-driven missions take a bit of repetitiveness out of just endlessly shooting zombies, although that repetitiveness does still creep in eventually. But as far as freemium games go, Dead Trigger 2 really delivers.