Delve into the ocean's deepest mysteries in ABZÛ now on NVIDIA SHIELD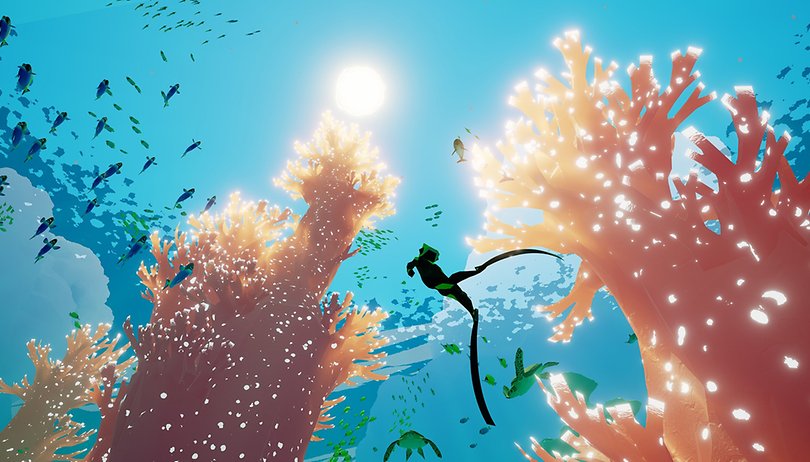 ABZÛ, the undersea adventure from the minds behind 2012's acclaimed Journey, is now available to stream on NVIDIA SHIELD via GeForce NOW. And what better place for Giant Squid's vibrantly mesmeric, rule-breaking underwater world than Earth's foremost streaming service?
GeForce NOW's 1080p, 60fps capability guarantees you experience its stunning visuals as its designers intended. A GeForce NOW membership ($7.99 a month and free for three months) gives SHIELD owners access to a robust library of streamable high-profile PC games with certain premium titles available to purchase separately including ABZÛ.
ABZÛ's unusual name derives from two ancient words that translate roughly as 'ocean of wisdom,' say the developers. That's the first clue that your nameless, beautifully-stylized diver behaves in a very different way to the typical 'shoot first, ask questions in the cutscenes' arrangement.
You're not armed, and you don't fight. In fact, while there are plenty of predators hunting down prey – including sharks, killer whales and giant squid – they're not really concerned about you. You're there to explore the life-filled environments, which are actually entire, beautifully-modelled ecosystems, and uncover the mysteries of the curiously advanced civilization whose sunken ruins you find.
Your silent diver is blessed with simple controls and easy, graceful movement. A rhythm-based speed boost even allows you to clear the surface and leap into the air, just like the dolphins… by some magic ABZÛ makes the simple act of swimming a pleasure.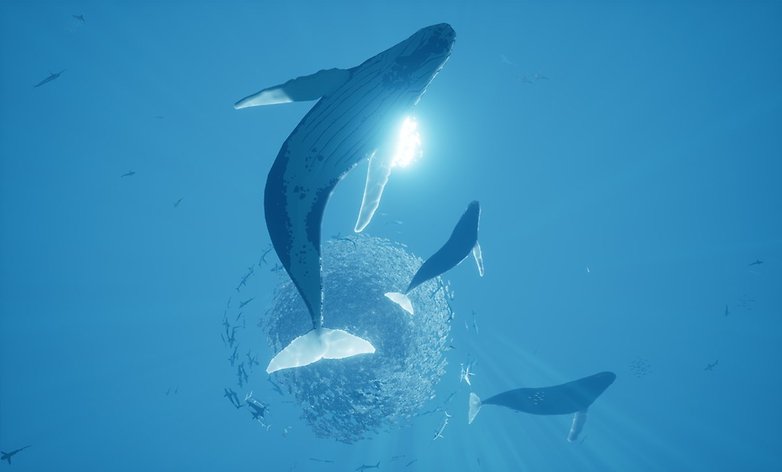 One major benefit of this mellow approach is that you can ride many of these creatures; grab on (if you can) and they'll swirl you through the often huge environments. Yet despite this conflict-free design, ABZÛ manages to regularly fill you with a sense of awe with its scale, it's dramatic imagery and its beautiful score.
It might sound odd to give the soundtrack such a prominent mention, but with a game as stripped-down yet beguiling as this, it plays a huge part in creating the mood. Also, it shifts dynamically as the locations and conditions change, swelling to orchestral wonder in the bright, life-spattered shallows and fading to darker, almost ambient tones as you dive towards darker, more forbidding abysses. It's been singled out for praise by many already.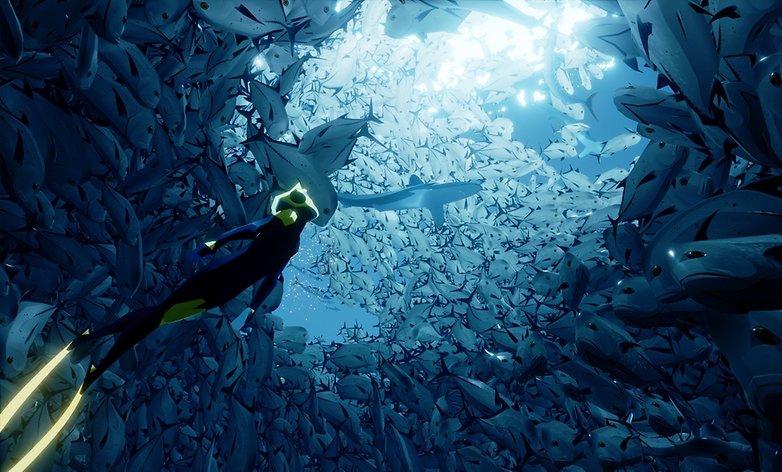 ABZÛ ditches much of what's conventional, and delivers a very special experience as a result. Most obvious is the complete lack of user interface: there are no meters, counters or maps to get in the way of that stupendous view. There's actually no health at all, no air meter to watch, nobody issuing orders in your ear and no missions to complete. There are no deaths or 'game over' screens. There aren't even any spoken words.
Nevertheless, there's a strong sense of purpose to ABZÛ – both in discovering the drowned civilization, and in the exploring ocean – and a strong storyline. The game sucks you through a series of areas, some shallow, some forbiddingly deep, some claustrophobic and some vast. Each one is home to entire cycles of life, from forests of kelp and living coral reefs to lobsters, crabs, and vast shoals of fish.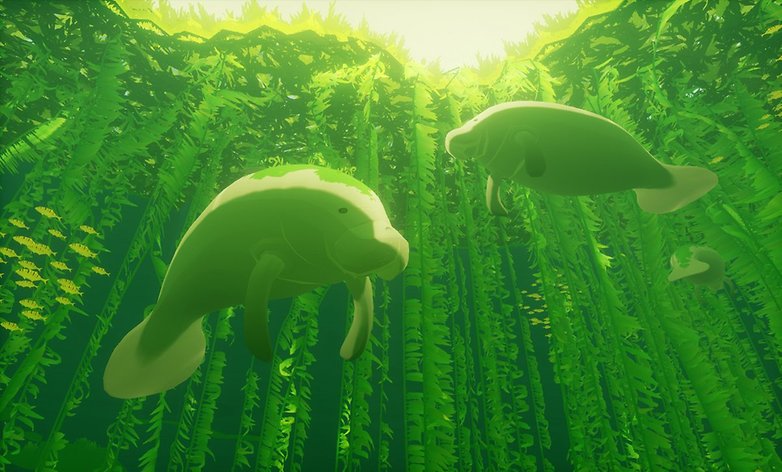 Animal behavior is procedurally generated, so they'll respond to you (and to their natural predators) in appropriate ways. More intelligent creatures, such as dolphins, may even mimic or play with you. And because it's not scripted, ABZÛ plays differently each time you pick it up.
ABZÛ is an experience like no other and you can buy and stream it instantly on GeForce NOW for a special launch price of $15.59, which is 20 percent off its regular full price. If you purchase ABZÛ on GeForce NOW you will get an extra code to download the game on PC at no additional cost.