Developer Series: Inferno and his boredom-killing game ''bopbop''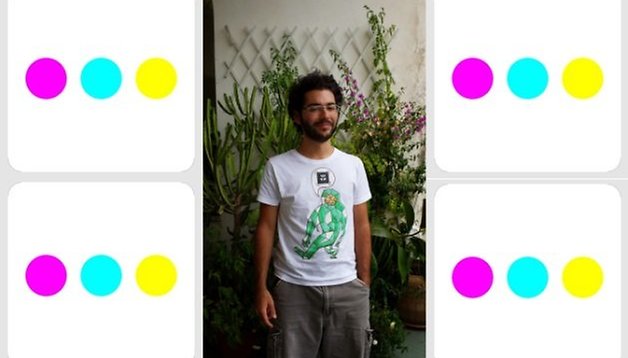 We had the chance to interview Diego Rodriguez, aka Inferno, an Italian developer with a strong background in information technology which he studied in Bologna for 5 years. After graduation, he sought to establish his own portfolio, by gaining real app developing experience for Android and in just a short time, has already received lots of success in Google Play with his app bopbop. Though he loves working as an Indie app developer, he is eager to join forces with major developing companies in the near future in order to build on his already strong set of skills.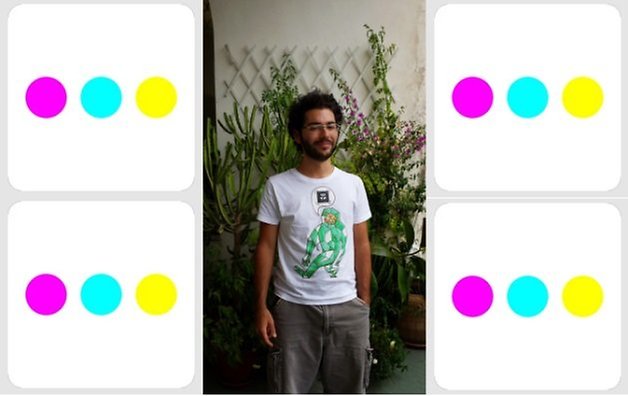 Hi Diego! How did you get started with your developer career?
Everything started with Super Mario Bros on my Nintendo 8-bit when I was 5 years old…Joking! but anyways that was my first experience with video games…The first game that I developed was bopbop, where I was inspired by the great work of Betaworks on iPhone.I liked the shape of their game: plain, simple and addicting, so I decided to test my skills and create something similar but quite different from the point of view of play mechanics.Not so original for the beginning but I developed it so fast and was quite happy with the results that I decided to release it on Google Play for other people to enjoy.
When did you decide to develop an App for Android and why?
My first application for Android wasn't a game but a widget, a watch widget. I bought a Ziiiro watch (which I think is produced by a German company) when they came out and was amazed by the design. I was also really angry because they published a digital version of their watch for iPhone and not Android…so I decided to create a widget and the results were pretty neat (I still use it on my devices). I tried to contact them to ask their permission to publish the app on the market, but every time I tried to get in touch with them they didn't answer, so unfortunately I don't think it will ever be released for public use.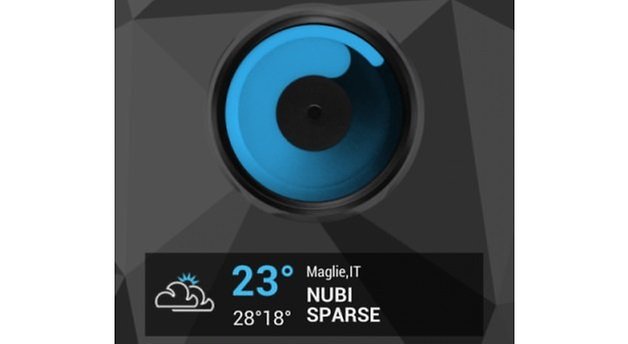 Your "bopbop" app is doing very well on Google Play. Did you have any major problems during the time spent developing the app?
Well there were certainly problems during the development as there normally are. The first version of the game was built on Android native framework and for 4.0+ devices and wasn't that hard to complete considering it was my first game. The problems arose as the game grew, because I saw that the native framework was not exactly suitable for handling advanced graphical effects or deep control of memory allocations which are the important aspects to keep in mind during development. Because of this I started to search for a better framework and chose libgdx, which are well-developed multiplatform libraries. The porting took me 2 weeks or so to complete and the results were really good for the gameplay side of the app. Furthermore, the game was made available to lower-end devices too.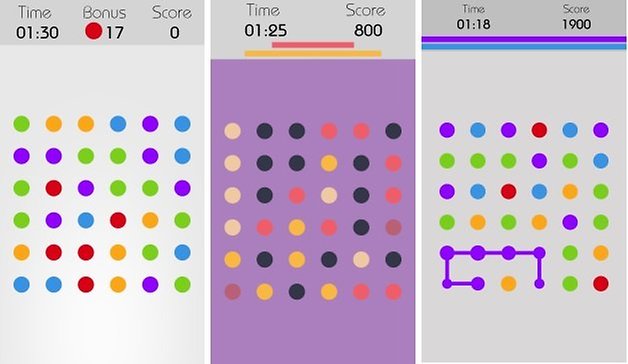 There was, however, a bug in one version of the game which sometimes made the dots disappear without any particular reason. I checked the code so many times and in the end, the error wasn't in my code but in the animation engine which wasn't developed by me… I had to rewrite the entire animation system from zero!
I discovered your app "bopbop" in the XDA-News, can you tell us about your experiences with XDA?
XDA is a really cool community which brings together good people, not just developers. I had been on the forums as a user checking any new developmental elements for my devices like themes, ROMs, custom features etc… This was my first time as a developer and I was encouraged by a friend of mine, Mirko Dimartino, who I had met during the development of bopbop . He told me to share my work with the XDA community. Once I was reviewed by the XDA review team, the downloads grew dramatically, so thank you XDA :) .
In the beginning, your app was named "dotdot". Why did you change the name to "bopbop"?
The game name was changed when Betaworks lawyers contacted me telling I was infringing on their client rights. They told me that it would make people confuse my app with their work. I agreed with them and decided to change the name to bopbop.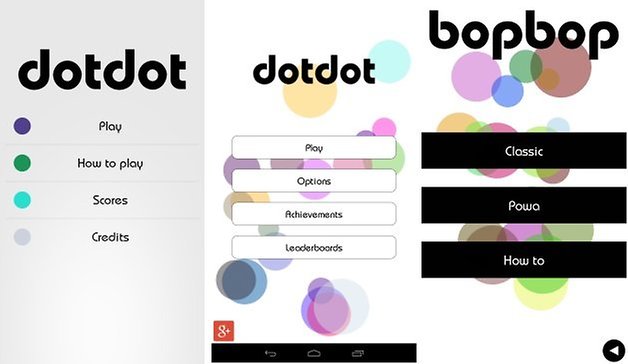 By taking a look at both "Dots" and "bopbop" the font looks almost the same. To what extent did the work of Betaworks influence your own work?
Well, the font isn't the same but it is similar. As I said in a previous question, I simply took their GUI (graphical user interface), molded it a little bit and changed the game mechanics. My objective wasn't to clone or copy their work. In fact, it all started as a way to test my skills and I then came out with something different.
Did you have any more problems with Betaworks or did the matter sort itself out? Are you still in contact with them?
The matter ended up amicably with the submission of my acceptance of their requests. No other exchanges have been made since that point in time.
Do you understand the procedure that Betaworks had put in place?
Yes, sure I do but I probably wouldn't have gone about it the same as they did with me. I think that if my app would have been copied or cloned or whatever by someone, then I really would have liked to see it as well as people's reactions. I personally think that if your app is better than mine then show it to people and they will choose which one they prefer. Anyway, this is a matter of trademark which needs to be respected somehow, therefore I clearly understand their position and actions.
Is cloning or copying apps in your eyes a legitimate approach for developers?
I respect intellectual property but I have my own opinion on the subject. Cloning/copying an app in the exact same way as the original is wrong because you aren't doing any good for the people who will play it and you are sort of reinventing the wheel, which is basically stupid. However, taking something already made and creating something new or expanding on it is different because you are showing the subject from your own point of view, which in the end could be better or worse.
In your opinion, is Android a kind of "Wild West" where all developers can use each others work for free, or should there be stricter guidelines?
I like the freedom of the Android platform and I wouldn't like it if my work needed to be reviewed by someone before it was made available to users. I really prefer to hear what people think of my work and I consider what they are saying for better or for worse, while trying to change the app following their thoughts and suggestions. In the end they will be the users.
Are you planning on creating more apps running on Android devices for the future?
Sure! I'm starting a new project these days. This is a new idea of mine which will involve plants (yes, those green things which grow…). There is also something else on the go relating to spaceships and OUYA platform support, but this is another story. I develop on the Android platform because I have an Android phone, but that doesn't exclude the possibility that I will develop something for iOS. However, I can't see this happening in the near future.
Did you receive any additional support for developing and selling your app?
This is a hard point. In a recent update, I decided to add in-app purchases, I hope people will buy something just to support my work, but I think I will choose a different approach for the next games: a demo and a complete version. The reason for this is because I think that, as a gamer, I would like to test the game before buying it.
Which hardware and software do you use?
I'm currently developing on a Macbook Pro Retina using the eclipse IDE. Recently I started using a genymotion virtual machine to test the application on PC without installing it on the device.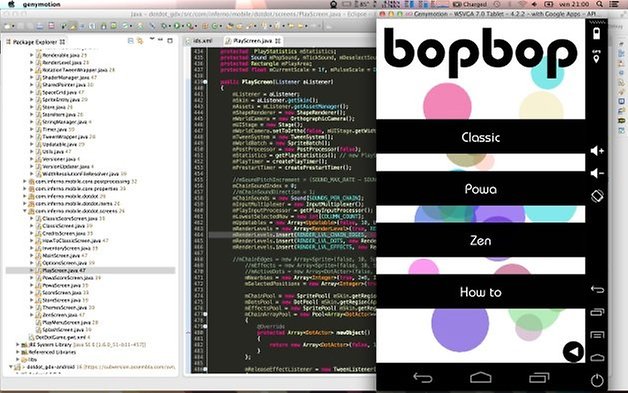 Do you have any hints for other developers that you can share from your own experience?
From my small experience in this business, all I can say is that this is really hard work. It's not important to develop a high-end game in my honest opinion. What's really important in the end is the user experience. As a gamer, I really like 3D-graphics, cool FX etc… but as a user with a smartphone I play only when I'm waiting for something (at a bus stop, relaxing on the sofa, spare time…), so mind-blowing graphics are often less important.
Which smartphone or tablets do you use privately? Which apps couldn't you live without?
I have a Samsung Galaxy S4 and a Nexus 7 which I use for daily development. I think that some of the apps I couldn't live without woud be Flipboard and Appaware, which I use ordinarily to check news and keep updated on new applications.
What was your first smartphone?
I think my first smartphone was an HTC Desire which was replaced by an iPhone 2G or was it the contrary? Well I don't remember honestly :) .
Thanks for the interview Inferno! Good luck!
Don't forget to check out AndroidPIT developer forum!