Developers Can Now Respond to Google Play Reviews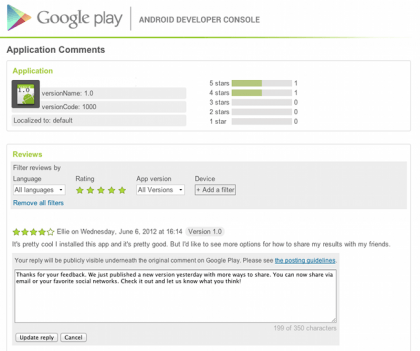 It's almost here! It seems that developers will soon be able to respond to reviews posted to Google Play. The feature is being rolled out first to Google's "Top Developers," before the rest of the developer world (probably after Google I/O).
This is a feature we've been begging Google to implement for years. Not only will it allow developers to respond to negative reviews, it also allows them to address individual technical problems associated with various phone models – something developers have been wanting to be able to do for ages. Often, people write things like "Incompatible with such and such device," rather than e-mailing developers. This will allow developers to be able to support their users in a way they haven't been able to do before.

So far, no developer we know of has begun replying to comments, but please let us know if you see anything!