Tip Off Basketball: 10 Steps to Developing a Successful App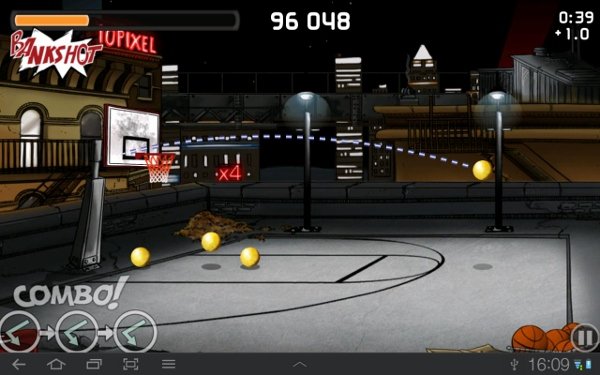 Does Tip-Off Basketball sound familiar to you by any chance? Well, it should because since it's launch on the Android Market back in december the app's popularity has shot through the roof. And no, there is no magic recipe for success. Propelling your app to the top of Google's ranking takes a lot of hard work, a fair dose of talent, a clear vision and - most importantly - a good understand of the video game market. Founded by three French friends back in 2011, IOPixel is a wonderful example of an Android success story. Having previously launched three apps independently, these guys rolled up their sleeves and dedicated themselves wholeheartedly to the development of Tip-Off. Jean-Alexis Lauricella, the 29-year-old head of the company behind one of the most downloaded apps on the market, gives us ten tips to creating a truly successful app.
1. Find a Great Idea and Stick With It
It goes without saying that a great idea is the first step to creating any application. So how do you come up with good ideas? The key here is to keep things simple. As Jean-Alexis explains, his initial impetus for developing a basketball game stemmed from a mutual desire among all three friends to try their hands at creating an app. After a good deal of brainstorming, they decided that a sports game would be the best solution since it didn't force them to create a new set of game rules. Even if you're totally clueless about basketball and can't tell the difference between a slam dunk and an alley-hoop, everyone understands the basic concept of getting the ball in the hoop. Simple, but efficient.
So when trying to develop your first app, it's important to have realistic expectations and to have a set of manageable goals. Boasting three applications on the Market, Jean-Alexis and his team decided to branch out, became a company and embarked on an app-developing adventure.

2. Scope Out the Market
Once you've got a good idea under your belt, it's important to see if there's demand for your product and whether you're app offers something unique that the competitors don't have. Automatic hamburger flippers, for example, may be a great idea, but it's not something people in their right mind would actually consider investing in. Once you've made sure the idea is actually good, it's time to start investigating the market to draw the necessary conclusions.
Our friend Jean-Alexis took the time to thoroughly dissect Google's database and came up with some interesting results. First off, there weren't that many basketball games for smartphones and tablets in the first place. Secondly, basketball video games didn't have such a niche following as, say, car racing games. Basically, this meant that there was room to experiment and create a wonderful game, while avoiding replicating existing apps such as Stardunk. Last but not least, Android games tended to be a bit boring in terms of design when compared to iOS which gave IOPixel more room for creativity.
3. Surround Yourself with a Cohesive and Talented Team
When you set off on an adventure, it's important to surround yourself with good people. You know, the kind of people that are nice enough to give old ladies a hand with their groceries while at same time being more competent that you. At IOPixel, everyone has a very well-defined role that is determined by each individual's set of skills. Everyone brings something unique to the table in terms of knowledge and expertise. Some people are part of the demo makers' clan, where people are busy developing random backgrounds with the help of advanced math. Others have a knack for analysis and are more apt at working on the physics engine i.e. defining how objects respond and interact. Finally, there's the game designer who brings his artistic touch and makes sure the overall look is coherent and esthetically-pleasing. For graphic design and other smaller tasks, free lancers can be used effectively to get the job done. Surrounding yourself with a diverse group of people not only broadens your horizons, but also gives you access to new ideas and a wide palette of useful skills.
4. Work Efficiently
While working on the details, it's crucial to always keep the bigger picture in mind. Otherwise, it will be nearly impossible to get the project to come together in the end. To avoid any mishaps and glitches, IOPixel adopted the so-called Scrum framework, which allows a development team to optimize their efficiency while significantly reducing production times. That way you can double-check whether each element of the game really works by dividing the work up into small tasks and short work cycles. Using this technique, the team managed to get 90% of the physics mechanics in order for Tip-Off Basketball in just two weeks! After that point, there were the animations, graphics and game play issues that needed to be solved, but the hardest part had already been taken care of.
5. Make Your Graphics Stand Out
Nobody likes ugly apps. Big pixels and an awful design will gain you zero appeal. A beautiful design should therefore be at the cornerstone of any application and the folks behind Tip-Off Basketball really took this idea to heart. Given the fact that any smartphone game is fairly passive (as opposed to Wii, for example) it's very important to create a captivating virtual universe for the player to be emersed in. Based on his previous analysis of the Android Market, Jean-Alexis realized that most Android games laked a bit of glitter and dazzle. In an effort to make their graphics really stand out, Tip Off decided to go for an old-school esthetic based on American comic books and highly reminiscent of Gotham City. The visual experience is very rich, filled with details that people have come to expect from their games. Small details like the sound of a train in the distance or ambient streetlights make players feel like they've entered a unique virtual reality.
6. Give Your Game a Unique Look
If you've set off to create a game that offers players a unique gaming experience, you have to make sure and follow through with that idea. From the get-go, Tip-Off made a point of placing a lot of emphasis on design, game play and making sure that the game was actually fun to play. Keeping in mind that shooting hoops can get old, Jean-Alexis and his team took the time to add a ton of quirky basketball animations for every trick and move in the sport. A visualization of you falling through a black hole comes up every time you throw an air ball. Basically, there is fun to be had at virtually every level of the game, all packaged into one cohesive look.

7. Test, Test and Test Again
So let's assume your app is finally ready to launch. You've followed all the previous steps and you're really proud of what you've come up with. You launch it on the market and wait for the first comments to come pouring in. And out of nowhere, you start getting flooded with people experiencing major glitches and problems. What many people forget is the fact that each Android device is going to interact differently with any given app. Trying to quickly resolve the issues as they come in is a lost cause since the bad ratings on the Android Market are there to stay. At IOPixel, they found a simple and rather obvious solution: testing everything over and over again. The goal is to basically nip any problems at the bud and release an app that is virtually 99.9% bug-free. This strategy may mean holding off on the app's release, but it pays off in the end with positive Market reviews, which is exactly why Tip Off Basketball found itself on the first page of the Android Market last week. Enough said.
8. People Love Free Apps
There may be a lot of paid apps out there, but only a few of them are truly successful (think of Beautiful Widgets, for example). Having made this observation, IOPixel decided that making the app available for free would draw more attention than if people had to chip a couple bucks for a download. Surprise, surprise: Tip Off Basketball was downloaded 20,000 times within the first week – something an unknown paid game could never attain. Deciding to make your app available for free means reaching a wider audience from credit card-less teenagers to people paranoid about buying stuff online (a good chunk of the population, believe me). IoPixel also managed to avoid using ad banners, choosing to make their money through in-app purchases instead.
9. Make It Go Viral
Nothing can make or break your reputation more quickly when dealing with an oversaturated market than the comments and opinions of regular users. Therefore it's important to keep your hand on the pulse of social media and have a good understanding of how Facebook, Twitter and Google+ work. So how do you encourage users to talk about your app? Status updates and wall posts are just not going to cut it. That's why IoPixel put in place a system of rewards for attracting players to the game. Each player receives bonus coins for getting new players to join Tip-Off. People started sharing these recommendation codes like crazy via social networks, the Android Market and other forums. Now that's an amazing way to get your app to go viral.

10. Follow Your App's Trajectory
What do you do once your app's been successfully launched? Watch idly by as it floats along the Android Market? Of course not! It's important to follow through your app's development every step of the way to make it more popular, attract new people and keep your current users satisfied. So fans of Tip Off Basketball can rest assured, ioPixel will continue to bring you updates and new bonuses. No wonder a user called Tip Off "the best basketball game for mobile phones in four years". As you can see, with success comes responsibility.
Check out what the game's like in the video below: