 Do Androids Use More Data Than iPhones?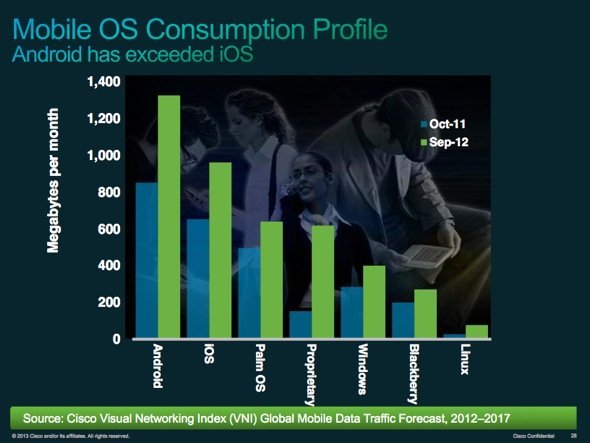 ​
Cisco has calculated that the average Android eats 38% more megabytes per month per user than an iPhone. The number has risen in recent years – though no one was sure why until now.
Business Insider has printed analyst Arielle Sumit's explanation for the rise in Android's data charges. Here's what she has to say:
"Approximately 70% of the traffic generated by an iPhone is over Wi-Fi and 30% is mobile, while on an Android smartphone, about 45% is over Wi-Fi and 55% is mobile. The reasons why iPhone may offload more traffic might include: (1) iPhones automatically revert to Wi-Fi if available (most Android phones do now too, but it varies), (2) iPhone users may watch more video and download more apps than Android users, and video consumption and app downloading tends to take place in a stationary environment where Wi-Fi is likely to be available."
You get that? It's the media, stupid. Android owners are more apt to surf the web than their iPhone owning friends because iPhone owners are too busy watching videos they downloaded from iTunes.
Does that sound right to you, though? I'm not sure. I think Android owners like watching videos on their phones just as much as the next guy. That said, I certainly think WiFi could be better baked into Android. My GNex is getting worse and worse at picking up WiFi; not sure why. Maybe I end up using more data because my phone doesn't automatically connect to open WiFi networks.
How much data do you use every month? Do you think you could be using WiFi more often?